SUBSCRIBE TODAY | ISSUE INDEX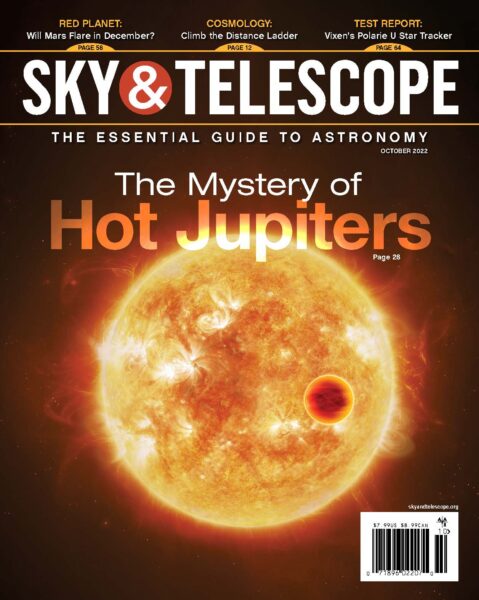 Emission Nebulae, Star Huggers, and Jupiter's Icy Moons
In the October 2022 issue of Sky & Telescope, we present three astronomical mysteries. First, astronomers have discovered an assortment of gas giants too close to their stars for comfort — and they want to know how these hot Jupiters ended up hugging their stars. In a puzzle closer to home, if you had told someone 150 years ago that Jupiter's moons were icy, they probably would have waved you off with a chuckle. So our authors are asking the question: Why did it take astronomers so long to figure this out? Our final mystery in this issue centers on Mars and an expedition undertaken by several of our editors and authors, members of the Association of Lunar and Planetary Observers, and a NASA scientist. After amateur and professional astronomers first reported flares of light on Mars, planetary observers predicted when they might appear next. Turns out, even though most of the U.S. was under clouds, the pro-am expedition not only saw the flares but recorded them for future study. Our next chance to see them? This December.
FEATURE ARTICLES:
How far away are the objects we observe in the universe?
By Govert Schilling
Observing the Finest Emission Nebulae
The curated selection includes some of the most striking targets the night sky has to offer.
By Alan Whitman
Astronomers have found a baffling variety of gas giants in close orbits around their host stars.
By Rebekah I. Dawson
Slipping on Jupiter's Icy Moons
Uncovering the nature of three Jovian satellites took some curios twists and turns.
By Guy Consolmagno & Christopher M. Graney
Observers have a chance to see a rare phenomenon for the second time this century.
By Thomas A. Dobbins & William Sheehan
Beyond the Printed Page:
Watch videos of dust devils on Mars captured by NASA's Perseverance rover.
Learn what the latest data release from the ESA's Gaia mission means for the astronomical community.
See when Uranus will disappear and reappear in your area.
Check out the Vatican Observatory's website to learn more about the history of astronomy.
ALSO IN THIS ISSUE:
Autumn's Lonely Southern Beacon
Solitary Fomalhaut shares connections with several bright stars.
By Fred Schaaf
Meteors Brighten October Skies
Fill your Halloween bag with luminous treats from two displays.
By Bob King
The Straight Wall isn't a single, continuous feature.
By Charles A. Wood
Go wide or go deep — the sky's the limit when it comes to choosing a second lens.
By Tony Puerzer
Table of Contents
See what else October's issue has to offer.