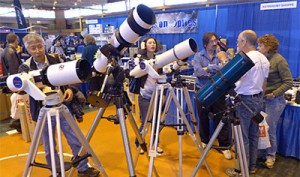 As amateur astronomers gathered several weeks ago at the 24th annual Northeast Astronomy Forum, they caught first glimpses of hot new products showcased at one of the world's largest astronomy trade shows.
Now you can too, whether you made it to NEAF or not. Former S&T editor Dennis di Cicco interviewed three vendors about their newest products at the show. Watch these in-depth conversations to find full details on new product lines and featured equipment.
Product Videos
Video Interview with Sky-Watcher USA
Video Interview with Software Bisque
---
See our entire library of video interviews.
---