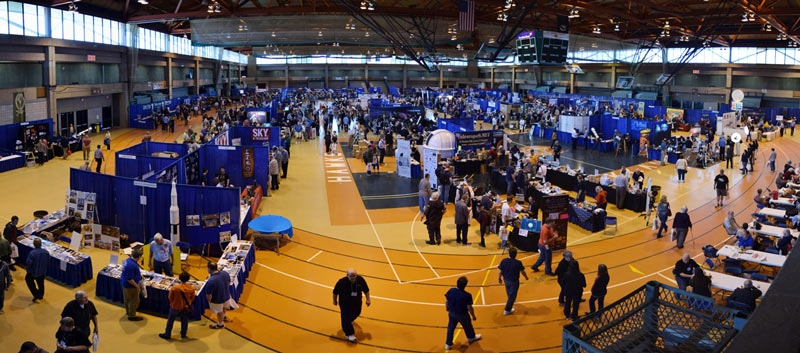 We're just back from the Northeast Astronomy Forum, NEAF, the world's largest amateur-astronomy trade show. As always, what an exciting, inspiring, grand weekend! And thanks again to everyone who stopped by our booth to chat. You are why we do this.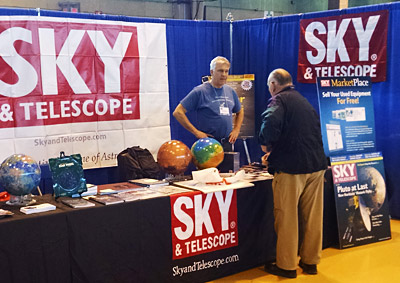 NEAF happens every spring in and around the sports arena of Rockland Community College in Suffern, NY, northwest of New York City. In addition to the display hall, with 110-plus vendors and exhibitors of all the astro gear you could imagine, there's a nonstop schedule of distinguished speakers in an adjacent auditorium, other presentations in a smaller lecture area, a special pro-am track for amateur-professional collaboration, outdoor solar observing, intro-to-astronomy sessions for the public flocking in, a kids' track, and much else. In addition, NEAF is immediately preceded by the two-day Northeast Astro-Imaging Conference (NEAIC).
Amazingly, this whole thing is put on by volunteers from the nonprofit Rockland Astronomy Club. NEAF started two decades ago as a local club project, and it grew and grew.
Of course Sky & Telescope had a booth, as always. Among other things, we handed out a couple thousand copies of our May issue. Here are observations and impressions from some of us there.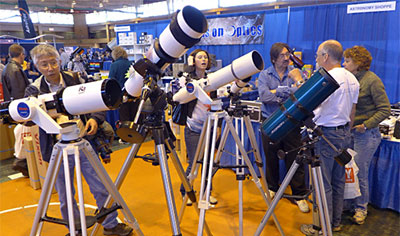 • J. Kelly Beatty:  I'm not much of a TN ("telescope nut"), but I always have a blast at NEAF. With so many vendors to visit and talks to hear, invariably I leave on Sunday exhausted and energized. This year, in addition to fielding questions at Sky & Telescope's booth, I gave a well-attended presentation on New Horizons' encounter with Pluto that's coming up in July.
The ogling and bargain-hunting are fun, but NEAF also serves an important role as a crossroads — not just for amateur astronomers here in the U.S. (I met one who'd come from San Francisco) but globally as well. Large numbers of avid skywatchers make the trek from Canada. I chatted with Filippo Bradaschia, who came from Italy to introduce his new PrimaLuceLab telescopes. Christopher Go once again traveled from the Phillipines to wow NEAF attendees with his incredible planetary images, particularly of Jupiter. He's recruiting other astrophotographers to help support NASA's Juno mission, now en route to Jupiter, as described further below.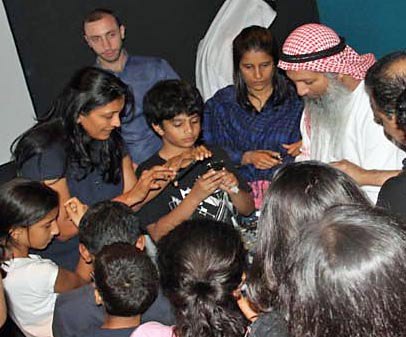 And then there was the most unexpected presence of Hasan Ahmad al Hariri, representing the Dubai Astronomy Group. Luring me into his booth with a plate of fresh dates, al Hariri was everything you expect of an avid amateur astronomer: outgoing, knowledgeable about the night sky, and passionate about engaging the public. Founded 15 years ago, his group now boasts about 2,000 participants who conduct public star parties and school demonstrations, provide classes about astronomy, and offer group "astro tours" to dark-sky locations.
Overwhelmed by the NEAF experience, al Hariri promised he'd be back next year with some of his group's top coordinators. And, of course, I'll be back too.
• S. N. Johnson-Roehr:  NEAF is always a good time, a weekend surrounded by good friends and astronomy buffs, but this year was particularly special, since it was my first time attending as Sky & Telescope's Observing Editor. The enthusiasm of our readers was almost overwhelming at times!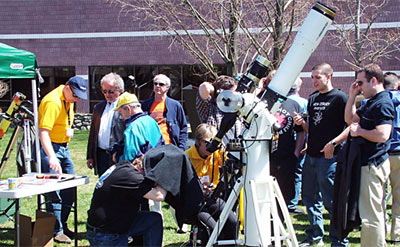 It was great to exchange stories with long-time observers, but also rewarding to talk to newcomers to the hobby. I was happy to meet so many young people at our table eager to learn (or teach us!) more about Venus and Mars. My time away from our booth was full of solar observing and lectures. The annual NEAF Solar Star Party couldn't have asked for better weather; the number of participants seems to have grown from past years. I enjoyed listening to volunteers educate neophyte solar observers, drooled over a couple of H-alpha scopes, and studied some alternatives to my own white-light setup. Special props go to the Charlie Bates Solar Astronomy Project, which backed the solar party with a lecture on Sunday, during which Stephen Ramsden shared some solid outreach advice. And I hope everyone got to look inside Gary the Astronomer's carrying case. Where else but NEAF can you find someone giving free sextant lessons?
The Saturday evening showing of Saving Hubble produced some of the best dinner conversation I've had in recent times. All thanks to the Rockland Astronomy Club for the hard work that makes it possible to bring together such a great group of amateur astronomers and science fans.
• Equipment Editor Sean Walker:  Lots of interesting new products were unveiled this weekend. So much to see in so little time! Tele Vue announced its DeLite eyepieces, and Denkmeier Optical showed off its new "3D" eyepieces for their binocular viewers that simulate a 3D experience. They certainly worked for me. Meade rolled out its new LX70 telescope series, and Astro-Physics displayed its redesigned Gran Turismo 130 refractor with an air-spaced 5.1-inch triplet objective. Explore Scientific also was on hand with new offerings; particularly impressive was its 165mm (6.5-inch) ED refractor in a carbon-fiber tube. Our friends at Willmann-Bell displayed a few new books for the discerning amateur astronomer; particularly interesting is the newly started series Annals of the Deep Sky: a Survey of Galactic and Extragalactic Objects. This series promises to be the Burnham's Celestial Handbook of the 21st century.
The folks at PlaneWave Instruments added the 14-inch CDK to their already impressive line of high-end astrographs, and iOptron was on hand with some new offerings, including the iPano, a programmable platform for taking ultra-wideangle panoramic images. HoTech demonstrated its latest collimating device for users of Hyperstar and Celestron Rowe-Ackermann astrographs. Software Bisque had its My-T portable mount as well as helpful demonstrations of its IOS apps, TheSky Mobile and TheSky HD.
The list goes on and on: Vic Maris of Stellarvue showed off his company's new SVS130 Sextuplet Astrograph, as well as some attractive smaller instruments. Sky-Watcher USA had some new offerings, including a 190mm Maksutov-Newtonian telescope, and Celestron was out in force with perhaps the largest booth at the show. A few new manufacturers were on hand to introduce their wares, including Canadian Telescopes Inc., who showed off their extremely light-weight 2.2-meter dome manufactured from ABS material.
I also managed to get in some excellent solar viewing with the Charlie Bates Solar Astronomy Project who was out in force with a number of solar telescopes and visual spectroscopes. The seeing was excellent early on Saturday, and I was treated to a rapidly-changing M-class solar flare in hydrogen-alpha light.
• Alan MacRobert:  Once again I talked myself hoarse in our booth, to a constant stream of people who mirrored every stage of my astronomy life since I was 14, and every stage I could have gone into had life broken a different way. Love of observing and understanding the universe binds this crowd together, and as many told us, so does S&T.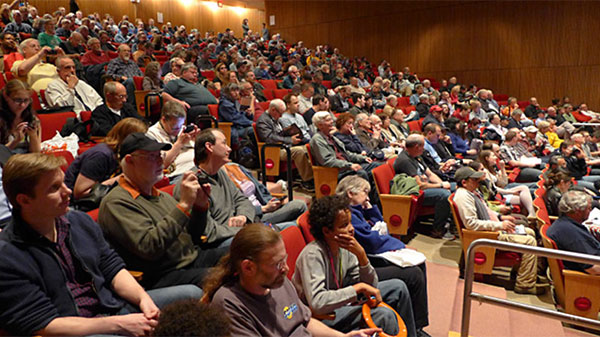 Two quick standouts from the weekend: Christopher Go, one of the world's top planetary imagers, gave an excellent talk on how to get up to speed. Rapt audience members held up cellphones to take pictures of every slide. As Kelly has noted, Chris is on a campaign to recruit imagers around the globe to cover Jupiter 24/7 during NASA's Juno mission at the planet starting in August 2016. Juno's main instrument is a microwave radiometer that will look at many levels into the giant's gassy depths: as far down as about 550 kilometers below the cloudtops, where the pressure is 1,000 atmospheres and the gas is about dense as water! This instrument has a very narrow field of view. Full-planet imaging will be vital for seeing the context into which this pencil-beam is diving, and amateurs are the people doing it.
Another highlight was my first look at the start of the multi-volume Annals of the Deep Sky, noted by Sean above. Astro-publisher Willmann-Bell printed the first two volumes (covering the constellations Andromeda to Caelum in alphabetical order) just last month. Perry Remaklus, Willmann-Bell's indefatigable honcho, was a little too modest to tell his booth visitors that this is the long-awaited successor to the hallowed Burnham's Celestial Handbook (the science in which is now almost a half century old). So we'll say it for him. Expect to hear more about this.
• Monica Young: The highlight of NEAF was, as always, meeting our readers. Many of our subscribers have been with us for a long time – I talked to one amateur who recalled falling in love with astronomy as she pored over George Lovi's constellation charts in the center of the magazine during the 1970s. Another subscriber told of his delight in receiving S&T every month since the 1950s. As much as I love to hear these stories, I was also happy to see many young people at NEAF this year, including quite a few who eagerly picked up our magazine.
I took a break from my time at the booth to spend some time outside at the solar party (and a beautiful day for it too!) and to attend one of NEAF's stellar lineup of talks. Bill Gerstenmaier, Director of NASA's Human Space Flight Program, spoke about NASA's "Journey to Mars," a long-term plan that includes the interim goal of reaching a chunk of asteroid that has been brought into lunar orbit. He detailed the challenges of reaching Mars, underlining just why both the journey and destination are so difficult. Much of this we know about already — radiation, for example, has long been a recognized hazard that must be avoided and/or overcome. But there were surprises too. For example, Gerstenmaier talked about the med kit on the International Space Station that contains antibiotics and other medications in case an astronaut gets sick. Those medications wouldn't last a several-year trip to Mars. So planning a trip to Mars includes developing antibiotics with longer shelf lives. Who knew?
Although the details of space exploration were fascinating, the truly interesting part of his talk was the overall message — that we, amateur astronomers, get why space is the ultimate destination. So our mission, if we choose to accept it, is to be ambassadors, convincing not just our amateur friends but our next-door neighbors and the public why we need to move forward with human space exploration.
• Peter Tyson:  For me, NEAF was all about faces.
The lectures were fascinating, the solar viewing splendid, and the equipment to-die-for. But when I think back on the past two days, what really comes to mind is a parade of singular expressions.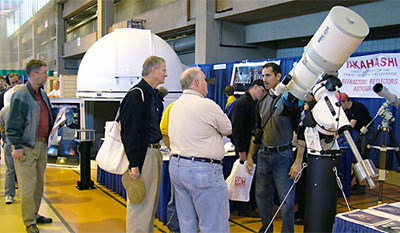 There was the face of the vendor lighting up after I asked him about the newly released product he had designed himself. The conspiratorial wink of an acquaintance who had just gotten a great deal on a piece of used equipment. ("He didn't know what he had!") The happy smile of recognition as an S&T editor and an S&T columnist, after working on numerous articles together, met face to face for the first time.
Some of the faces in my mind belong to members of the general public, who showed up in impressive numbers despite the first really beautiful outdoor day of spring. I remember the attentive mugs of a cluster of folks as they huddled around one of the event's speakers, who apparently was telling quite an amusing story. I recall the wide-eyed stare of a 5-year-old girl who, having endured booth after booth obviously designed for grown-ups, suddenly spotted a toy section at the next booth — and made a beeline to it, parents in tow.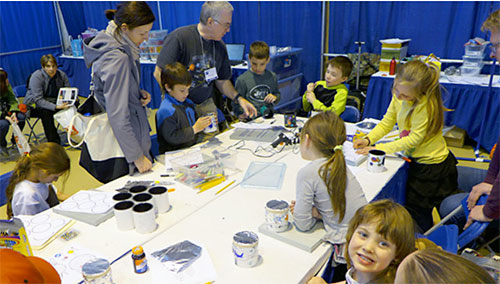 For my own part, I was able to put faces to names of people I'd corresponded with but not yet met: the astronomer whose article I'd recently edited, the Astronomical League official whom I'd chatted with on the phone the week before, the subscriber who kindly emails me whenever he (very rarely, mind you) discovers a typo in the latest issue.
But there's one visage that sticks out above all others. It's the round, handsome face of a seven- or eight-year-old boy who shuffled over to the S&T booth close by his father's side. For the five minutes they lingered at our table, the boy never said a word. But his eyes remained as wide open as seemed physically possible, and he didn't miss of word as one of my colleagues described a star atlas to the boy's father.
Eventually my colleague addressed the boy directly. "Are you enjoying the show?" A nod. "Is this your first time to NEAF?" A shake of the head. The father chuckled silently, as if to say, "First time? Oh no. You have no idea how into all this he is." The father then thanked us for our time, and the two moved off to charm the next booth.