A recent study suggests a plausible mechanism to explain why observers sometimes hear superbright meteors at the same time that they see them.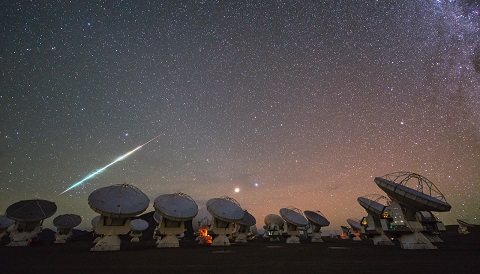 Having a bad hair day? This might at least give you the temporary "superpower" of hearing meteors. The astronomical literature is dotted with reports of observers hearing bright meteors that seem to hiss, pop, or ping. Now, a recent study in Nature: Scientific Reports out of Sandia National Laboratories suggests a possible cause.
Most of the meteors you see at night are tiny dust grains, burning up as they streak through  Earth's upper atmosphere at speeds up to 43 miles (70 km) per second. Once in a great while, something really big, say, golf-ball-size or larger comes in, burning up in a brilliant fireball display. (A fireball is a meteor brighter than –4 magnitude (as bright as Venus), and a bolide is a fireball with a bright terminal flash at the end of its trail.
Sometimes observers report hearing a distinct hiss or crackle accompanying many bright fireballs simultaneously with the bright flash. But the trouble with hearing concurrent sounds with meteors has always been the distance involved. Not only do meteors occur in the tenuous upper atmosphere, which is a poor propagator of sound, but they're also distant, occurring in the mesosphere about 47 to 62 miles up. Sound at sea level travels at 767 mph. Think of lightning on a summer's day, and how you always see the flash several seconds before the booming thunder arrives.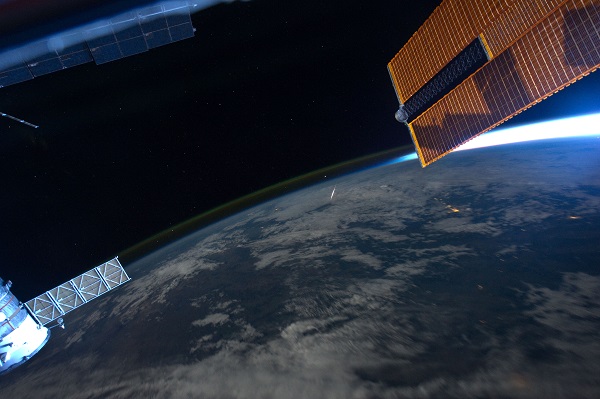 And yet, reports of audible meteors persist. The Sandia study proposes that strong millisecond-long flashes recorded in bright fireballs are intense enough to induce radiative heating in dielectric materials such as dry leaves, clothing, or even hair in the vicinity of the observer, via what's called the photoacoustic effect. The irradiated surfaces heat the air next to them, producing tiny pressure oscillations — in other words, sound. The study shows that a bolide around –12 in magnitude (about as bright as a full Moon) can induce an audible sound in dielectric material of around 25 decibels, loud enough to be heard. For context, a whisper is 10 to 20 decibels, on the lower threshold of what is barely audible. The study even suggests frizzy hair (!) might be an even more effective transducer of the photoacoustic effect.
"It seems significant that people with frizzy hair are reported to be more likely to hear concurrent sound from meteors," the study notes. "Intuitively, frizzy  hair should be a good transducer for two reasons. Hair near the ears will create localized sound pressure, so it is likely to be heard. Also, hair has a large surface-to-volume ratio, which maximizes sound creation.
The photoacoustic effect is the generation of sound following light absorption by a given material. Inventor Alexander Graham Bell first noted the photoacoustic effect in 1880. His invention, known as a photophone, worked using the photoacoustic effect.
You can witness this strange effect in action as a pair of flashlights use it to play The Imperial March theme from Star Wars: The Empire Strikes Back:
The study notes that strong millisecond flashes were seen in virtually all of the bright bolide meteors documented by the Czech Fireball Network. One particularly brilliant –15-magnitude fireball named EN091214 was recorded by the network in the early evening of December 9, 2014. Careful analysis of its rapidly changing intensity showed brief flares occurring dozens of times per second, and several witnesses in the vicinity heard sound at the same time. Calculations in the study suggest that the fireball's intense, rapidly varying light should have produced a sound level of 27 ± 3 decibels, consistent with ear-witness accounts.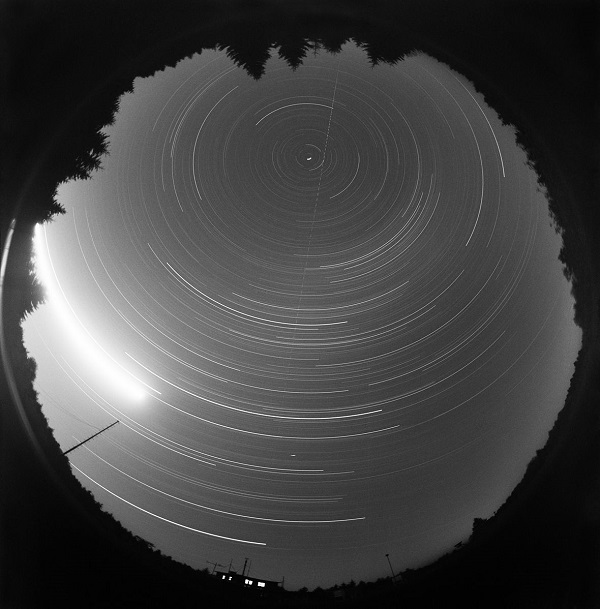 The Photoacoustic Effect versus Electrophonic Sound
Over the years, audible meteors have been explained as simply a psychological phenomenon, or perhaps a locally produced effect set up by low-frequency waves and a phenomenon known as electrophonic sound. Edmond Halley collected eyewitness accounts of a bright fireball seen over England on the night of March 19, 1718, which many witnessed claimed "hiss(ed) as it went along, as if it had been very near at hand," a claim dismissed by Halley himself.
Meteoriticist Harvey Nininger chronicled the phenomenon of audible meteors in his 1952 book Out of the Sky. Low-frequency electrophonic sound induction from VLF radio emissions would run in the range of 1 to 10 Hertz and perhaps produce sound from nearby conductors such as telephone wires, trees or grass. A study led by a Japanese team in 1988 observing the Perseid meteors seemed to confirm this theory. But this explanation had a problem: fireballs don't generate very much energy at radio wavelengths.
We once "heard" a distinct hiss from a bright Perseid as it sliced through the hot summer night's sky over northern Maine. Such reports are anecdotal for sure, and the effect is subtle at best. Conversely, we watched a brilliant display of the 1998 Leonids from the deserts of Kuwait which produced a fireball every few seconds, without a sound.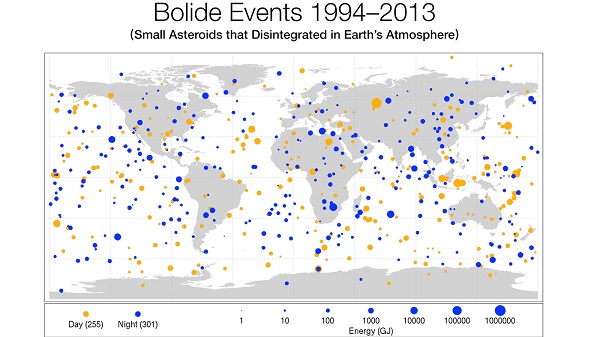 Why aren't there more recorded instances, or perhaps group occurrences of hearing the same phenomenon? Well, the sound usually described is a subtle and fleeting one, barely above a whisper at best. A similar crackling or hissing sound is said to sometimes accompany brilliant aurora displays as well.
Finally, there's another way of "hearing meteors" ping on the FM dial. Simply tune your FM radio to an unused frequency and listen for an accompanying crackle or ping of a meteor, similar to the radio outbursts occasionally scattered across the FM dial by lightning. Occasionally, the ionized trail in the wake of a bright meteor will even bring a distant radio station into brief audibility.
Be sure to not only watch, but also listen for those bright meteors on your next early morning vigil.
Listen to an audio rendition of Greensleeves created using the photoacoustic effect. Benjamin Conley, one of the study's co-authors, played his violin, and that sound was used as a signal to drive a light source. The output sound captured by the microphone was quite noisy, but you definitely can make out the tune. Listen in stereo if possible.