Good weather for imaging is about more than just the clouds! Even if it's cloud-free, you'll need to understand if the seeing and transparency are good.

A couple of years ago, I attended the OkieTex star party: great location, great skies. I came about halfway through the week and upon arriving, I spotted a vendor friend.
"How've the skies been this week?" I asked. "Really good seeing, but the transparency has been not so great." Cool, thanks.
A moment later I saw another acquaintance. "I hear the skies have been so-so, so far", I said in greeting.
"Yeah", he responded, "Really great transparency here, but the seeing last night after the storm was pretty bad."
Hmmm…

One of these friends did not know the difference between seeing and transparency, and I now knew nothing of what to expect of the coming night. (Actually, I suspected the second friend had it right, and you will too by the end of this blog.)
I figure if there was some confusion between these two ideas among astronomy vendors, then it's likely widespread in the community at large. Indeed, my experience talking with people at star parties continues to bear this out. These two factors affect your imaging plan in two very different ways, so let's take a look at what these two terms mean and how they affect your night and imaging strategy.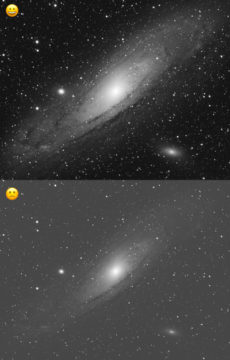 First, let's talk about transparency. Transparency is the opacity of the atmosphere, or how clear it is. Moisture and humidity lower the transparency, as does smoke or other kinds of pollution. It's not entirely unlike light pollution in that it washes out the fainter details of astronomical targets. In fact, poor transparency typically makes light pollution worse because it scatters the light around instead of letting it escape into space away from your cameras and optics.
At my own dark sky camp, the city of Okeechobee to the south provides a transparency "meter," if you will. How far the light dome extends into the sky isn't just a factor of how many lights are burning, but how much moisture is in the air to scatter that light around.
When the transparency is poor, I select brighter objects and will shoot targets only when they are high in the sky, where there is as little pea soup to shoot through as possible. (As long as they're not in the direction of Okeechobee!)
Transparency usually gets better with altitude, because you're looking through less air. That's why high altitudes are prized for observatories and star parties.
Transparency is also usually very good after a rainstorm has come through to clear all of the particulates out of the air. This is reason number one I figured my second friend had it right at the star party.
Seeing, on the other hand, is a measure of atmospheric turbulence. We know that if we take a photo of a fast-moving subject, such as at a sporting event, with a low shutter speed, we'll get a blurry image. So what happens when you have to take a very long dark-sky photo and the stars are jumping all about due to atmospheric turbulence? That's right, blurry stars and deep sky objects.
Seeing is usually measured in arcseconds, an angular measure that describes distance on the celestial sphere. If the seeing was 4 arcseconds, it means the stars can be expected to dance around inside a circle with a diameter of 4 arcseconds. Seeing of 1 arcsecond is 4 times better and would then yield much smaller, less bloated stars, as well as finer detail on deep sky objects.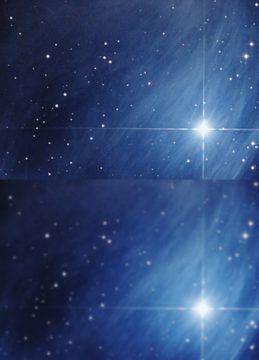 Seeing is typically better in places where the geography is very flat. The air masses moving over the land encounter few obstacles and flow more smoothly (sometimes called a laminar flow). This is one reason I love imaging in Florida in the wintertime: it has very good seeing. I have friends out West who moved to the desert to escape city lights, but now they're near mountains. The winds coming over the mountains gets all mixed up like a creek flowing over big boulders, which makes for terrible seeing.
Also, after a front comes through (often accompanied by some rainstorms), the air becomes turbulent for a day or so afterwards. Again, my second friend's claim that after a storm the transparency was good and the seeing was poor fit this pattern best.
If mountains are good for transparency, but poor for seeing, why are so many observatories located up on big mountains? Because as they say... less is more. Less air at high altitudes yields better transparency as I've said, but at the highest mountains you are also above much of the turbulent air, which mitigates the effects on seeing.
Sometimes I will soldier through poor transparency, and if I take enough exposures and spend the time in post-processing, I can often pull something out that I'll be proud of. Seeing, on the other hand, is often the real limiting factor. You can only do so much sharpening in post processing before things start to look ridiculous, and so if the images are just too soft, it's time to go to bed, or start that Netflix marathon.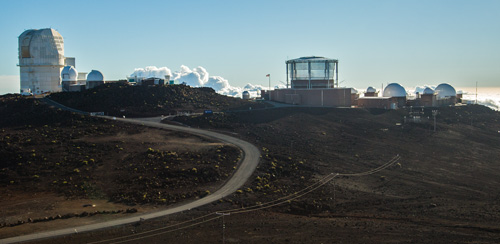 Where to draw the line depends on your own personal tastes — and your image scale. Essentially, if your pixels are small and your focal length is long, the poor seeing will just make your images mushy. On the other hand, if you're using a very short focal length and larger pixels, you can do wide-field images of some bigger objects or constellations, with wild abandon to the seeing conditions. I'll return to the topic of pixel scale next month and talk more about how it relates to your seeing conditions.