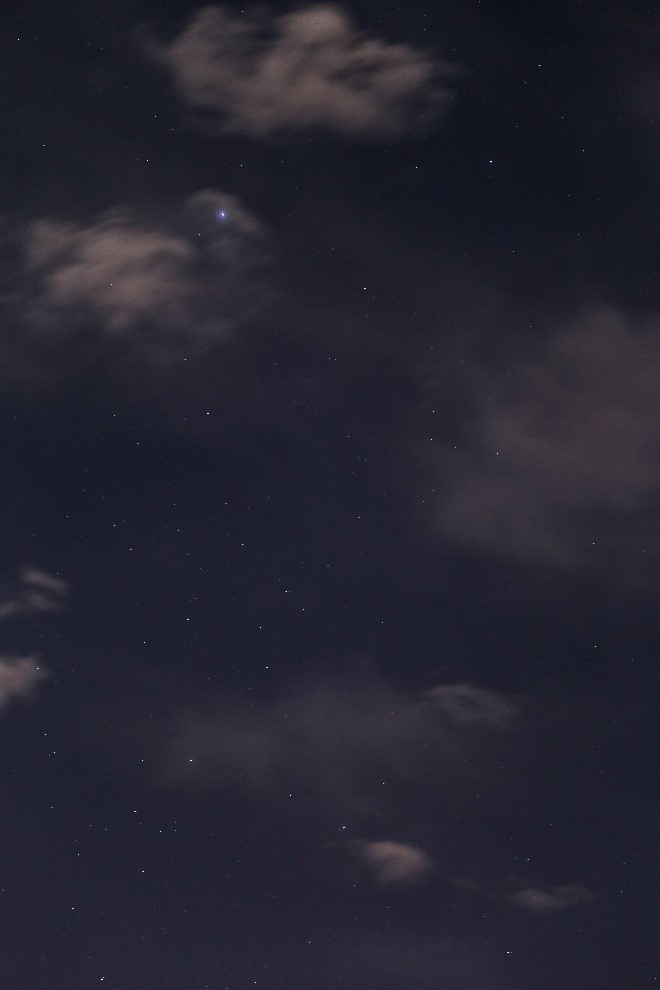 How often have you fallen prey to sucker holes — spotting a break in the thick blanket of clouds above, hurrying to get your gear set up so that you might actually get to see something tonight, only for the gap to close while you were adjusting the tripod?
If your answer is "never" then, a) you've been incredibly lucky, and b) I don't believe you.
It's been an especially overcast winter. While this current cycle is "relatively weak," we're in our third consecutive La Niña winter in the Northern Hemisphere. Here in the Pacific Northwest, that means cooler and even wetter weather. Yes, the area is infamous for our rainy season, but we usually get an adequate number of clear if chilly nights for winter stargazing. This season, however, Portland has been Cloud City, with even promising nights marred by high haze.
Because I'm not a weather wizard — but I'm willing to learn! — I've spent most of the winter checking for sucker holes.
"What's a sucker hole?" M asked me one night, when I stepped outside for the third time since we finished dinner. Pausing the movie we're watching or taking a quick break from conversation to check the sky has become a familiar habit. More often than not, I have a pair of binoculars ready to go by the front door.
"It's a small break in the clouds," I explained. "And you're a sucker if you think you can get your gear outside in time to see anything."
He laughed, but I was only half-kidding.
My astronomy friend, Dale, describes his watch for sucker holes as being not unlike a World War Two submariner movie. Having his gear on standby, he says, is like waiting for klaxons to sound, with "ALERT! ALERT!" echoing through the kitchen should a gap in the clouds appear, followed by a mad scramble to take advantage of the view.
The truth is, when all you've got are sucker holes, you learn to adjust your stargazing plans. Binoculars are particularly handy for stepping outside for a quick look up when time is not on your side. Sometimes, I'll have only a few minutes before the gap revealing Orion's Sword closes up again.
There have been nights when I stood on the porch and willed myself to enjoy watching the clouds drift by, while my yearning for the sky went into hibernation. Other nights, I lost myself in the romance of a familiar asterism barely peeking through the wispy cloud cover.
Sometimes the overcast conditions lasted so long I began to feel like a character in Hugh Howey's post-apocalyptic Wool trilogy: dwelling in an underground silo and looking through dirty windows into a thick, gray haze, trying to remember what the stars look like.
Even under tricky conditions, I can frequently count on Sirius to center itself in a tiny pocket or hover below the cloud line. It's a fun and easy twinkling target. If you ever need a quick pick-me-up when Alpha Canis Majoris is visible, viewing Sirius at magnification is like looking directly into the beam of a disco laser pointer.
I've started to think of gaps in the clouds as either tricksters or friendlies, though I can't tell the difference on sight. Sometimes these holes offer a window just large enough to kindle a bit of wonder. Other times, they're like Lucy with the football in a Peanuts comic strip.
I got caught by a trickster hole just the other night, shortly before Portland got dumped on by record-breaking snowfall and icy temperatures. In my pajamas and ready for bed, I stepped outside for one last peek at the sky, only to find an unexpected and massive hole through which Orion, Taurus, and more were visible. Time to grab some gear, quick! But I was a sucker. In the maybe 45 seconds it took me to grab a pair of warm socks, a hat, and a coat, the sky was socked in again.
But it's March already, and the year will turn. Spring will come, bringing another galaxy season. The weather services are predicting a better than average chance of returning to "normal conditions" as the winter fades. The clouds will scatter and the nights will warm up as the days lengthen — prime time for summer insomnia.
In the meantime, as we languish under overcast skies, I've learned to be grateful for sucker holes, or at least for the friendlies mixed in with the tricksters. It sure beats not being able to see anything at all.
---