A long-awaited measurement indicates that a star whizzing around the Milky Way's supermassive black hole has changed its trajectory.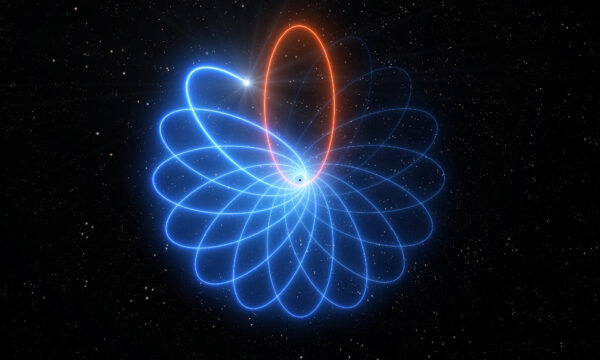 An international team of astronomers reports that a star has shifted its orbit around our galaxy's central black hole. The result matches a prediction from Einstein's framework of gravity and, if confirmed, gives us a new window on the way black holes warp the spacetime around them.
The star is one of dozens that huddle close around the Milky Way's supermassive black hole, Sagittarius A*. But at 26,000 light-years away and veiled by giant clouds of dusty gas, these bright stars are invisible to all but the most powerful infrared telescopes on Earth. Even with such instruments, they look like a jumble of moving polka dots.
Two teams, one led by Reinhard Genzel (Max Planck Institute for Extraterrestrial Physics, Germany) and the other by Andrea Ghez (University of California, Los Angeles), have besieged this region for more than two decades. They've been on the forefront of technology, assailing the black hole's fortress with a series of increasingly advanced techniques and equipment. The competition between them has been science at its best — a strikingly respectful rivalry that has kept them both on their toes.
It is the MPI team that has announced the new result: the second of two tests of Einstein's general theory of relativity (GR), undertaken in the galactic center by both groups.
Star Traces Spirograph Rosette
The stars close to the black hole zoom through a gravitational environment like nothing we can probe in the solar system. One star in particular is a key informant: a bright, massive B-type star called S2 by the MPI team and S02 by the UCLA team. This star comes closer to the black hole than the rest — some 120 astronomical units, or four times Neptune's distance from the Sun. It comes so close, in fact, that it actually dips into the well the black hole makes in the fabric of spacetime. Its 16-year, egregiously elongated orbit enables astronomers to test two predictions of Einstein's general theory of relativity (GR): gravitational redshift and orbital precession.
Using observations covering S2's most recent pass by the black hole in 2018, both teams successfully detected gravitational redshift: the star's light temporarily reddened as it dove through the gravitational well. Genzel's team announced its results in 2018; Ghez's team did so in 2019.
Now, the MPI team says it has measured orbital precession, too.
In GR, gravity behaves differently very close to a massive object than it does in Newtonian gravity. The massive object warps spacetime in a way that Newtonian gravity doesn't account for. When a star moves through this warp, its path shifts slightly, changing its incoming angle a tiny amount. That moves the location of its closest pass by the black hole. The effect of moving the periapse also shift the orbit — over time, it will draw a rosette around the central object, instead of a single, closed ellipse.
We see this orbital precession in the solar system. Mercury precesses around the Sun, largely due to the other planets' influence. But it took GR to explain a puzzling "extra" amount of precession that Newtonian gravity couldn't account for. Providing a solution to the innermost planet's motion helped convince both Einstein and other scientists that his framework of gravity was correct.
To see this precession, the MPI team combined more than 300 image and spectral measurements, spread over 19 years and done with a variety of instruments. Taken together, these observations traced S2 as it flew through more than a full circuit around Sgr A*. During its closest approach, the star hurtled past the black hole at some 7,700 km/s, or more than 2% the speed of light.
By comparing S2's movement to the coordinate system they'd built of the galactic center, the researchers detected a precession of 12 arcminutes (0.2 degree), they report in the April Astronomy & Astrophysics. This number matches the prediction from GR.
Sgr A* May Be a Loner
For Stefan Gillessen (MPI), who led the analysis, the result brings a fulfilling excitement. During his job interview more than 15 years ago to join the institute, they discussed trying this project. "It is great to see that, with patience and precision, you can go a long way!" he says.
But Ghez, whose team is currently analyzing its own, independent observations, is cautious. "This is a hard measurement that requires a tremendous amount of care," she says. Not only is the star one of many glowing dots, crowded together in images, but both teams have also used multiple instruments over the years — each with a unique set of imperfections. Every time you switch instruments, she says, it adds uncertainty to the coordinate system you're trying to build. Given the analysis in the new paper, she's worried that the MPI team has not completely taken this uncertainty into account. "It's exciting to see this," she says, "but it looks like it might be a bit premature."
Gillessen is confident they've accounted for what they need to, though. "Whatever we do in the analysis, the effect remains there," he says.
One notable implication from the MPI team's measurements: There cannot be a second, massive black hole closely orbiting Sgr A*. Once Sgr A*'s mass is accounted for, S2's motion precludes anything bigger than 1,000 solar masses from hiding inside its orbit. Previous work by Ghez and her colleagues similarly ruled out companions at least 10 times this size. Several astronomers over the years have speculated about whether our galaxy's central black hole could have tagalongs; given these measurements, any second black holes would have to lie farther out.
Reference:
Gravity Collaboration. "Detection of the Schwarzschild precession in the orbit of the star S2 near the Galactic centre massive black hole." Astronomy & Astrophysics. April 2020.