Find the craters named for the three astronauts who flew the first manned mission to land on the Moon.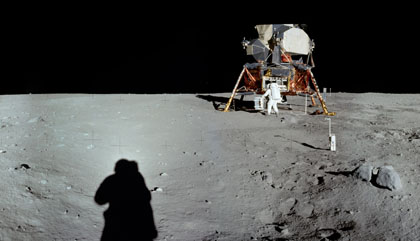 In the mood for a lunar adventure? The 50th anniversary of the Apollo 11 moon landing is this Saturday, July 20. How about a visit to the craters named for the mission's three astronauts — Neil Armstrong, Buzz Aldrin and Michael Collins? The trio make a neat little row in the Sea of Tranquillity not far from the Apollo 11 landing site.
You can drop by on July 20th — the day of the anniversary — or wait and get a better view on July 21st and 22nd, when the lunar terminator passes a short distance east of the three. Slanted sunlight will highlight their tiny, bowl-like shapes and shadowed interiors. The Moon will be a waning gibbous at the time, so it won't climb high enough for a good look until around 2 a.m. For most of us that's a tough time to be up, but there are other options.
You can arise around 5 or 5:30 a.m., when the Moon reaches its peak altitude, or hold off until the next period of visibility, which occurs on Aug. 6th and 7th, when the moon will be in first-quarter phase and conveniently placed in the evening sky. Check the list below for other times. I will say that one advantage of morning viewing is that the moon will be much higher in the pre-dawn sky compared to post-dusk viewing.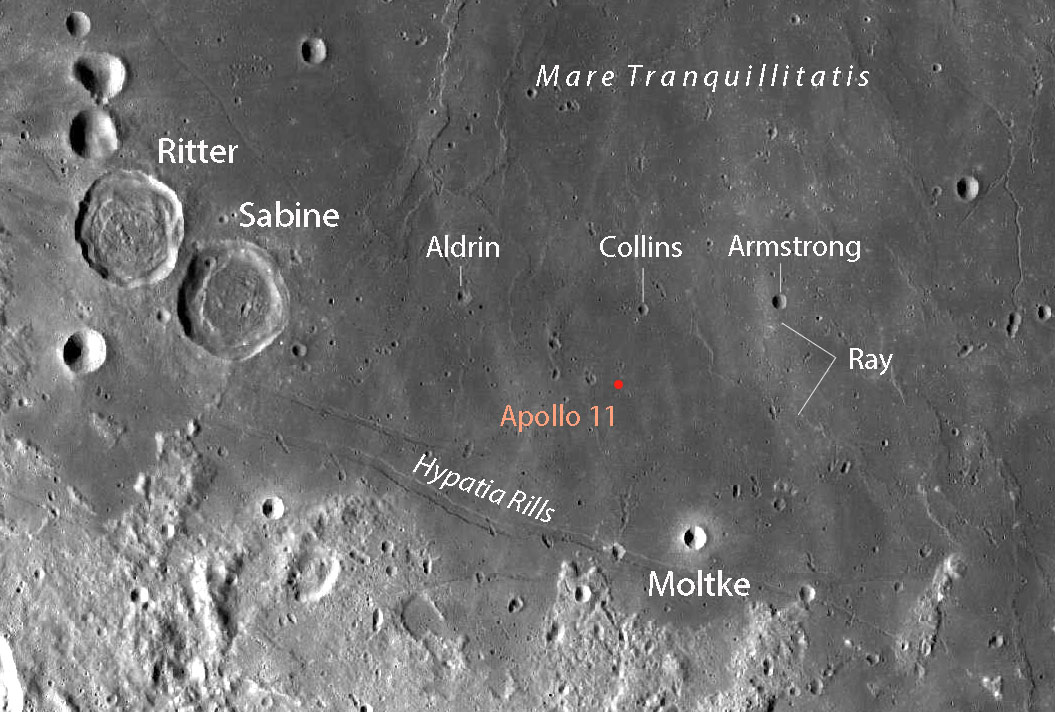 You'll appreciate that altitude because all three craters are on the small side. The Apollo 11 landing site, called Statio Tranquillitatis, is located almost due east (lunar direction) of the adjoining pair of 30-kilometer craters Sabine and Ritter along the south shore of the Sea of Tranquillity, north of the prominent, overlapping crater cluster Theophilus, Cyrillus and Catharina.
Armstrong spans 4.6 kilometers (2.86 miles), Aldrin 3.4 km and Collins 2.4 km. All are theoretically visible in a 6-inch telescope under good lighting, usually within a day or two of lunar sunrise or sunset. My observations were made with a 10-inch Dob at magnifications of 218x and 317x.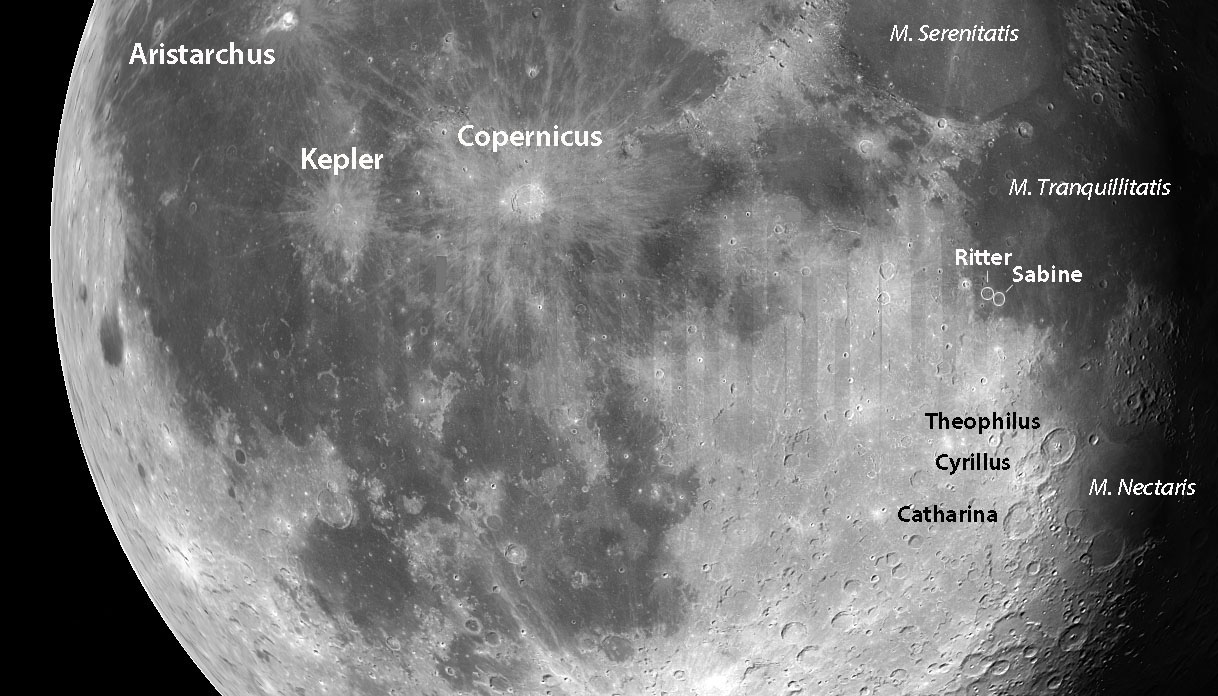 Start at Sabine and Ritter, then head east (lunar east) in the direction of the 6-kilometer-wide Moltke crater. Moltke sports a bright interior and a modest rayed halo, which makes it stand out boldly despite its small size. From there, look two Sabine crater-lengths north-northeast across a short stretch of mare for Armstrong. I had no problem seeing the crater even in so-so seeing at a magnification of 218x.
As always, seeing will be the limiting factor. If the image momentarily blurs due to unsteady air, hang in there. I always keep looking because inevitably the image will steady momentarily from time to time, offering a crisp, if brief view of the crater.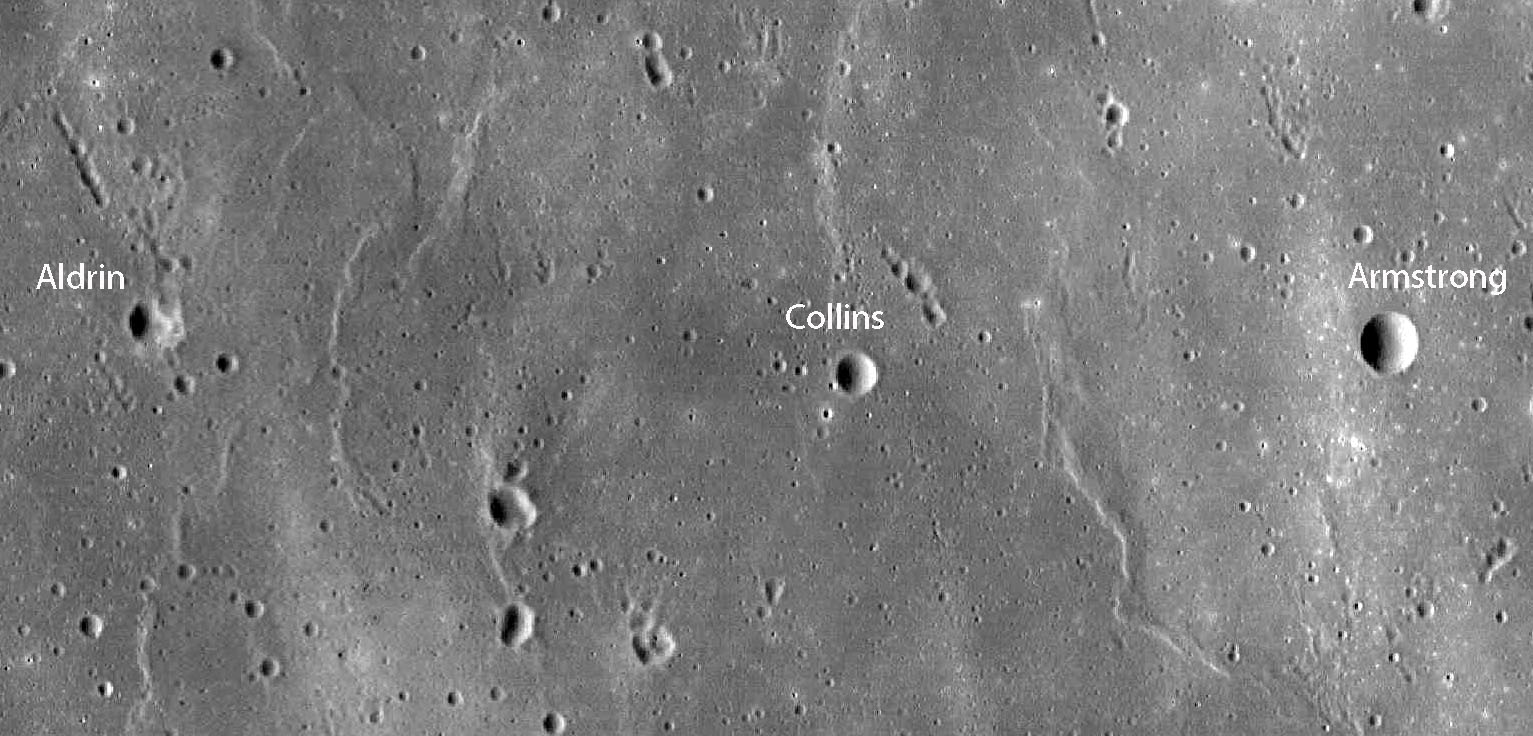 Armstrong is relatively easy to make out. For Aldrin and Collins, up your magnification to around 300x as long as seeing allows, and work back west toward the Sabine-Ritter pair. To know exactly where to look for these craterlets, it helps to connect them into a pattern with more easily seen objects. For instance, to spot Aldrin, I make it one apex of a nearly equilateral triangle that includes Armstrong and Moltke. It also lies just a bit more than one Sabine-width due east of that crater. With Armstrong and Aldrin under your belt, you're ready for Collins — the most challenging of the trio. Fortunately, it lies almost midway on a line from Armstrong to Aldrin.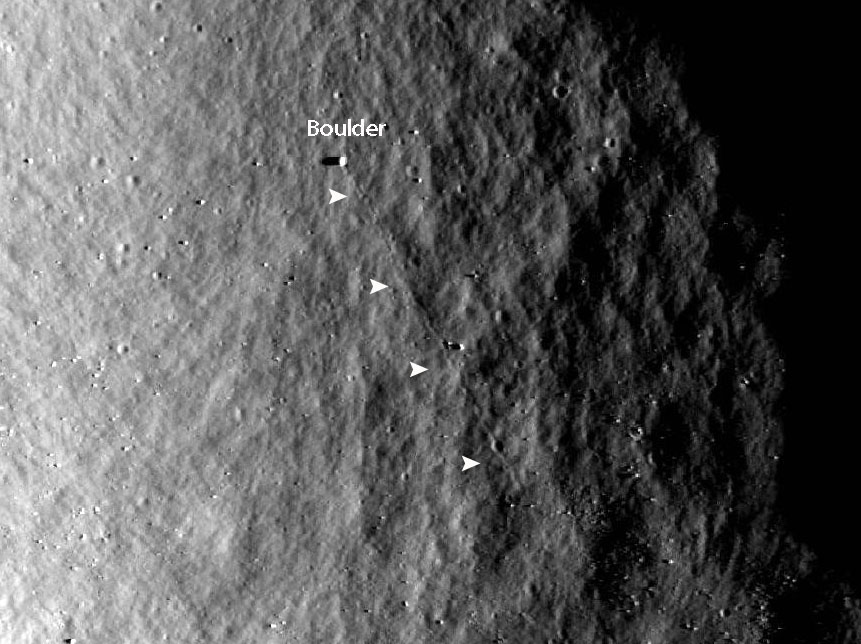 Once you've become familiar with the landscape, you can pinpoint the Apollo 11 landing site itself by "triangulating" it with either Moltke and Armstrong, or with Armstrong and Aldrin. Other connect-the-dots patterns are possible, too. Under good lighting, I can just make out the U.S. flag that was blown down by the blast of the ascent thrusters on takeoff over 50 years ago.
Just kidding. But here's the thing. After you spend time tracking down the three astronaut craters, you'll become so intimate with your surroundings it'll feel almost feel like being there.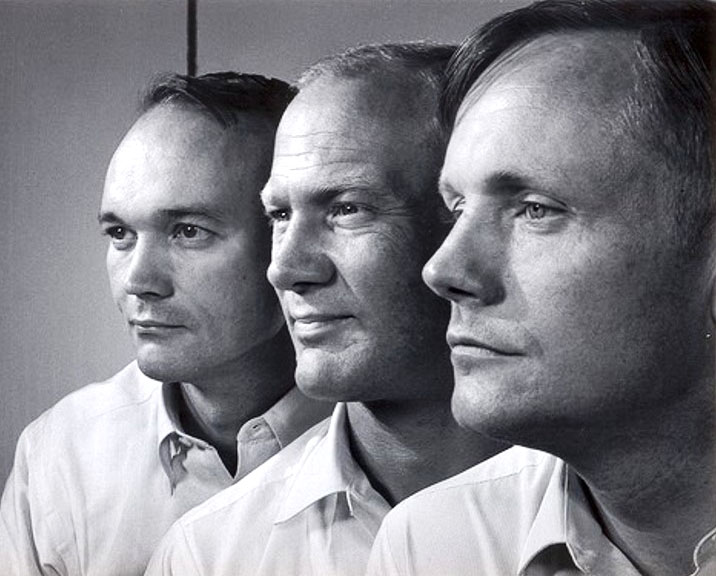 Observing Advice and Resources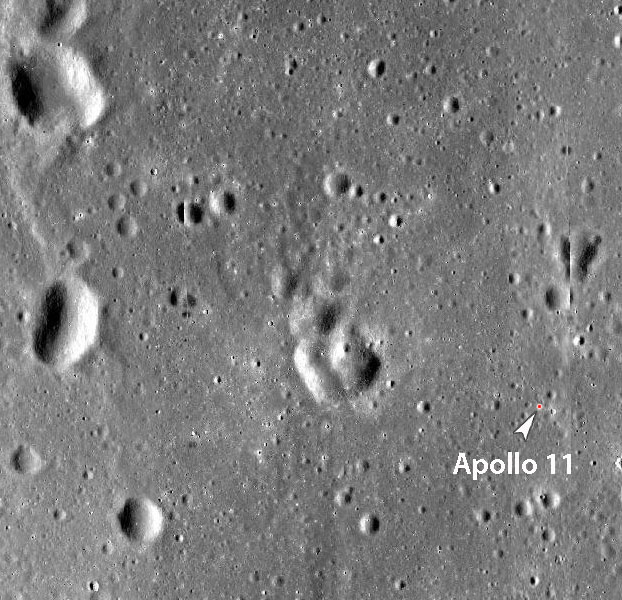 Times when low-angled lighting will highlight the crater trio:
July 21—22 before or during dawn
Aug. 6—7 evening hours
Aug. 19—20 before or during dawn
Sept. 4—5 evening
Sept. 18—19 before or during dawn
Oct. 4—5 evening
Websites and visual bonbons: