An 8-day flight involving a swing around the Moon ended successfully when a capsule landed safely on Earth. The test flight was a dress rehearsal for a future mission to bring back lunar samples.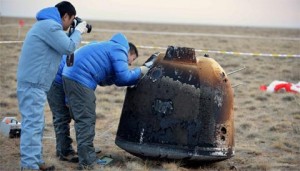 In a country with many secrets, China has loudly proclaimed that it intends to make the Moon a central focus of its space program. The next step in that effort ended early Saturday morning (late on October 31st Universal Time) when a capsule slammed into Earth's atmosphere at 7 miles (11.2 km) per second and safely parachuted to a landing site in Inner Mongolia.
The flight of Chang'e 5-T1, informally known as Xiaofei, began on October 23rd when a Long March 3C rocket lofted the spacecraft on a trajectory toward the Moon. Four days later it passed about 8,000 miles (13,000 km) from the lunar surface before heading home. Pictures released by the Chinese Lunar Exploration Program show the blunt capsule, roughly the size of a washing machine, resting upright with scorching from its high-temperature reentry.
The main spacecraft is a near-clone of Chang'e 2, a box-shaped structure with long solar-cell arrays that orbited the Moon in 2011 and later photographed asteroid 4179 Toutatis at close range. Besides its high-resolution camera, which relayed a stunning view of the Moon's farside with a gibbous Earth in the distance, the craft reportedly carries an experiment that exposed bacteria and plants to space radiation and secondary payloads for German and Spanish research teams.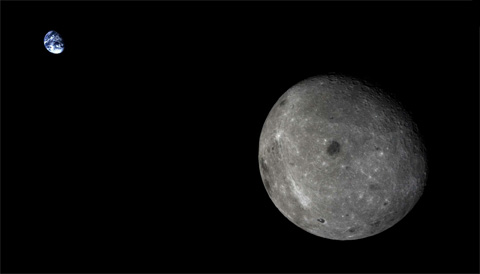 According a report published by Chinese Military Online, the main spacecraft will spend some time hovering near the L2 Lagrangian point before returning to the Moon and slipping into orbit.
Apart from successfully making the round-trip lunar voyage — the first since the Soviet Union's Luna 24 did so in 1976 — the spacecraft was an engineering test designed to lead to a sample-return mission. That mission, Chang'e 5, is designed to return some 4½ pounds (2 kg) of lunar material and could occur as early as 2017. (Space aficionados aren't clear if or when a Chang'e 4 spacecraft might be launched.)
Meanwhile, China's small lunar rover Yutu, which dropped onto Sinus Iridum last December, continues to function — barely. It encountered problems during the brutal cold of its first 2-week-long lunar night, which left it immobile. But Chinese space officials say that it is still communicating with mission controllers on Earth.
---
Want to compare the Moon's nearside and farside for yourself? Check out Sky & Telescope's terrific new lunar globes. Choose either the natural-hued Moon you see by eye or the color-coded topographic version.