New measurements from the European Space Agency's Gaia satellite show that the young stars of the Hyades cluster are beginning to drift apart.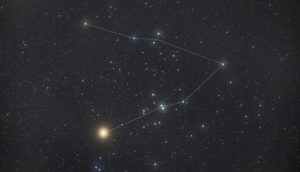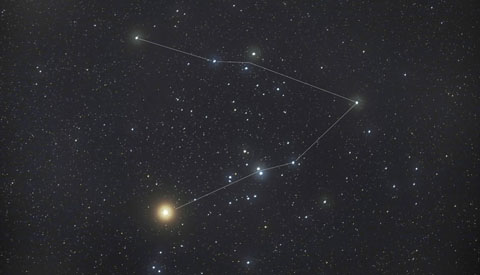 Look up in the evening sky these days and you'll see a striking V-shaped smattering of stars known as the Hyades — named for the daughters of Atlas and sisters of the more famous Pleiades. It's the nearest known star cluster, 150 light-years from Earth, and contains a treasure trove of observing delights, as Bob King chronicled a couple weeks ago.
The stars of the Hyades are "only" several hundred million years old — youngsters in astronomical terms — so they shed light into our own star's past. The Sun, too, was born in a cluster, surrounded by its stellar siblings. They all formed from the same cloud of dust and gas before time carried them apart. Now, measurements from the European Space Agency's Gaia satellite show how the Sun came to live in its current solitude: the stars of the Hyades, too, are beginning to go their separate ways.
Tidal Drift
That open clusters, which contain several hundred or maybe a thousand stars, should drift apart is a given. While massive clouds of dust and gas cocoon forming stars, those clouds dissipate once the stars start shining. After that, gravitational interactions easily disrupt the stars' orbits. But until now it's been a theorist's game: we've only ever witnessed the prominent streams of stars pulled from more massive stellar gatherings, such as globular clusters or dwarf galaxies.
Now, though, observers have the European Space Agency's Gaia satellite, which has been mapping the positions, distances, and motions of billions of stars since 2013. Siegfried Röser (Heidelberg University, Germany) and colleagues used Gaia's most recent data release to identify stars belonging to the Hyades. These include not only those stars located within the cluster itself, but also those fanning out in so-called tidal tails hundreds of light-years from the cluster center. One tail precedes the cluster in its orbit around the Milky Way; the other tail follows it.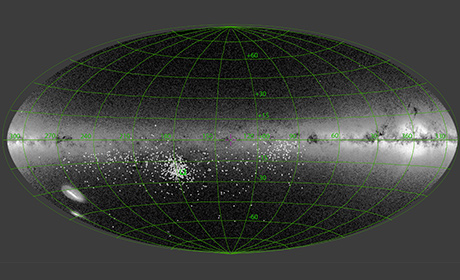 Thanks to Gaia's exquisitely precise data, the team could identify which stars were moving with the cluster as it orbits our galaxy, and which stars were moving just a bit faster or just a bit slower as the Milky Way's gravity tugs them away from the center. In addition to 501 stars within Hyades itself, Röser identified 292 stars up to 550 light-years in front of the cluster and another 237 stars trailing behind by up to 230 light-years.
The study extends beyond the eventual dissolution of the Hyades. "Our discovery shows that it is possible to trace the trajectories of individual stars of the Milky Way back to their point of origin in a star cluster," Röser explains.
Read more in the Heidelberg University's press release and in the team's paper appearing in the January issue of Astronomy & Astrophysics.