The Hyades may stand in the shadow of its neighbor the Pleiades, but there's a wide variety of wonders in the region, from naked-eye double stars to challenging galaxies. Let's pay a visit.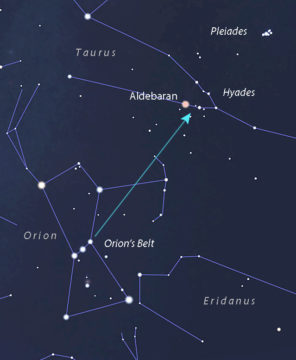 The Pleiades gets more ink than any other star cluster. Deservedly so, but that might make some overlook the charms of the neighboring Hyades cluster. If the Pleiades looks like a miniature dipper, the Hyades is shaped like the letter V. Bright Aldebaran, the ruddy eye of Taurus the bull, helps to complete the letter even if it's not a true cluster member. Just 65 light-years away, it's more than twice as close as the Hyades, which at 151 light-years is the closest and brightest open cluster to the solar system.
The bright cores of the Pleiades and Hyades are both about 16-17 light-years across, so much of the apparent size difference between the two clusters is the result of their different distances. The Pleiades are 444 light-years away or three times as far as the Hyades, making easy to imagine the two objects in 3D space with the Hyades in the foreground and Pleiades twinkling in the distance.
Most of us strain to make out six or seven Pleiades stars without optical aid, but did you know that a dozen Hyades shine for the taking? Several dozen more emerge using binoculars. Among their ken are four naked-eye double stars that make excellent tests of vision.
My favorite and the easiest is Theta1,2 (θ1,2) Tauri, the brightest true member of the cluster. I look up and see two tiny beads of light, almost touching, along a northwest-southeast line. With magnitudes of 3.8 and 3.4, respectively, and separated by 5.6′ (arcminutes), this pretty pair is a bit less than half the separation of Mizar and Alcor in the Big Dipper's handle. Given that the listed distance for Theta2 places it five light-years beyond its supposed companion, it's unlikely that the Thetas are physically related except for both being cluster members.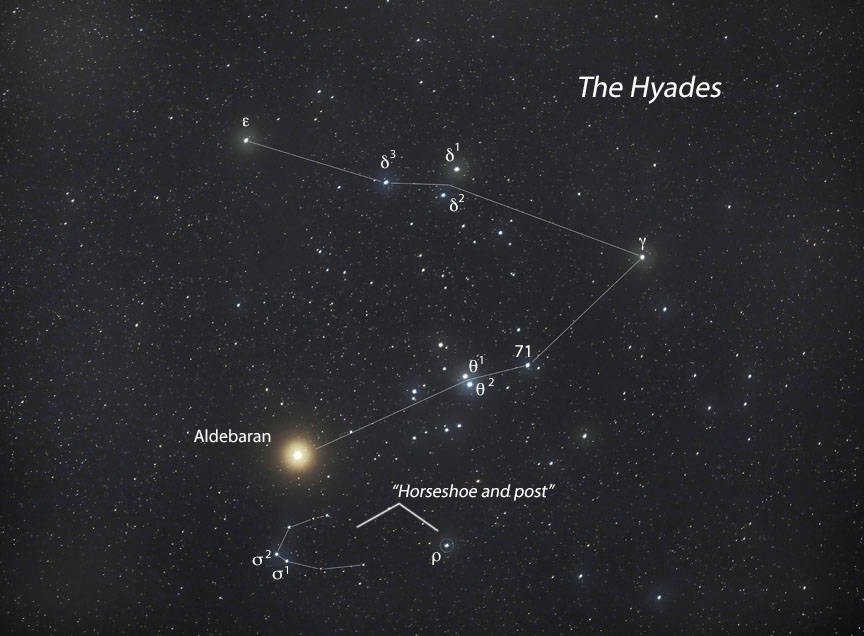 Theta makes a great warm-up for our next pair, Delta1,2 (δ1,2) Tauri, a true double star located just 2° northwest of the Thetas. Delta1 is easy to pick out at magnitude 3.8, but its companion is a full magnitude fainter; I had use averted vision for a clear view despite their spacious 18′ separation. City and suburban observers should keep binoculars close by when seeking out naked-eye pairs. I'll often check in binoculars first so I know exactly where to look for a faint or close companion.
The animation first shows the 3D structure of the cluster, based on accurate position and distance information from Gaia. Then an animated view of the future motions of stars is shown — both in the Hyades and beyond. You get a very different view of the Hyades as you "spin" around it in space.
ESA
You'll know what I mean with our next double, Sigma1,2 (σ1,2) Tauri located 1° southeast of Aldebaran. The dueling Sigmas, magnitudes 5.0 and 4.7 respectively, lie along a northeast-southwest line and are separated by 7.2′, a jot more than the neighboring Thetas. When my vision is clear and eyes relaxed, I can just split the pair. Like Theta, Sigma is probably not a true double as the two stars are 9 light-years apart.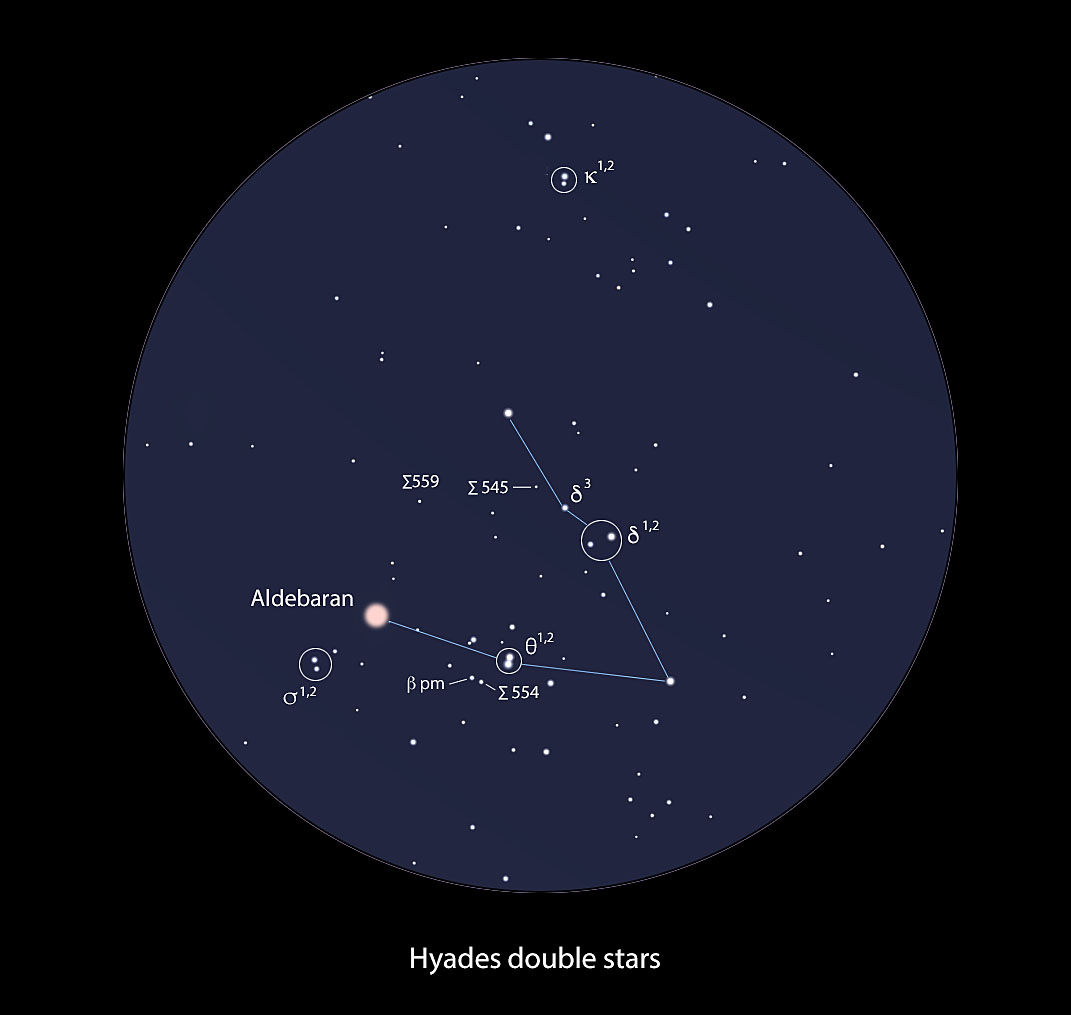 Want a serious naked-eye challenge, try Kappa1,2 (κ1,2) Tauri located 3° north of the "V" of Taurus. It was once thought that Kappa wasn't a true cluster member, but data from the Hipparchus satellite proved otherwise. Kappa played an important role during the May 29,1919, total solar eclipse as one of several stars photographed near the Sun during Sir Arthur Eddington's expedition to test Einstein's prediction that gravity bends light. Careful measurement of the Kappas and other stars in and out of eclipse confirmed the predicted displacement.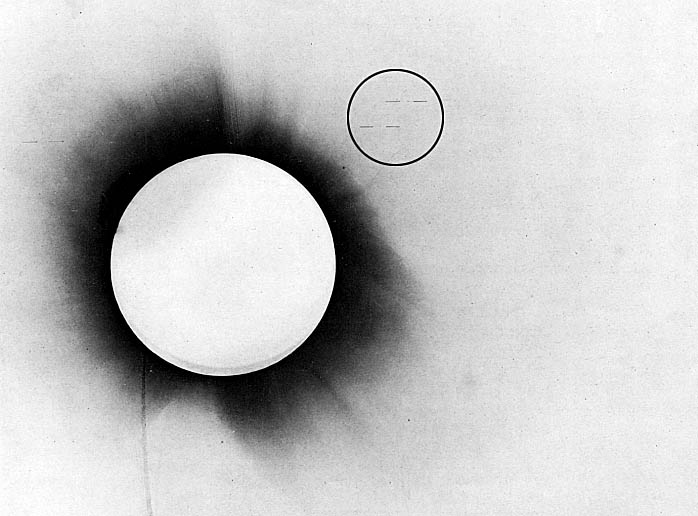 Will you have equal success in splitting the two nearly 100 years later? You can only try. With magnitudes of 4.2 and 5.3, the uneven pair is a bit tighter than the Sigmas at 5.6′. The best I could do was see them as an elongated single star rather than two separate points. All four of these doubles are enchanting in binoculars, so be sure to look out for them whether or not your eye can crack them in two or not.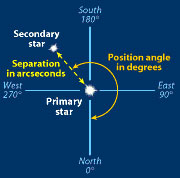 Those aren't the only doubles worth a visit in the Hyades. Here are several more snuggled inside the cluster for small to medium-sized telescopes. I made observations in 10-inch and 15-inch telescopes. Data is current from the Washington Double Star Catalog:
β pm 62 (81 Tau): Magnitudes 5.5, 9.4; separation 162″; PA = 339°. A double any scope can split. Very wide!
Σ 554 (80 Tau): Magnitudes 5.7, 8.1; separation 1.5″; PA = 16°. A difficult double. I only suspected the companion very close almost due south of the primary at 245×. So-so seeing made the observation challenging.
Delta3 (δ3): Triple star. Magnitudes 4.2 (A), 7.5 (B) / 8.7 (C); PA = 341°; 1.8″ separate the primary and B. The wide magnitude range made this a "no" for me, but A and C were an easy wide pair in PA 236° separated by 77″.
Σ 545: Magnitudes 6.9, 8.8; separation 18.5″; PA = 58°. Excellent low-power double. Eye-catching brightness contrast between primary and secondary.
Σ 559: Magnitudes 7.0, 7.0; separation 3.1″; PA = 276°. A real beauty! Equal stars on an east-west line tantalizingly split at 76× though almost touching. 100× and up makes the gap obvious.
Besides doubles, the Hyades hides a smattering of deep-sky treasures, mostly faint UGC (Uppsala General Catalog of Galaxies) objects and two intriguing nebulae, Sharpless 2-239 and Hind's Variable Nebula. To find them you'll need at least an 8-inch telescope and dark skies.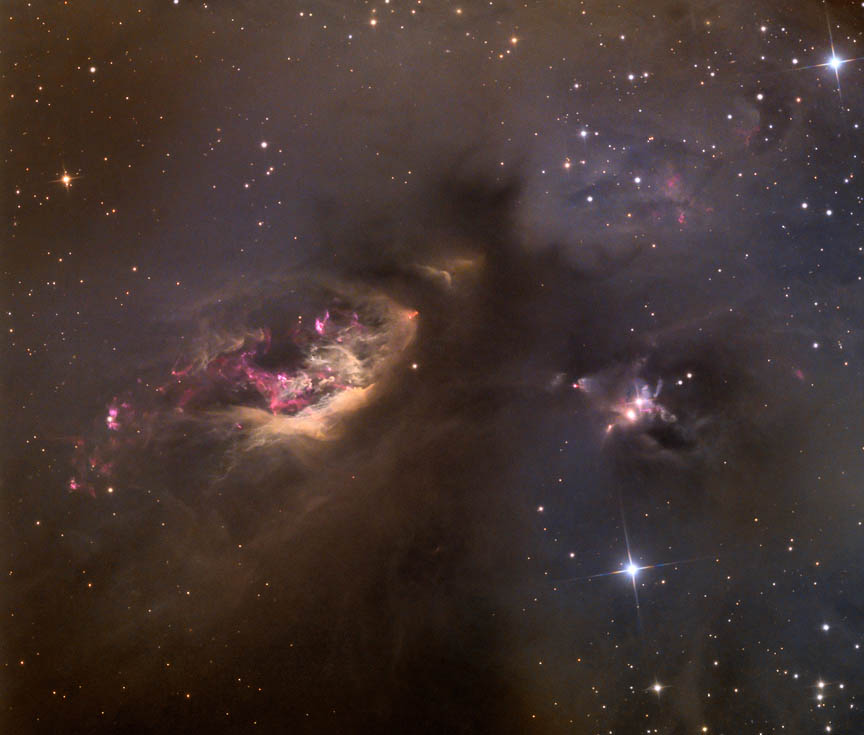 Sh 2-239 is simply stunning in deep photographs — a nest of reflection and emission nebulosity swaddled inside the dark, star-forming cloud LDN 1551 about 2° northwest of Aldebaran. It has that fresh, "break out" appearance of the Trapezium in the Orion Nebula, but it's much fainter. I observed the nebula on multiple occasions with my 15-inch reflector as a 13th-magnitude, oval-shaped haze about 5′ across at 64×.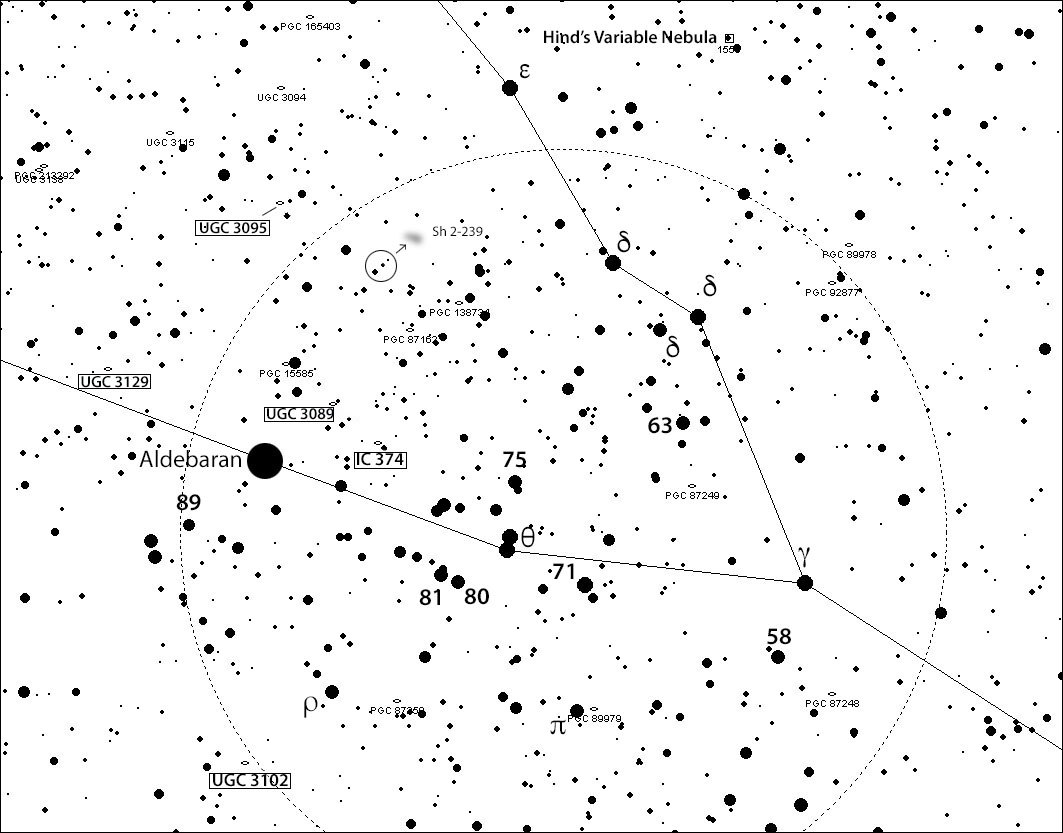 If I play back and forth between averted and direct vision while tapping the telescope tube (and chewing gum), I get quick flashes of a more compact, slightly brighter region inside the nebula. Emission filters like an O III or UHC unfortunately don't improve the view, indicating that we're seeing primarily a reflection nebula. Faint as it is, finding Sh 2-239 sent me into the dark heart of Taurus I've always read about but had never seen before.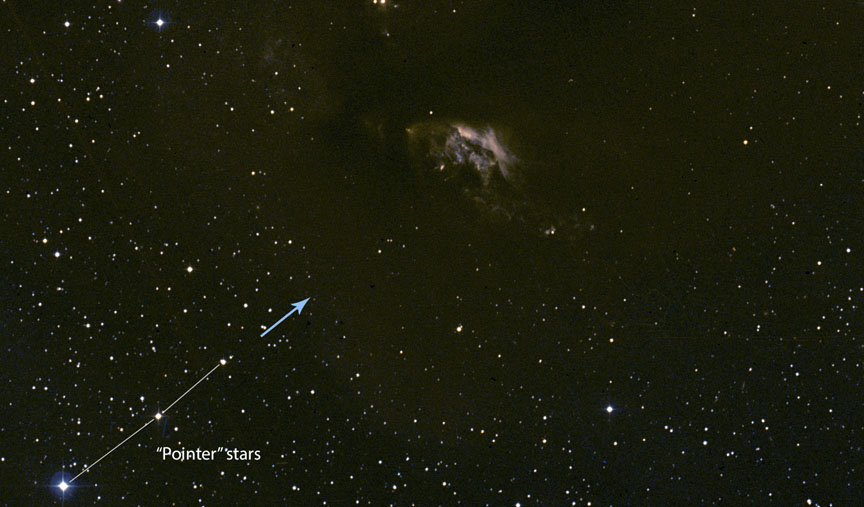 The faint but famous Hind's Variable Nebula, a.k.a. the T Tauri Nebula or NGC 1555, lies only a short distance north of the cluster. The nebula appears as a faint curl of haze due west of the 10th-magnitude variable star T Tauri at medium to high magnifications. The glare from a bright 8th-magnitude field star 7′ to the southwest further complicates seeing the nebula. An occulting bar eyepiece would work wonders here by blocking T's light to allow the eye to dark-adapt for a better look. You'll find more information on observing this nebula and its ilk in this earlier blog.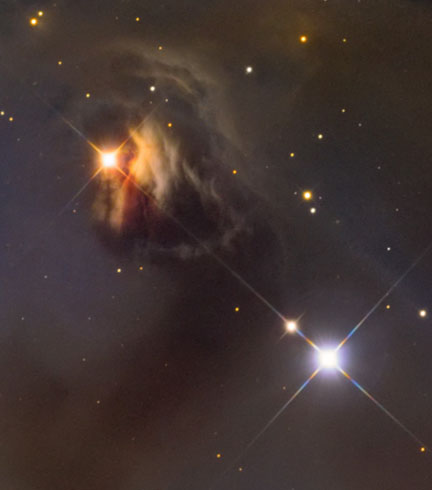 There are lots of tiny UGC galaxies within and without the Hyades. I looked for eight of them and found five with the 15-inch and 142× magnification. The published magnitudes for the objects range from 15 to 16, but I'm certain that all were closer to magnitude 14 if that's any consolation! Although most are listed at 1′ across, nearly all looked closer to 30″ wide to my eye:
UGC 3102: Faint but not difficult fuzzy spot. Slightly brighter core visible.
IC 374: Small, 15″ object elongated east-west with an obvious stellar nucleus.
UGC 3089: Round, faint, brighter toward the center and located immediately south of a tiny triangle of field stars.
UGC 3129: Very faint. Took about 15 minutes to finally spot this galaxy. Largest of the bunch at ~1′ across.
UGC 3095: About 45″ across and compact with a brighter nucleus. Forms a small triangle with faint stars to its west and south.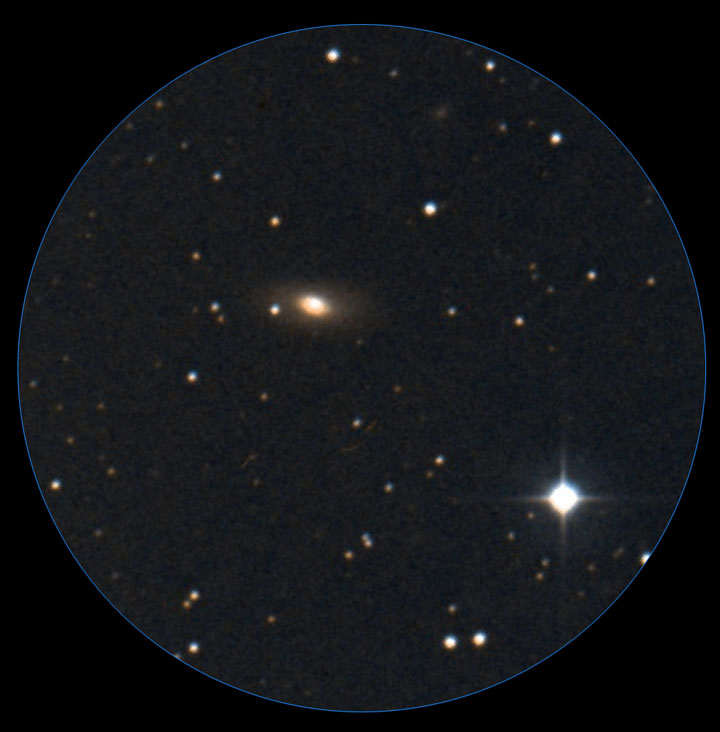 I had a wonderful time hanging out in the Hyades and hope you do, too. There are so many layers there, from naked-eye to easy telescope viewing to faint challenges, all jammed into a few degrees of sky. And don't forget to add a few layers on yourself, too — it's cold out there!