We track down and admire five of the most ancient stars in the universe.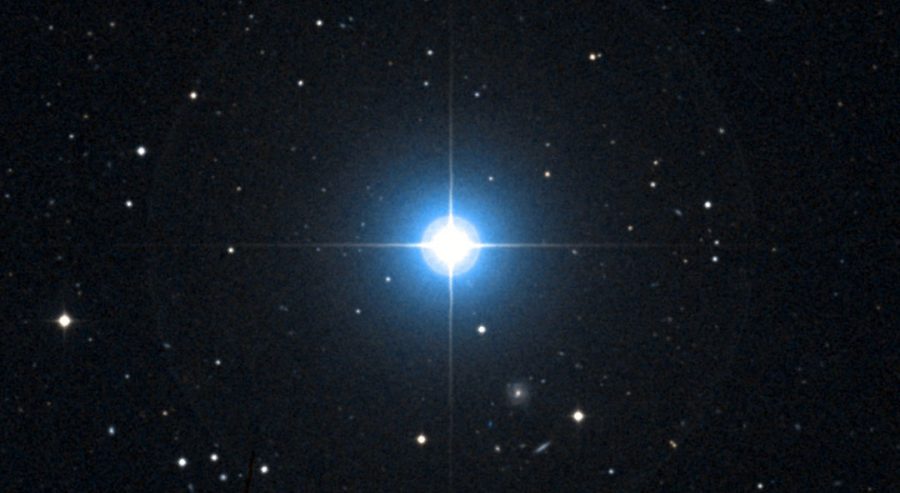 Older people never run out of stories. After all, they've seen a few things. Older stars likewise have tales to tell. They stood by during the Milky Way's youth, when it eagerly gobbled up smaller galaxies until finally emerging as one of the cosmic kingpins. The first planets formed under their watch. And while galactic supernovae are few and far between today, from the long perspective of these ancient suns, they pop like flash bulbs at a press conference, their remains molded and reignited into new generations of stars. Stories to tell indeed.
What defines old? Certainly the Sun is old. It emerged from the solar nebula 4.6 billion years ago, a respectable age by most measures. But it doesn't compare to stars in globular clusters that have kept their wicks lit for some 12.8 billion years. While not the first generation of stars to form in the universe, globular suns are so ancient that they preceded the formation of the Milky Way galaxy as we know it. They were the first clots of stars to form in the massive cloud that would eventually collapse to form the galaxy's bulge and ultimately its spiral disk. Through it all, the globulars watched from the periphery — our galaxy's halo — where most of them reside to this day.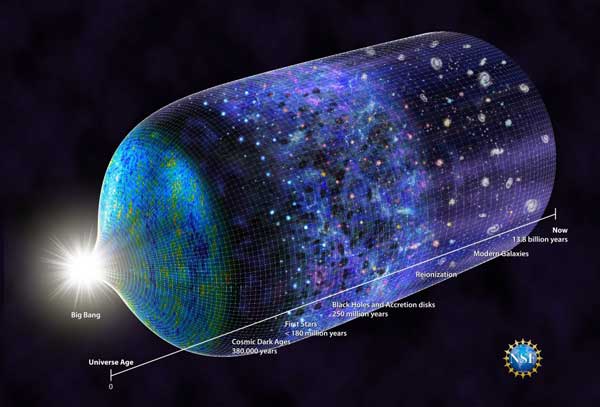 Cosmology teaches us that the universe originated in a primeval fireball ~13.8 billion years ago, so you can't get any older than that. Some stars come close. The first generation of stars formed between 100 and 250 million years after the Big Bang from hydrogen and helium, the two most abundant elements produced in the formative universe. Fusion of these atomic lightweights within their cores produced heavier elements such as carbon, oxygen, and nitrogen, which were expelled into space when the stars exploded as supernovae. Mixed with healthy amounts of primordial hydrogen and helium, these new elements wound up in the next generation of stars.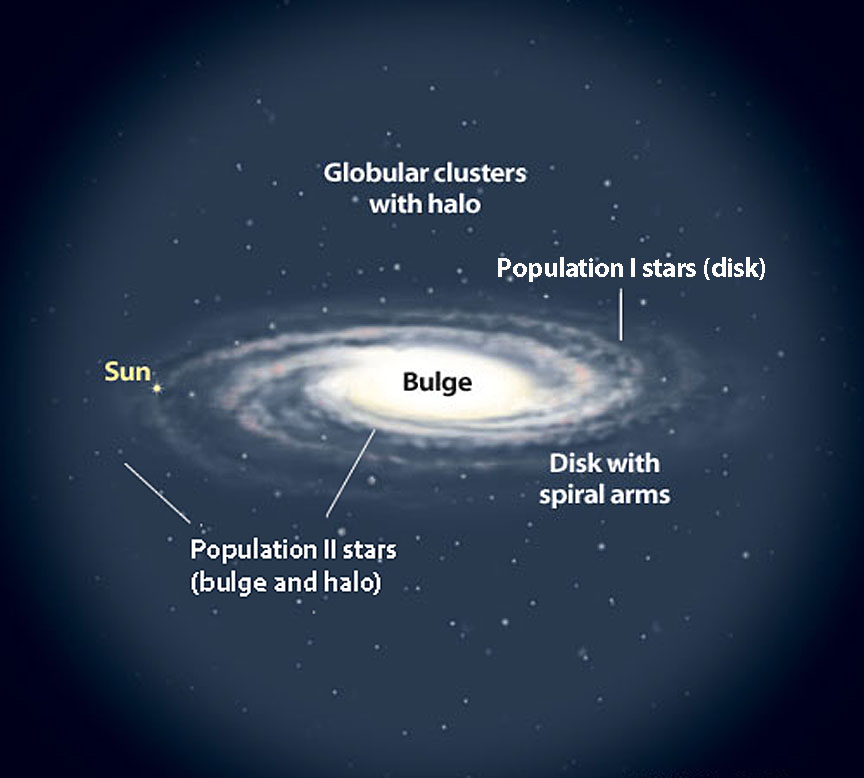 Astronomers call elements heavier than helium "metals," so future generations of stars gradually became enriched in metals. Measuring a star's metal content, then, is a handy way to determine its age. The fewer heavier elements observed, the older the star. Many of these metal-poor stars, dubbed Population II, inhabit the galactic halo and central bulge because they preceded the formation of the Milky Way's spiral disk, home to young Population I stars like our Sun. By extension, the most ancient stars — that first generation with no metals at all — belong to the elusive Population III. I use the word elusive because we're still searching for definitive evidence that any still exist.
Let's Meet These Ancient Stars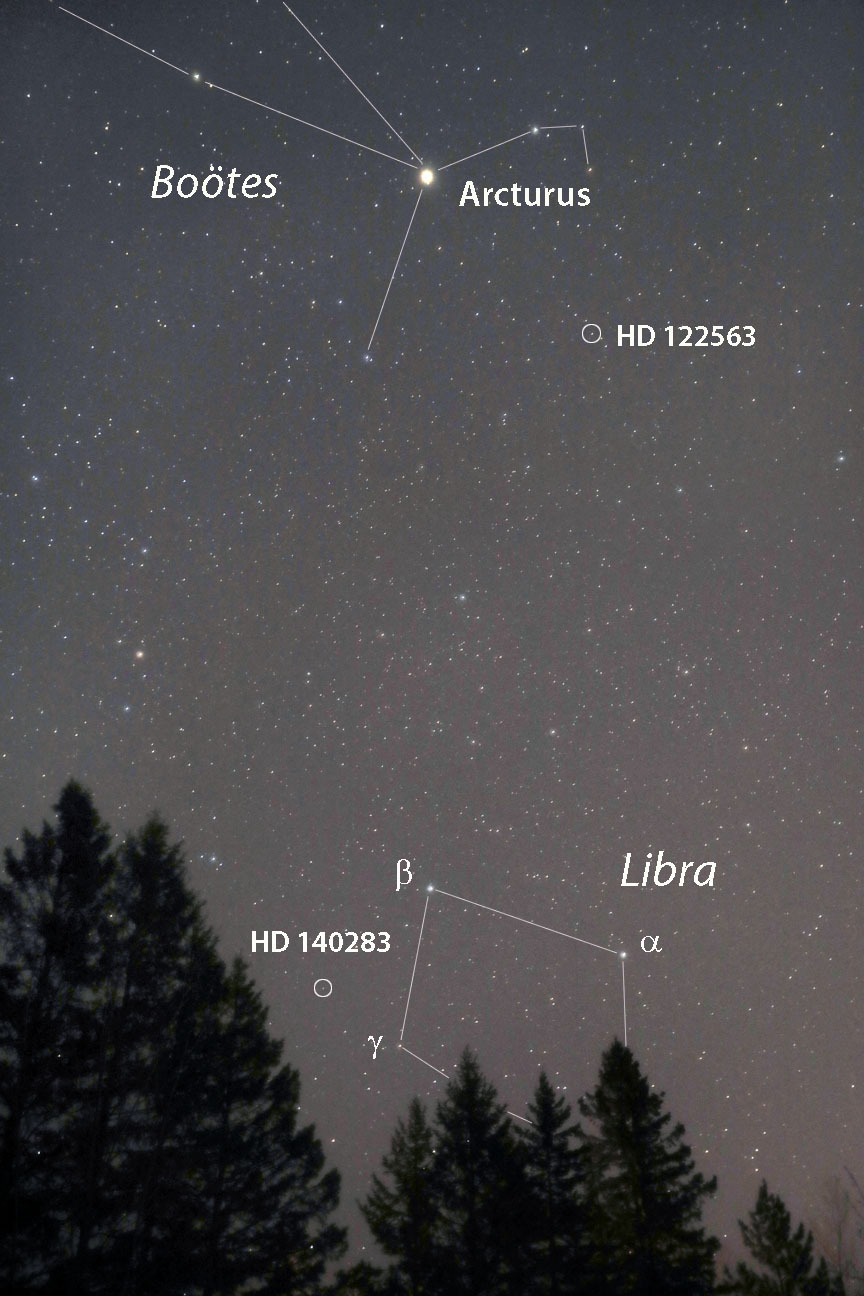 We're going to pay a visit to five extremely metal-poor stars that have more in common with their primeval cohorts than most of the stars that spangle the sky on a dark night. We'll begin our pilgrimage to the ancient ones with the brightest, HD 122563, a magnitude-6.2 red giant in Boötes. Located 950 light-years away in the galactic halo it's about 12.6 billion years old. If the Sun's a middle-aged 45 years old, say, then HD 122563 would be its great grandparent, aged 123 years. Through the telescope the star glowed pale orange and serene.
Next, we meet another halo member that might just be the oldest star visible in an amateur telescope. Never mind a telescope, binoculars will do. Dubbed the Methuselah Star, HD 140283 is a magnitude-7.2 object 202 light-years away in Libra. It belongs to the subgiant class with a mass 0.8 times solar but twice as big around and almost five times as luminous. After a precise determination of its distance using the Hubble Space Telescope (HST), a 2014 study concluded that Methuselah was one of the oldest stars yet discovered, with an age of 14.27 ± 0.38 billion years.
| | | | | |
| --- | --- | --- | --- | --- |
| Star | R.A. | Dec. | Mag. | Age |
| HD 122563 | 14h 02.5m | +09° 41.2′ | 6.2 | 12.6 Ga |
| HD 140283 | 15h 43.1m | –10° 56.0′ | 7.2 | 14.5±0.8 Ga |
| HE 1523-0901 | 15h 26.0m | – 09° 11.6′ | 11.5 | 13.2 Ga |
| BD+17°3248 | 17h 28.2m | +17° 30.6′ | 9.3 | 13.8±4 Ga |
| Sneden's Star | 22h 17.0m | –16° 39.5′ | 13.2 | ~13 Ga |
Star ages are given in gigayears. One Ga = 1 billion years.
So wait. Is it older than the universe? Of course that can't be. Slight uncertainties in distance and stellar modeling leave enough room for it to have been born post-Big Bang. But make no mistake. It's really, really old, likely to have formed from enriched material after the metal-free generation exploded as supernovae. Despite its age, HD 140283 races across the galaxy at 800,000 miles per hour (1.3 million km/h) like a gold-medalist sprinter. For the moment it's near our solar system, but the galactic halo is home sweet home.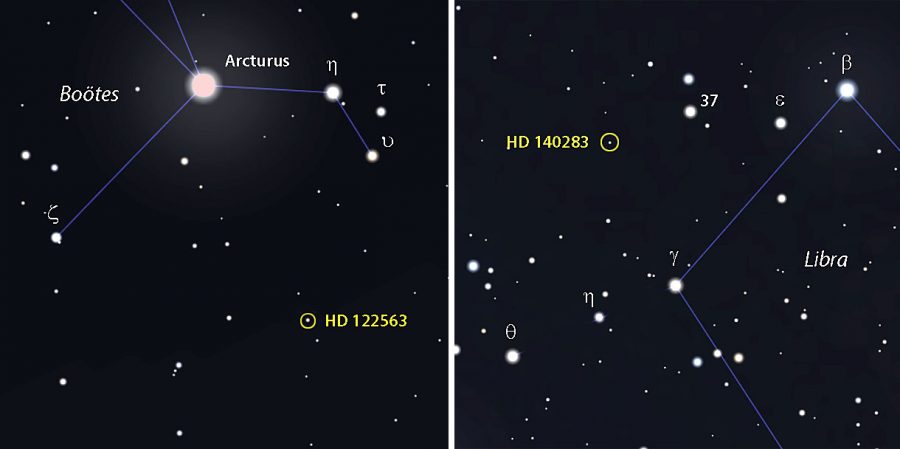 Libra hosts another of the "old ones" in He 1523-0901, a red giant embering away 2.2° due east of Beta (β) Librae and 4.5° northwest of HD 140283. It's about 7,500 light-years from Earth and shines more faintly at magnitude 11.5, so you'll need a 4.5-inch telescope to spot it. Aged 13.2 billion years, the star was likely present at the Milky Way's first birthday party, long before party hats would come into fashion.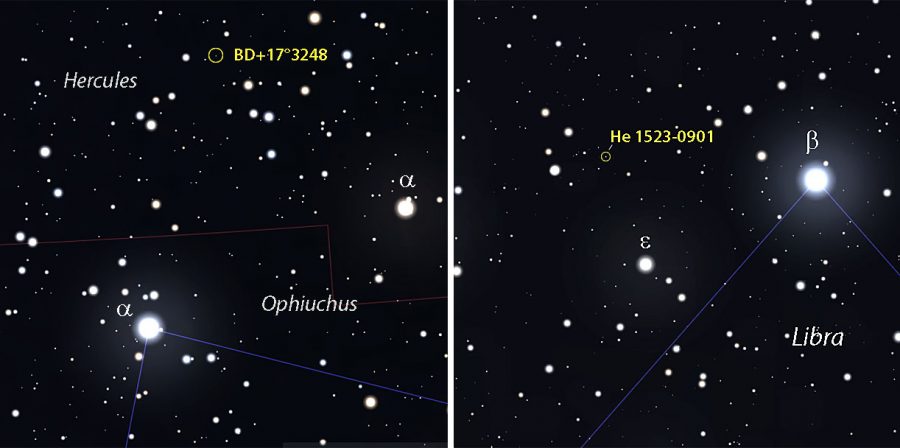 From here, tilt your telescope northward to Hercules for a look at BD+17°3248, a magnitude-9.3 orange subgiant 13.8 ± 4 billion years old and approximately 2,600 light-years away.
In 2002, a team of astronomers using the HST literally discovered gold here, the first time the element had ever been observed in a star other than the Sun. Its outer atmosphere also is tainted with radioactive thorium and other heavy elements. These could only have originated through a process called rapid neutron capture that occurs when massive stars explode as supernovae. Given BD+17°3248's advanced age, it may well have been forged from the dregs of the sought-after Population III clan.
We end with Sneden's Star, a faint red giant slightly more massive than the Sun situated 17,000 light-years from Earth in the Milky Way's halo. Located in Aquarius, this old Population II star is just now emerging into the morning sky. Look for it about 5.5° south of Jupiter in early May. At magnitude 13.2 you'll need an 8-inch telescope for a good look.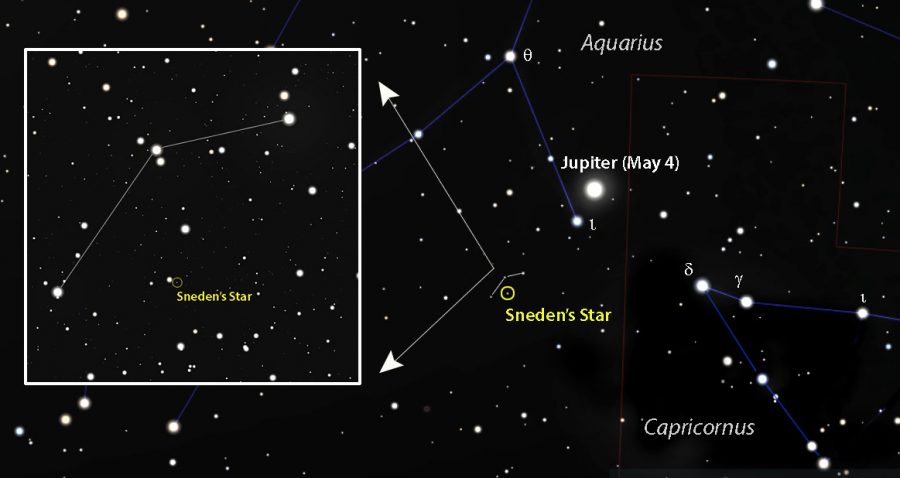 Sneden's Star is named for Chris Sneden of the University of Texas (Austin) who, along with his team, measured the abundance of 53 elements in the star. It hails from ~13 billion years ago and like BD+17°3248 possesses heavy elements formed by neutron capture.
The other day, while hiking a ridge trail not far from my home, I encountered a small stand of old growth trees — behemoth white pines more than 200 years old. I felt respect for the trees. They had survived thunderstorms, changing climate, and disease to stand proudly in the present. In the same way, these ancient suns continue to shine when so many others have gone dark. They are our eyes. Through them we see nothing less than the birth and evolution of the galaxy we call home.
---