In 2002, high-school student Jennifer Barlow had a simple idea: let's take some time to appreciate the beauty of the cosmos and consider ways to reduce the spread of light pollution. Here's how you can join the celebration!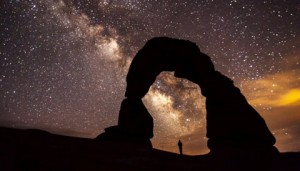 Have you ever stepped outside to take in a view of the starry sky overhead — only to have your celestial panorama ruined by the ugly glow of light pollution? Maybe it's coming from a neighbor's security light or the combined glow over your whole town. Either way, light pollution prevents virtually all of us from viewing a pristinely beautiful night sky.
Back in 2002, a Virginia high-school student named Jennifer Barlow decided to do something about this, at least in her hometown of Midlothian, Virginia. First, she encouraged her friends and neighbors just to enjoy the beauty of a star-filled night sky — then she urged them to take some modest, common-sense steps to reduce the light pollution that outdoor lighting creates.
Barlow is all grown up now (she's a visiting professor at Wake Forest University), but her simple idea has blossomed into an annual event called International Dark-Sky Week. It's always celebrated in April, which is also Global Astronomy Month. This year celebrations begin Monday, April 4th, and run through Sunday, April 10th.
Now, as then, IDSW's goals are simple:
Inspire people to celebrate the beauty of the night sky
Raise awareness about the negative effects of light pollution
Embolden everyday citizens to take action!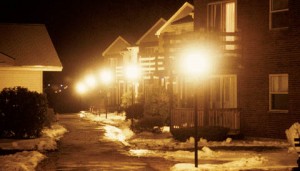 These days, IDSW is coordinated by the International Dark-Sky Association, whose members campaign year-round for better outdoor lighting. The goal is not to simply turn off all lights at night. Like it or not, we've become a 24/7 society — and, like it or not, nighttime activity requires some illumination to help us find our way along streets and sidewalks.
But there's a huge difference between the harsh, glary lights pictured at right and lighting that's well designed to illuminate the ground so that glare and light pollution are minimized. Too many fixtures send light streaming up into the sky, or provide far more light than is necessary, or are simply left on when they're not needed.
You Can Make a Difference
So, you might be thinking, "How can I reduce light pollution?" Easy! The first steps can be as simple as holding a neighborhood stargazing session sometime this week, or installing a motion detector on your outdoor security lights.
If you're a regular visitor to SkyandTelescope.com, you know my views on light pollution. I'm especially eager to see more support and involvement from amateur and professional astronomers — the very individuals who stand to gain the most from reducing light pollution.
So please take a few minutes to learn more about IDSW and the many ways, big and small, that you can participate. Meanwhile, here's a list of public events planned for this week, and here's more information about Global Astronomy Month.