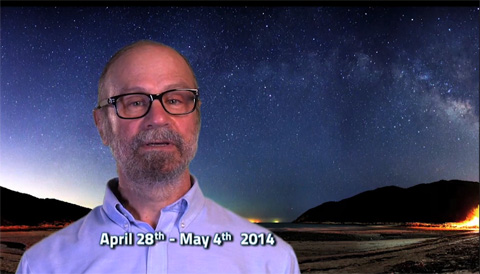 At the recent Northeast Astronomy Forum, many people complimented me on the SkyWeek TV program that I have been hosting since Thanksgiving 2011. I had to inform everyone that this is the last month when SkyWeek will be airing on TV and on our website; the final episode will cover the week of April 28 – May 4. To my surprise and chagrin, several people were seriously upset. A common refrain was, "I teach high school (or college) astronomy. I have been showing your video in my class every week, and the students love it. What am I going to do now?"
I'm very sorry to disappoint my loyal fans, but the economics of the program were problematic from the start and have been getting steadily worse. We can't get nearly enough money from sponsors to cover our costs – even if you pretend that my own time is free and infinite, neither of which is true.
Let me thank the sponsors who made the show possible at all: Meade Instruments Corporation and Woodland Hills Camera & Telescopes. Also thanks to Software Bisque, who also allowed us to use their software to produce the charts and sky scenes that are so important to the show.
Let me also thank the other people who worked on the show, especially Jeff McGurren of Articulate Creation, who has done all the video editing since day one. Equally important are the assistants who gathered the images and did the animations: Michael Zolitnitski, Cat Marshall, Caitlin Stier, and the amazing multitalented Shweta Krishnan. Finally, the participation of Rob Kirwan, Senior Vice President of Powderhouse Productions, was brief but absolutely essential. It was Rob, Shweta, and Jeff who hammered out the structure and look of SkyWeek way back at the beginning. Anything you like about the show's appearance is due to them.
All of the SkyWeek episodes ever produced are online at the SkyWeek TV Archive.
In case anybody is wondering, the SkyWeek App, a completely separate product produced by Alan MacRobert, will continue unaffected by the demise of the SkyWeek TV show.