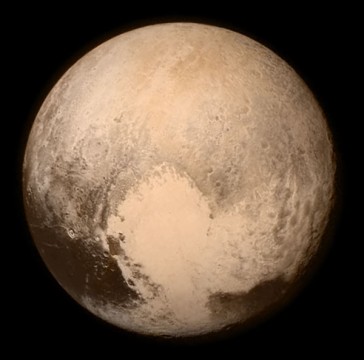 NASA's New Horizons spacecraft whizzed by Pluto this morning just before 8 a.m. EDT at nearly 14 km/s (31,000 mph), about 12,500 km (7,750 miles) above the surface. It arrived a little over a minute early — maybe after a decade it was a little impatient? — but that should have no adverse effects on the data. We should receive (we hope!) an A-OK broadcast from the spacecraft just after 9 p.m. EDT.
My colleague Kelly Beatty will be posting a full digest of the encounter later today, but in the meantime, check out this colorized image from NASA, taken July 13th. The image shows the dwarf planet with north pointing up. The dark regions lie near the equator, with bright regions next to it and intermediate regions near the pole. Oddly, much of the interior of the region nicknamed "the heart" (you can see why) appears remarkably smooth.
The various features clearly show that Pluto is a place where geology has played a role (and might still), principal investigator Alan Stern (SWRI) said July 14th during a morning press briefing. But while the pre-encounter images do show signs of several different terrains, the team needs to see the supporting topographic and color data before making conclusions, he stressed. Spectra will reveal compositions, and thermal maps will provide information, too (are the brightest areas colder than the darkest ones?).
Check back soon for more information. And if you'd like to know more about the New Horizons mission, be sure to read our July cover story on the mission.
Hip hip hooray for the New Horizons team!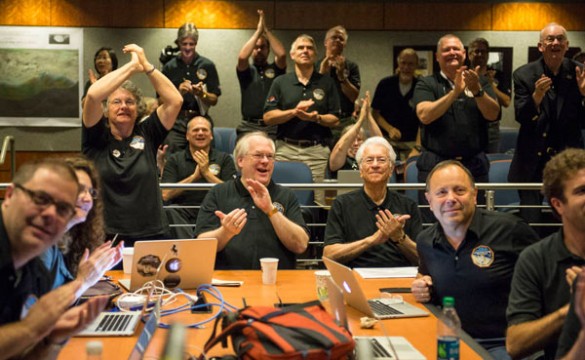 ---
Got the Pluto bug? Read more about Pluto's discovery, its demotion to dwarf planet, and why it did (or didn't) have it coming in our Discover Pluto Collection.