In a quartet of high-quality videos, Sky & Telescope editors offer newcomers solid, objective tips on how to buy, use, equip, and care for new telescopes.
My first telescope showed up as a colorfully-wrapped package — too big to be a baseball bat — underneath the family Christmas tree. My parents did their best to get me a good one, but truthfully it was a pretty modest affair purchased at the local Sears. Still, it was a doorway to the universe, the most prized possession of a star-struck 10-year-old boy growing up in Central California.
These days, first-time telescope purchasers are confronted with a bewildering array of choices: Dobs, Maks, Newts, APOs, SCTs, GoTos, Push-Tos, and more. How can a newbie hope to make a sensible choice? The truth is: buying a telescope is like buying a car. No single model is right for everyone, and it helps to have a seasoned, trusted friend help you pick the right one.
That's why the editors of Sky & Telescope decided to produce a series of how-to videos about buying and using telescopes. Of course, lots of websites and personal blogs offer this kind of advice, but the well-produced videos in our new "Skywatching Series" are unique.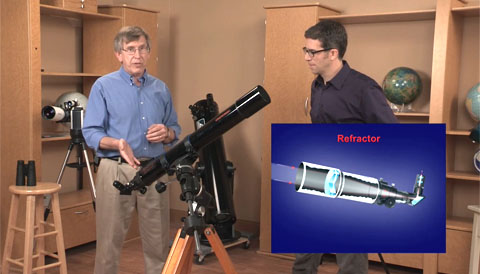 The story begins last summer, when I partnered with S&T contributing editor Dean Regas (well known as the cohost of the popular PBS show Star Gazers) to create these videos. I journeyed to Cincinnati, Dean's home turf, where our parent company, F+W, maintains a professional video-production facility. Together with chief videographer Rick Deliantoni and his crew, we spent three days writing scripts, hauling equipment in and out of the studio, taking and retaking shots to show the best techniques, and generally having a blast doing it.
I also was introduced to the quirky local delicacy known as Cincinnati chili — but that's a story for another time.
In any case, those four telescope-tutorial videos are now available, and I hope you'll find them both useful and entertaining. Each can stand on its own, but all four together provide a thorough overview of the equipment that beginning amateurs will encounter on their own astronomical adventures. Here's a recap of each:
Buying Your First Telescope
To make sure you get the telescope that's right for you, this 50-minute video cuts through all the sales hype and shows you what you need to buy with confidence. It explores the basics of telescope optics, different types of mounts, and how to spot quality features that will ensure great nights of stargazing for years to come.
A Guide To Using Your Telescope
Lots of first-time telescope owners become quickly frustrated with the scope's confusing controls and often-inadequate user manual. But it doesn't have to be that way. This 37-minute video is designed to help you get the most out of your scope. It covers key adjustments to make before you head outside, how to point your telescope with confidence, tips on using the right magnification, and how to set up and use a "go-to" mount.
Care and Cleaning of Your Telescope Optics
Even the simplest telescopes need a little TLC once in a while, and this 50-minute video provides the dos and don'ts of telescope care — including the proper techniques for cleaning lenses and mirrors when it's called for. You'll learn proven techniques for everything from basic adjustments to collimating your mirrors to correcting a shaky mount.
Accessories for Your Telescope
Even newbies can benefit from having some quality accessories to enhance nighttime observing, and the astronomical marketplace is full of nifty items that make excellent additions to your skywatching arsenal. This 32-minute video covers a wide array of options such as eyepieces, star charts, filters, dew prevention, and much more.
I always tell newcomers that astronomy doesn't have to have to be hard. With a little guidance, you can gain familiarity with the night sky and effortlessly move your telescope from one celestial treat to the next. Dean and I hope these videos will help make your telescope a door to the universe.