For observers looking for a quick outing with binoculars, Canis Major offers a set of lovely attractions that includes a trio of open clusters.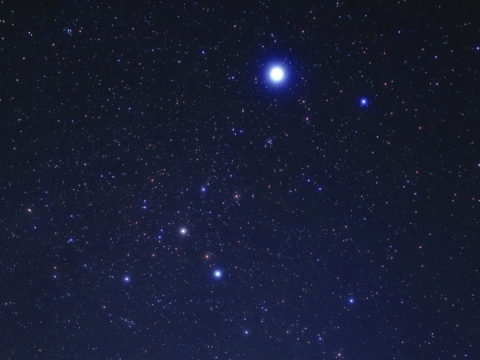 Bounding over the meridian as twilight fades on March evenings is Canis Major, the Big Dog. For observers looking for a quick outing, the constellation offers a set of lovely binocular attractions. Let's begin with its leading light, Sirius.
Dazzling Dog Star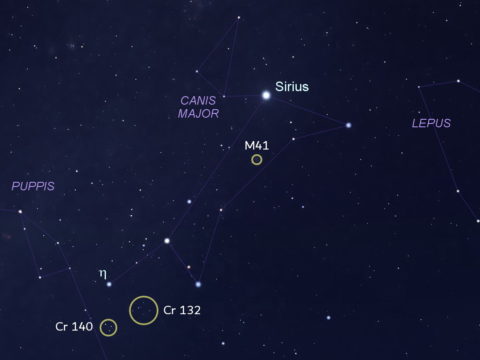 Also known as the Dog Star, Sirius is the night sky's brightest sun. Obviously, you don't need binoculars to appreciate such a conspicuous object, but there's definitely something appealing about seeing Sirius's dazzlingly icy light with optical aid. Not every target has to be a challenge!
Sirius's luminosity arises largely from its distance — it's only 8.6 light-years away, making it the 7th-nearest star to our solar system. As you gaze at Sirius this week, consider that you're seeing light that began its journey in the summer of 2011. That seems recent, doesn't it?
A Messier Cluster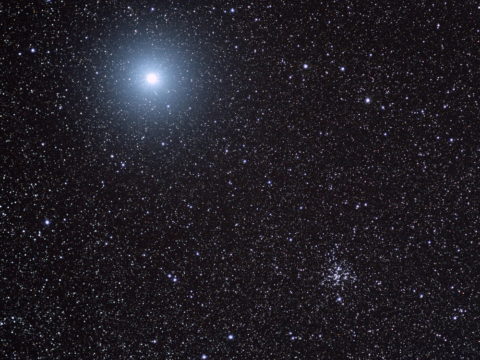 Sirius is our jumping off point for the bright open cluster, M41. Situated just 4° south of the star, normal binoculars allow you to see both objects in the same field of view. That makes the 4.5-magnitude open cluster one of the easiest deep-sky objects for beginners to find.
Despite their apparent proximity to Sirius, M41 is a distant background object lying some 2,300 light-years from Earth — more than 250 times farther than its stellar "neighbor." Nonetheless, the cluster is a fine binocular sight and its brightest members even show up under the glow of suburban light pollution. Under pristine conditions, M41 is a splendid smattering of stars. One of the best views I ever saw was on a muggy February night in Costa Rica. The observing site's 10°N latitude placed Canis Major nice and high, allowing me to see the cluster in its full glory.
Catching Collinders
M41 is Canis Major's one and only Messier object, but that doesn't mean there isn't more to see. South of the rear legs of the Big Dog you'll find an attractive pair of open clusters bearing Collinder catalog numbers. You might suppose that any objects too obscure to rate an M or NGC designation is out of reach of binoculars. Not so. Aim at 2.4-magnitude Eta (η) Canis Majoris then move the star to the northeast edge of the field — the Collinder clusters will come into view from the bottom right.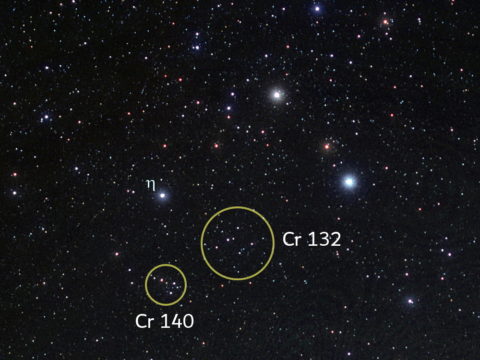 Of the two, Collider (Cr) 132 is the most wide open. It's a light sprinkling of 10 or so stars easily resolved even in small binoculars. Cr 132's brightest stars form a miniature version of the Great Square of Pegasus in my 10×30 image-stabilized binos, which easily resolve the group. Cr 132 is big enough and sparse enough that you could overlook it if you didn't know it was there.
Nearby Cr 140 is more interesting and attractive. It looks more like a typical open cluster and features a nice collection of stars spanning a wide range of luminosities. In my 10×30s, I see the brightest stars arranged in the shape of the Greek letter Lambda (λ). Is this what you see? Within Cr 140's triangular core, there's a haze of fainter stars that I initially couldn't quite resolve. I needed the extra magnification and aperture of 10×70s to coax these faint suns into view.