Mars is making its nearest and brightest appearance in the night sky since the end of 2007.
View Mars live! Tonight (April 8th), beginning at 23:00 Universal Time (7:00 p.m. EDT), Gianluca Masi is providing a webcast to show Mars telescopically. Visit his Virtual Telescope Project for details.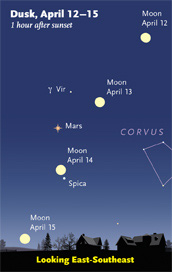 This month we're closer to Mars than Earth has come for almost 6½ years. The Red Planet appears brighter and bigger in the evening sky than it has since December 2007.
In the middle two weeks of April, Mars will shine at a brightness of magnitude –1.5 (matching Sirius's bright luster), and in a telescope it will appear 15.1 arcseconds across. That's still pretty tiny, but it's larger than Mars has been at its past few oppositions, (The planet will peak out with an apparent width of 24.3 arcseconds in July 2018. Mark your calendars, astronomers!)
Anyone can spot Mars at a glance from anywhere in the world. During April it's the brightest point in the southeast after dark (as seen from the world's mid-northern latitudes. In the tropics, look east; in the south temperate latitudes look northeast). Mars is moving though the constellation Virgo near the bright star Spica. This pairing provides a wonderful palette of color for skywatchers following Mars's night-to-night motion. Mars is the yellow-orange color of a campfire, while Spica shines icy blue-white.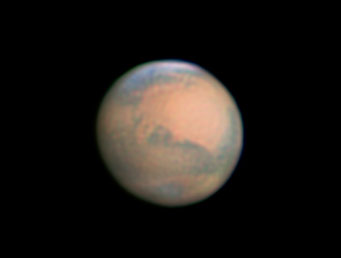 April 8th is the planet's opposition date: when it's opposite the Sun in the sky. It passes closest to Earth several days later on April 14th (the difference is due to the ellipticity of the Martian orbit). But it's basically the same size and brightness all month. Mars and Spica cross the sky together from dusk until dawn. For telescope users, Mars is highest in the sky due south around 2 a.m. as April begins, and around 11 p.m. as April ends. It will remain bigger than 14.5 arcseconds wide all month.
A 4-inch or larger telescope on a night of steady atmospheric seeing will usually show at least a few light and dark regions, or albedo features, on the planet's surface. The Martian northern hemisphere is tipped toward Earth this season, which provides a great opportunity for amateur astronomers to track the North Polar Cap as it shrinks in the Martian northern hemisphere's spring. Backyard observers are already seeing the polar cap recede, exposing the ring of dark ground under its outer parts.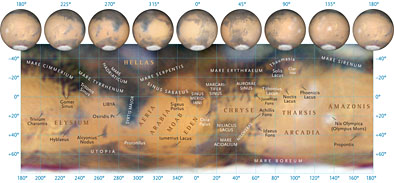 For more on Mars's April opposition, including a telescopic Mars map and more to look for, see the March issue of Sky & Telescope magazine.
If you want to observe from the comfort of your own home, there is an online observing session hosted by The Virtual Telescope Project 2.0. The Night of the Red Planet will be hosted on April 8th, 2014 at 11:00 p.m. UT.
And check out the Mars globe from S&T, which maps the full planet using detailed spacecraft images.