The International Dark-Sky Association celebrates photography's role in the fight against light pollution. Here are this year's contest winners!
Every year, the International Dark-Sky Association's Capture the Dark Photography Contest celebrates photography's integral role in the global fight against light pollution. The contest calls attention to the ability of an image to spark conservation awareness and reveal how beautiful and functional dark sky-friendly lighting can be.
This year's contest received an unprecedented response, with a total of 1,180 entries in the nine categories and participation from 132 countries. A panel of esteemed judges reviewed the photos using criteria that included technical skill, composition, connection to the category theme, and "wow" factor, and the results are in!
Connecting to the Dark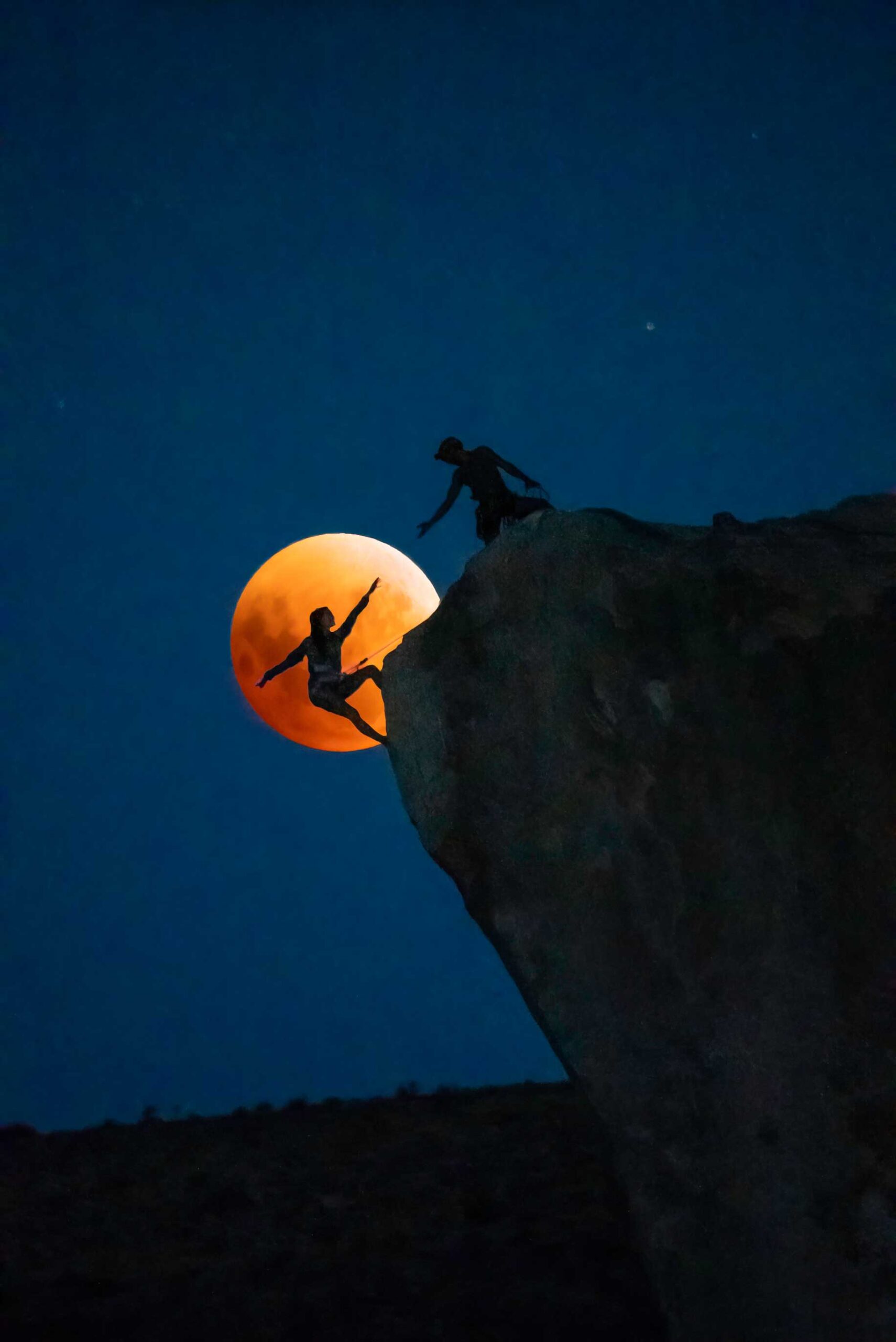 Photo title: Rock climbers under a rising blood moon
Photographer: Chris Olivas
Country: U.S.
Location of photo: Joshua Tree National Park
Story behind the photo: This image was taken of rock climbers utilizing the unique features of Joshua Tree National Park under a brightly lit lunar eclipse. Only in this dark sky park was the surrounding area dark enough for the moon to be unobscured by light pollution and clear enough to see right after sunset. This was meticulously planned for the location, timing, and positions of all elements. In order to get both the moon and subjects in focus using a telephoto lens, I focused on each separately and blended them together.
Technical information: Blend | Lens: Tamron 150-600 mm | Aperture: 6.3 | ISO: 51200 | Shutter speed: 1/3 second
International Dark Sky Place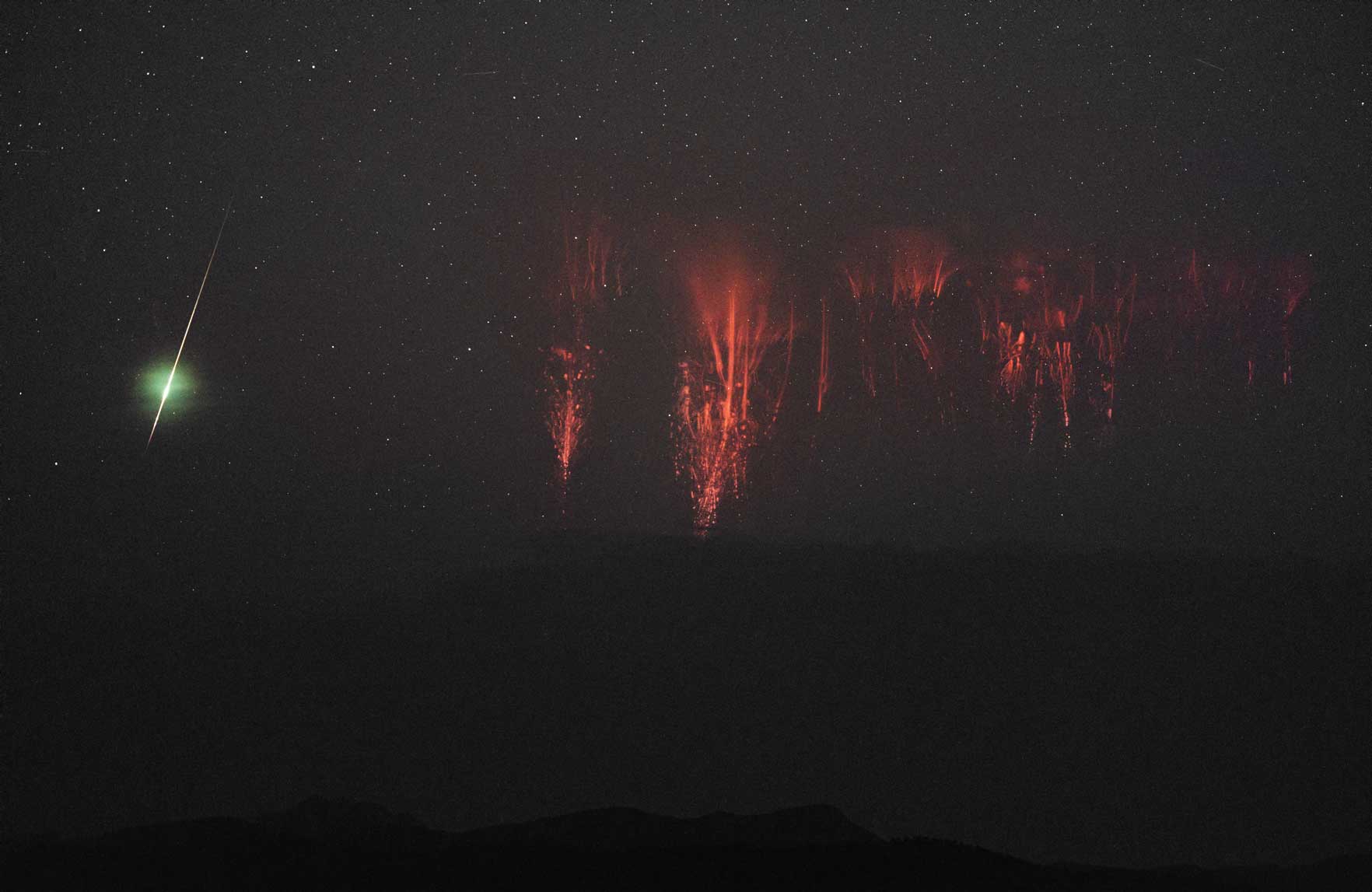 Title of photo: Perseid Meteor and Sprites
Photographer: Stephen Hummel
Country: U.S.
Location of photo: McDonald Observatory, Texas, U.S.
Story behind the photo: A bright meteor from the Perseid meteor shower pierced the sky at the same moment a large sprite, an electrical breakdown in the upper atmosphere, occurred over a distant thunderstorm. The image was taken from McDonald Observatory in West Texas, a core area of the Greater Big Bend International Dark Sky Reserve. The sprite occurred over 400km away over Chihuahua, Mexico. The profile of the Davis Mountains can be seen in the foreground. Dark skies are crucial to observing and researching sprites and other events in the night sky.
Technical information: Single exposure | Lens: 135mm | Aperture: 2 | ISO: 4000 | Shutter speed: 2 seconds
The Bright Side of Lighting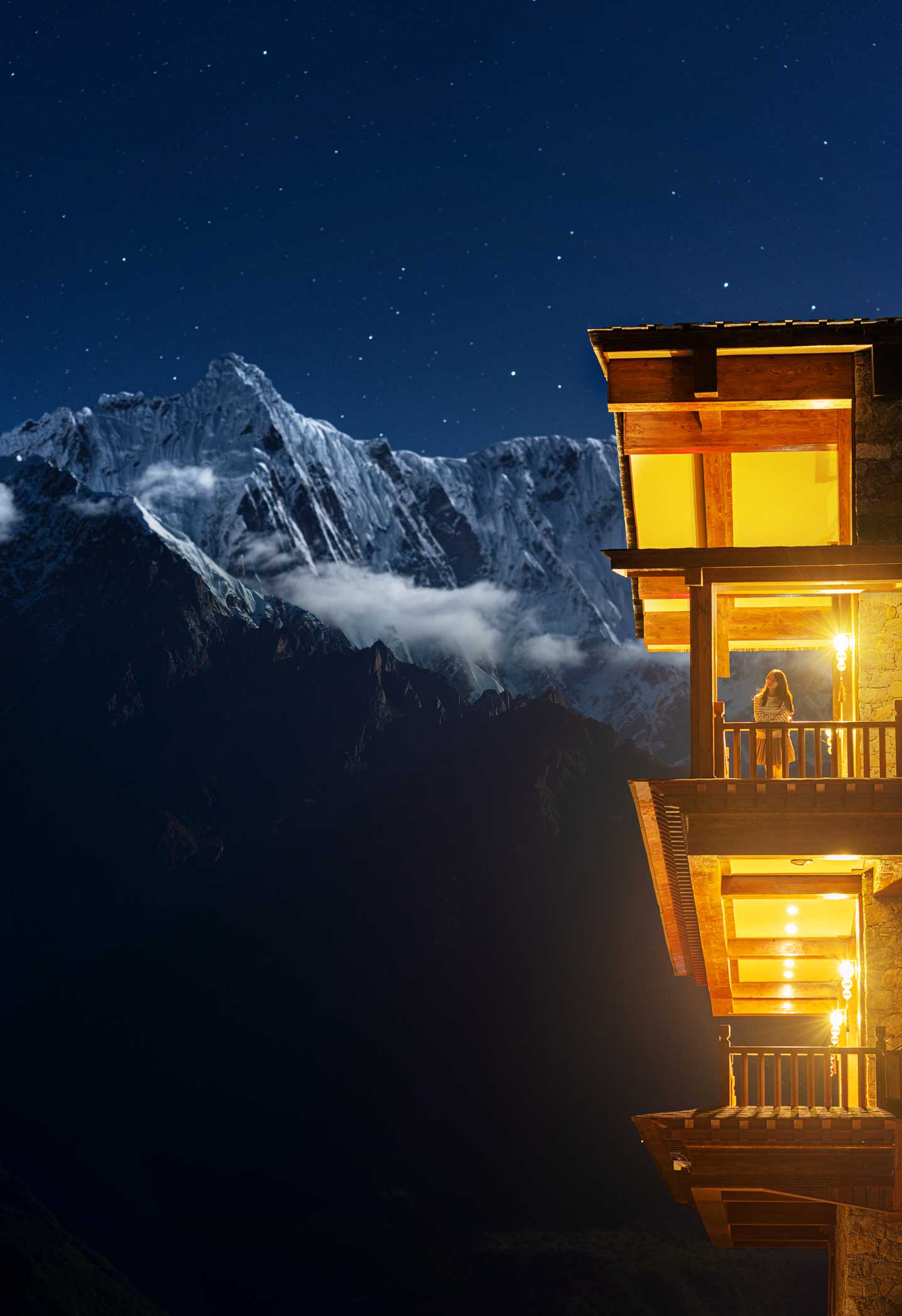 Title of photo: Nocturne of the Himalayas
Photographer: Haitong Yu
Country: China
Location of photo: Tibet, China
Story behind the photo: Namcha Barwa is the highest peak in the east section of the Himalayan mountains. Located in east Tibet, it stands at 7782 meters under cold moonlight. The hotel beneath this sacred snow peak used only dim lights for basic visibility so that we could enjoy the mysterious light of the snow peak under a full moon.
Technical information: Single exposure | Lens: Sony 85mm F1.4 | Aperture: 1.4 | ISO: 100 | Shutter speed: 6 seconds
Creatures of the Night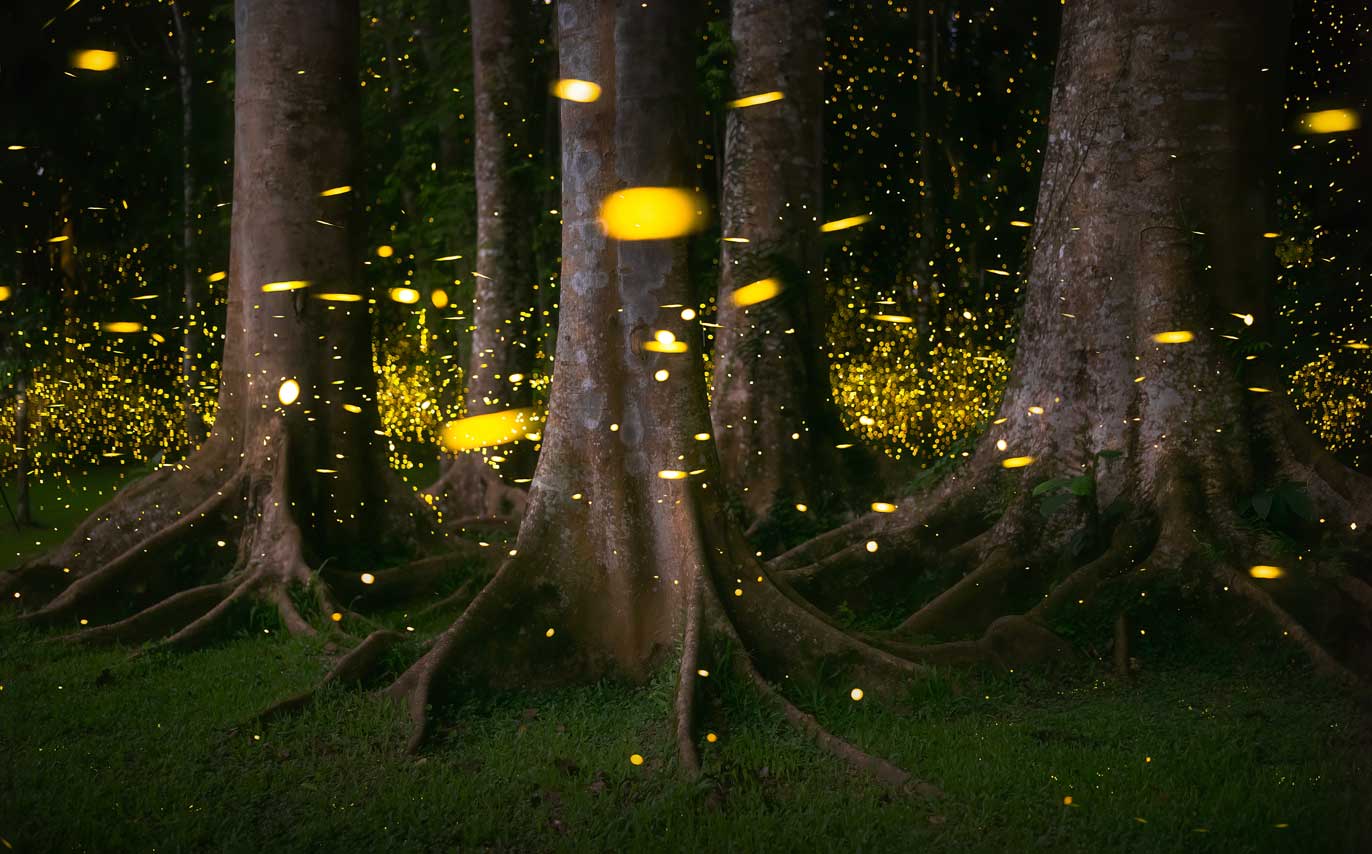 Title of photo: Star Forest
Photographer: Bin Chen
Country: China
Location of photo: Xishuangbanna
Story behind the photo: Twinkle, twinkle, little fireflies: Numerous fireflies gathered in the Xishuangbanna Dai Autonomous Prefecture, southwest China's Yunnan Province, creating star-like scenery in the forest.
Technical information: Stacked | Lens: 35MM | Aperture: 1.4 | ISO: 4000 | Shutter speed: 30 seconds
Deep Sky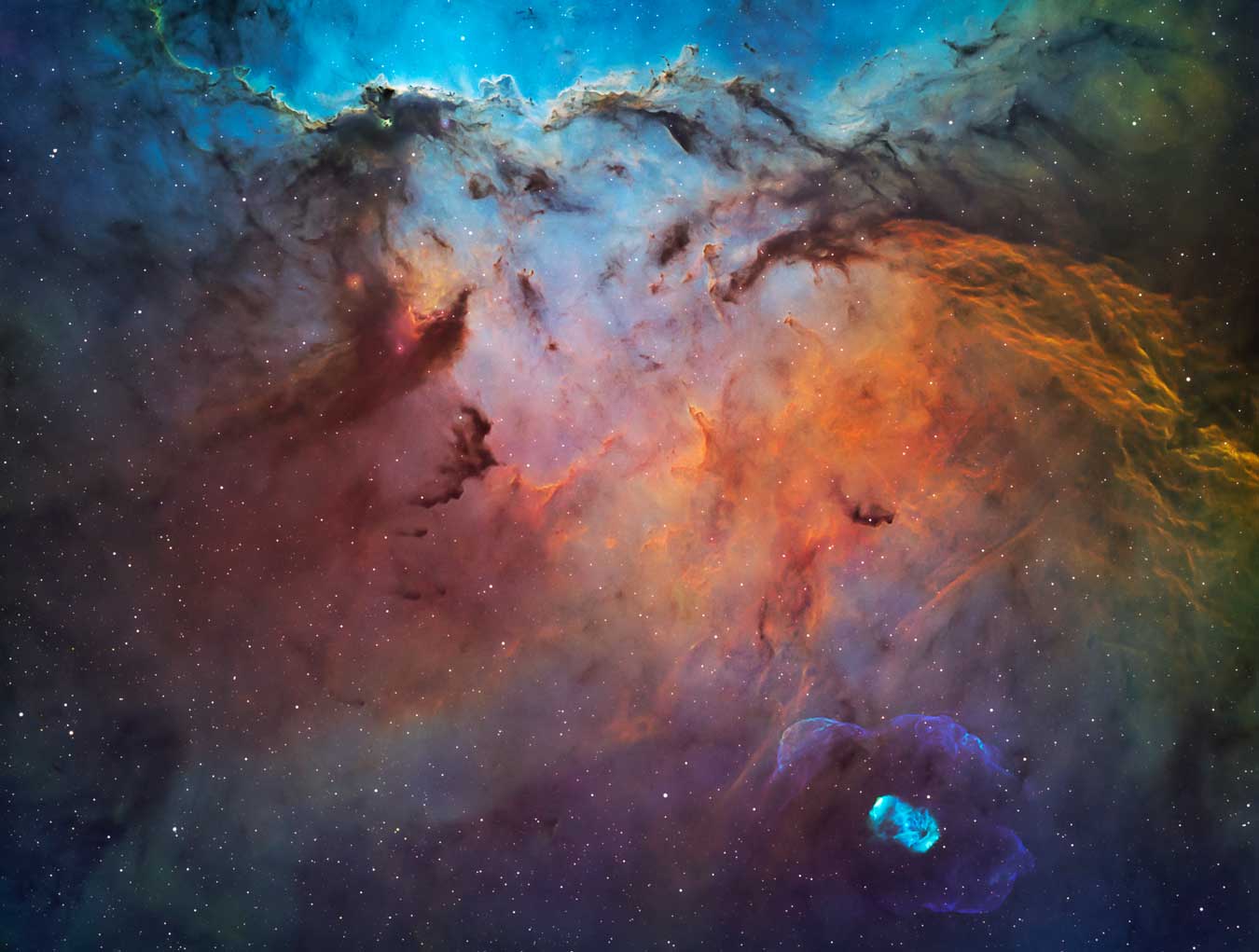 Title of photo: IMMORTAL KOMBAT
Photographer: Shaun Robertston
Country: Australia
Location of photo: Melbourne, Australia
Object imaged: NGC6188 – THE DRAGONS OF ARA
Story behind the photo: NGC 6188, commonly known as "The Dragons of Ara" is found about 4,000 light years away near the edge of a large molecular cloud unseen at visible wavelengths in the southern constellation Ara (the Altar). Massive, young stars were formed in that region only a few million years ago, sculpting the dark shapes and powering the nebular glow with stellar winds and intense ultraviolet radiation.
Technical information: Telescope/Lens: Skywatcher Esprit 100ED | Mount: Skywatcher EQ6R Pro | Filter(s): Antlia 3nm Ha, Oiii and Sii | Software: Astro Photography Tool for image capture and Adobe Photoshop and Pixinsight for editing | Camera used: ZWO 1600GT | Number of frames: 180 | Total exposure (integration) time: 15 hours
The Mobile Photographer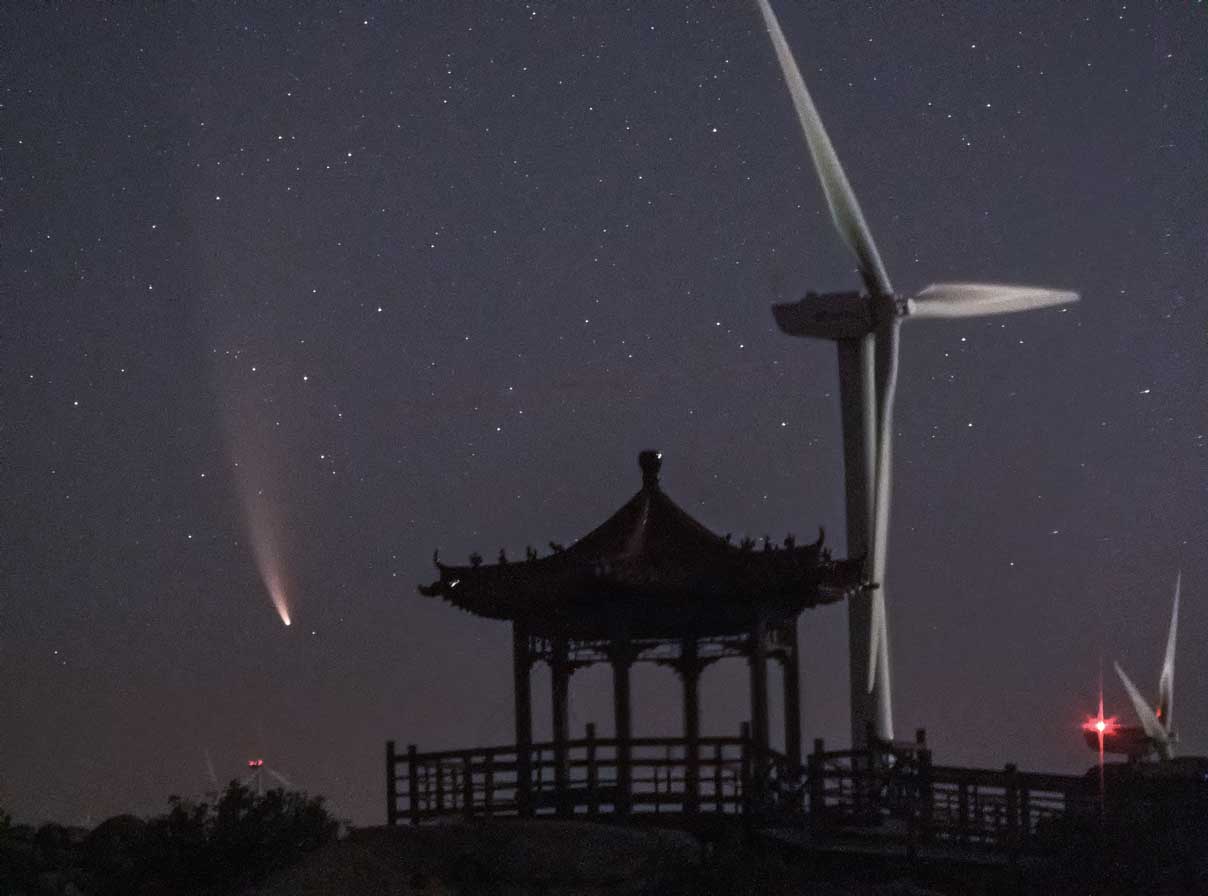 Name of photo: Comet NEOWISE
Name of photographer: Zhaoqi Li
Country: China
Location of photo: Hebei, China
Description: I used the 10x long lens of the OPPO Find X2 Pro to capture the magnificent Great Comet.
Technical information: Single exposure | Device make and model: OPPPO Find X2 Pro | Aperture: 3 | ISO: 3200 | Shutter speed: 32s
Youth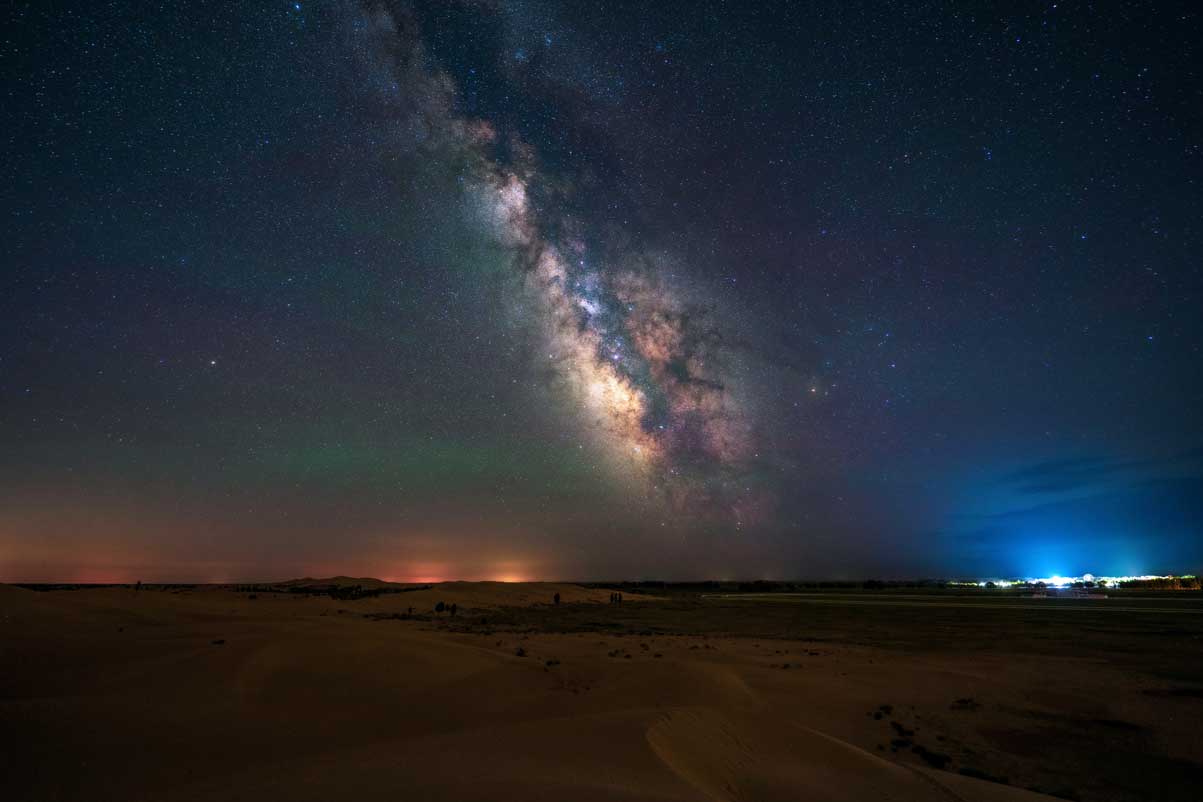 Title of photo: Stars above the desert
Photographer: Jingyi Ma
Country: China
Location of photo: The desert of Kubuqi
Story behind the photo: I went to the desert of Kubuqi during my last summer vacation. The desert of Kubuqi stretches as far as the eye can see, and the Milky Way is like a slightly luminous cloud across the sky, which can not help but let me have a sense of the vastness of the open world. Green airglow beneath the Milky Way adds to the romantic atmosphere.
Technical information: Stacked | Lens: SONY 14mm F1.8 GM | Aperture: 1.8 | ISO: 2500 | Shutter speed: 15s
Utah Dark Skies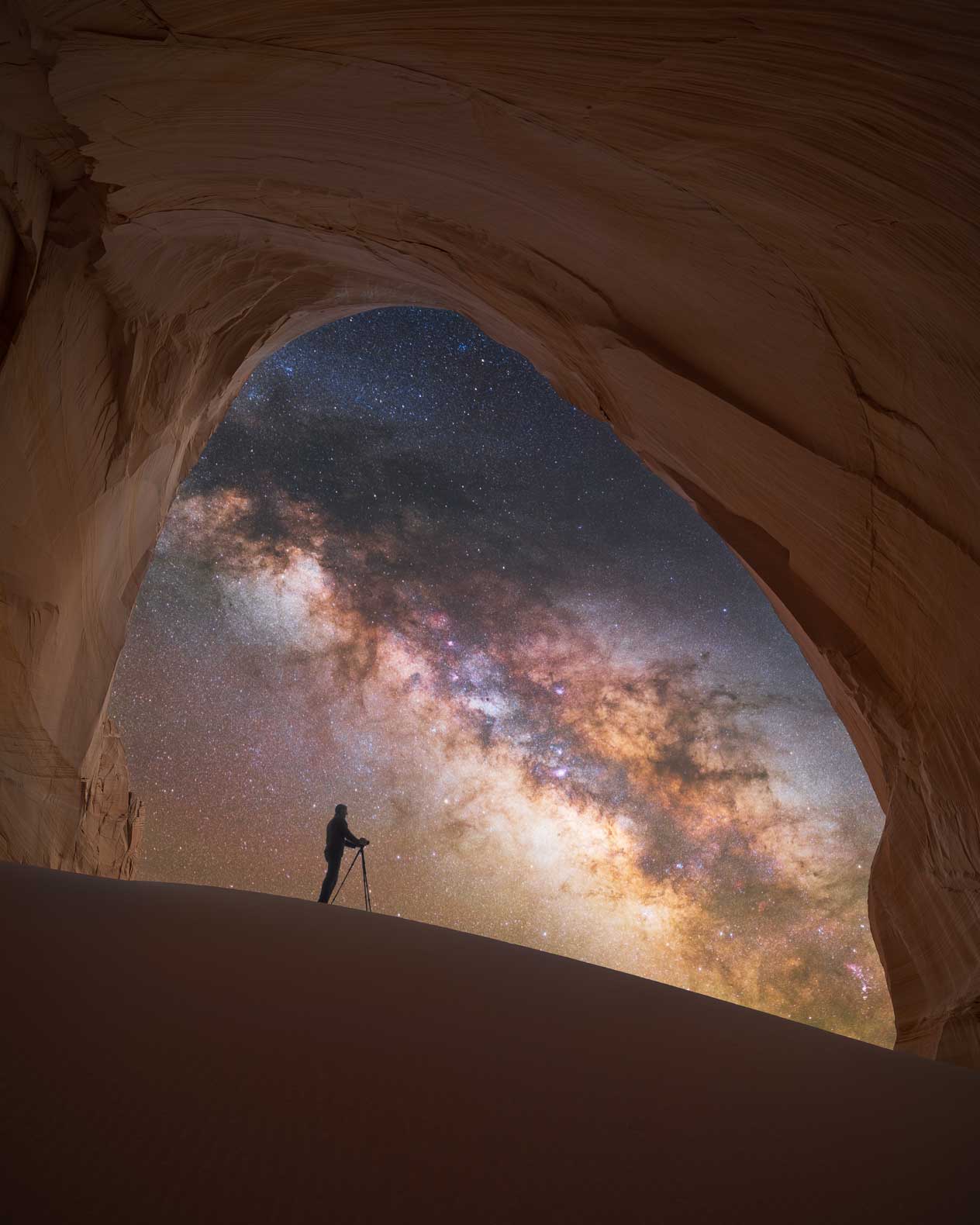 Title of photo: Awestruck
Name of photographer: Marcin Zajac
Country: U.S.
Location of photo: Utah, U.S.
Description: An awestruck photographer watching the Milky Way from a massive sandstone alcove in a remote part of Utah.
Technical Information: Blend/Panorama/Tracked | Lens: Tamron 15-30 | Aperture: Foreground – 11 Sky – 1.4 using iOptron SkyTracker Pro | ISO: Foreground – 100 Sky – 400 | Shutter speed: Foreground – 15 seconds Sky – 2 minutes
People's Choice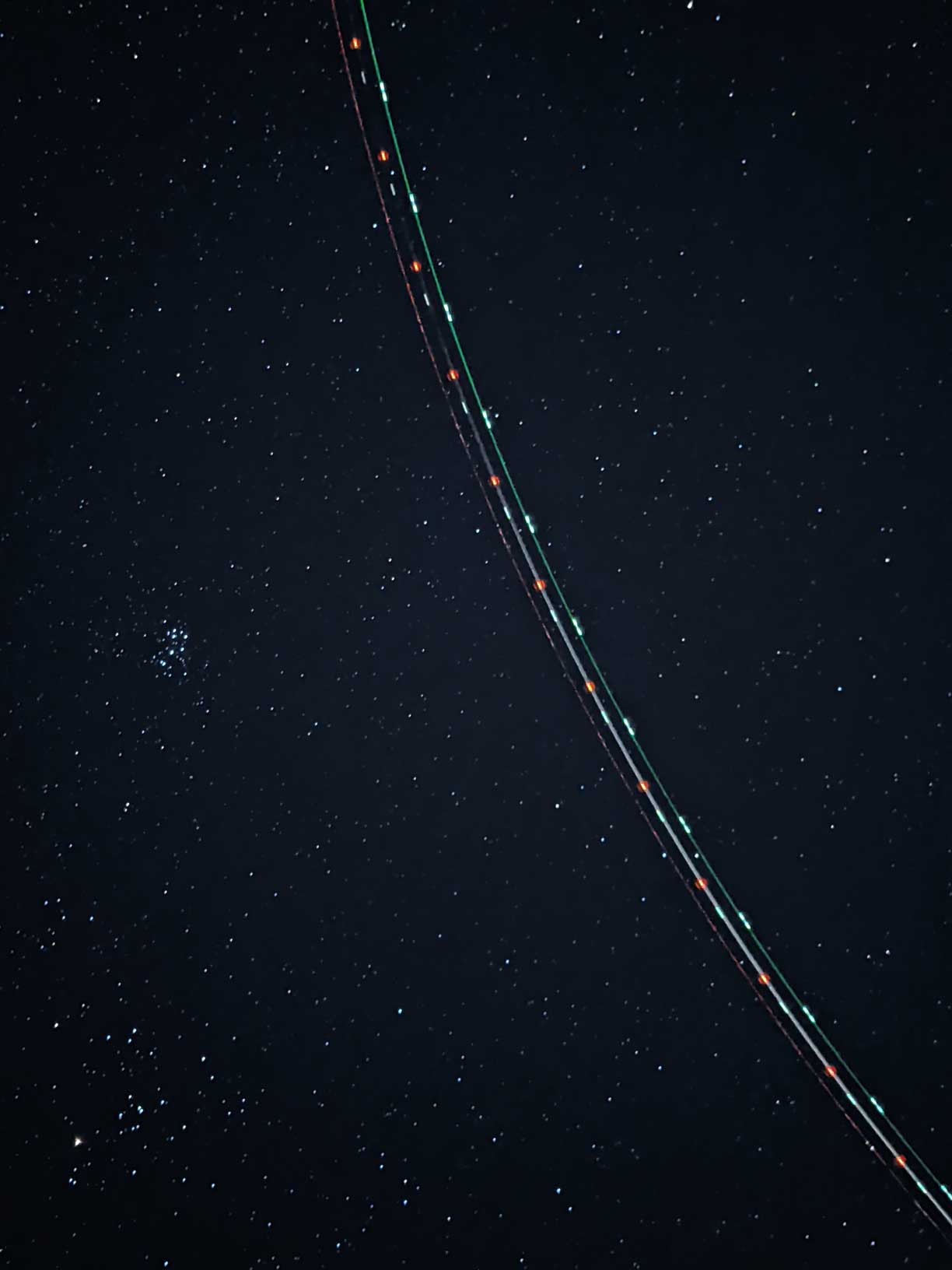 Title of photo: Touring through Taurus
Category: The Mobile Photographer
Name of photographer: Shreya Gupta
Country: India
Location of photo: Nhave, Maharashtra, India
Description: The photograph shows an airplane passing just below the constellation of Taurus, leaving behind a trail from its lights. The airplane, a modern man-made marvel, seems to be giving its passengers a tour of the stars which are eternal in comparison and were made by greater, mysterious entities. The picture is a metaphor for curiosity, exploration, and discovery. It connects our little lives to the dark night.
Technical information: Stacked | Device make and model: Google pixel 4a 4G | Aperture: f/1.7 | ISO: 354 | Stack of 15 16-second shutter speed photos
---