A new analysis confirms that an exoplanet thought to orbit in the habitable zone of the star Gliese 581 actually doesn't exist.
A long-debated exoplanet signal has finally gone poof. A new analysis of stellar activity for the M dwarf star Gliese 581 shows that its planet d is probably just a ghost in the data.
GJ 581 has been a poster child for multiplanet systems for several years. In 2005 a Geneva-led team using the ESO's HARPS spectrograph discovered the first planet, b; in 2007 they reported c and d, and in 2009 e. All these planets have orbits smaller than Mercury's, but around a star 30% the size of the Sun and 60% as hot.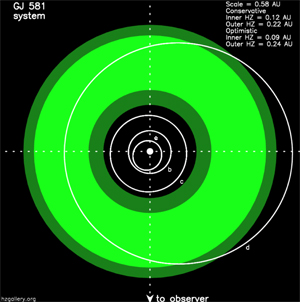 A second team used a combo of observations from HARPS and Keck's HIRES spectrograph to suggest the presence of two more planets, f and g, but these were quickly questioned and have basically fallen away. Only b, c, d, and e remain.
Some astronomers have also questioned whether d actually exists, notably Roman Baluev (Pulkovo Observatory, Russia), who in 2012 did a careful analysis of noise in the observations and raised a red flag. But analyses of stellar activity turned up no big starspots that could masquerade as a planet, and d stayed in the catalogs — and on the list of potentially habitable planets: much of its predicted orbit fell in GJ 581's habitable zone.
The new work by Paul Robertson (Penn State) and colleagues makes clear that d needs the boot, too. The team took another look at the HARPS spectra, focusing on hints of stellar activity from hydrogen-alpha emission. This emission comes from hydrogen atoms being hit by particles accelerated along magnetic field lines in the star's atmosphere; stronger magnetic fields mean more acceleration, which means more emission. But stronger magnetic fields also mean more stellar activity, which can create shifts in starlight that look much like the wobbles in a star's position created by a planet.
Robertson's team found that, during times of higher magnetic activity, the strength of d's signal went up. When the star was less active, the signal weakened.
They also revised the star's rotational period from previous calculations, revealing that it was twice as long as planet d's orbital period of 66 Earth days. That suggests d's signal is from the star itself.
Taken together, the observations support only one likely conclusion. "I think the evidence shown by Robertson et al. is strong enough to remove GJ 581d from the list of exoplanets," says Xavier Bonfils (Grenoble Observatory, CNRS/UJF, France), who coauthored the original discovery paper.
Although Bonfils and his colleagues searched for starspots, the activity that's to blame is more subtle than what the team was looking for. Active regions on a star can look like a planet because of their effect on the Ferris-wheel-like motion of plasma (called convection) in the star's photosphere. As a star rotates, its magnetic field lines are twisted and rearranged. When these magnetic fields are concentrated in a small region, the boost in field strength diverts the surrounding ionized gas from its normal convective motion, Robertson explains. So instead of the star's light uniformly seeming to move toward us (as that part of the star rotates into view) and away from us (as it rotates out of view), an extra signal will appear that seems to move differently. This signal looks much like a planet.
But GJ 581 appeared to be starspot-free during the observations used to discover planet d. Robertson's team found that, although no big, dark blemishes showed up on the star's surface, the H-alpha emission clearly indicates that the star had magnetically active regions. It's these regions that mucked up the spectra.
Stellar activity is a known problem with exoplanet searches, particularly with M dwarfs, which are notoriously noisy. Bonfils says that HARPS has actually found more false positives due to active regions than true planets. But given the signal strengths involved, he thinks that only a few reported exoplanets at most might prove to be from active regions like those Robertson's team found. Accounting for these shifts in starlight will prove especially important for low-mass planets in moderate to long orbital periods, he adds.
Reference:
P. Robertson et al. "Stellar activity masquerading as planets in the habitable zone of the M dwarf Gliese 581." Science. Published online July 3, 2014.
---
Read our March 2014 issue to find out how you can help find an exoplanet — even without a telescope.