It's been a decade-long voyage for the European Space Agency's comet-chaser, Rosetta, but on August 6th the spacecraft caught up with Comet 67P/Churyumov-Gerasimenko (C-G) at last. Around 11:30 a.m. Central European Time, ESA's Operations Center in Darmstadt (Germany) reported via live webcast that Rosetta had rendezvoused with Comet C-G. (Because Rosetta is almost 250 million miles away, there is a 22-minute lag between the spacecraft's operations and the signal reaching Earth.)
About a half hour before the announcement, Rosetta commenced a 6-minute rocket firing maneuver that pushed it into what will be a temporary triangle-shaped track around the comet. The spacecraft has been gradually decelerating with several thruster firings since May, and it now matches Comet C-G's orbital speed (nearly 35,000 mph) within walking pace. Rosetta is currently about 100 km (60 miles) from the comet, but it will soon edge into a temporary 10-by-30 km elliptical orbit before settling into a 10-km circular orbit.
According to flight-dynamics specialist Frank Budnik, this method of gradually transitioning into orbit conserves fuel and allows the team to estimate the mass of the nucleus. Here's an ESA animation of Rosetta's evolving orbit around the comet.
"After 10 years, 5 months, and 4 days traveling towards our destination, looping around the Sun five times and clocking up 6.4 billion kilometers, we are delighted to announce finally 'We are here,'" said Jean-Jacques Dordain (ESA's Director General) in an ESA press release.
In celebration of the rendezvous, the Rosetta team released photos taken on August 3rd a mere 177 mi from the comet. ESA Spacecraft Operations Manager Andrea Accomazzo says they will continue to issue pictures every Monday and Thursday.
What's Next?
Now that it's reached the comet, the craft will begin mapping the icy nucleus in order to find a suitable location for its robotic lander, Philae. Mission planners aim to dispatch Philae in November. This will put both craft in position to accompany the comet in orbit as it swings around the Sun, reaching perihelion in August 2015. This will be the first time that a spacecraft has so closely observed a comet transition from dormant to active, and the first time anyone has softly landed something on a nucleus. (For the full story, including the white-knuckled wait for Rosetta to wake from hibernation, check out S&T's August 2014 cover story.)
While the first leg of Rosetta's journey was grueling—the spacecraft woke up in January after 957 days of electronic hibernation—the next step of the mission is challenging in a different way. Prior to this mission, scientists have observed the comet from only ground-based telescopes. Rosetta itself only got its first "close-up" glimpse in early July, which showed an indiscriminate white blob on the black backdrop of space. So when Rosetta closed in on the comet in mid-July, no one was expecting a contact binary nucleus—something with a closer resemblance to a rubber duck than an overgrown snowball.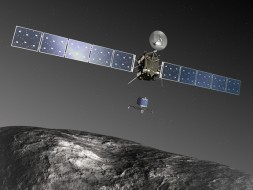 What does this mean for the lander phase of the mission? Philae needs solar power to function, so how much sunlight reaches the site is a key factor, explains mission participant Joel Parker (Southwest Research Institute)."With the irregular shape, there will be more shadowing and changes in illumination to consider," he says. Along with the terrain's various surface properties, the illumination might make some parts poor landing targets.On the other hand, the large flat part on one end of the nucleus might offer an unexpectedly good location, he adds.
Parker also notes that the uniformity of the two components will be a factor in choosing Philae's landing site, as pre-landing measurements could reveal one to be more chemically and physically interesting than the other. However, the chance of not finding any suitable location is very low. "Even if we can't find a 'perfect' landing spot," continues Parker, "we certainly will find a 'best' landing spot."
Mission planners expect to identify the primary landing site by mid-September, and the final timeline for the Philae deployment (currently set for November 11th) will be confirmed in mid-October. Once the lander reaches the surface and anchors itself on (via two harpoons), it will do in situ measurements of the comet's nucleus as the icy body wakes up in response to the Sun's warmth.  The lander might only last a few days in the increasingly dangerous and dusty environment, but mission planners hope for months.
The shape of Comet C-G, while arguably the most startling, is just the most recent of many surprises. Comet C-G, which like other Jupiter-family comets is thought to originate in the Kuiper Belt, was already sweating out two glasses of water (about 0.3 kg) per second in June when it was still 583 million km from the Sun. "We always knew we would see water vapor outgassing from the comet, but we were surprised at how early we detected it," said Sam Gulkis (JPL) in an ESA press release in late June.
The comet then went back to sleep in July. Mission planners hope the outgassing doesn't ramp back up too soon, because it can cause additional drag forces on the spacecraft that are unpredictable, which in turn make it difficult to fly—and hard to land Philae on the nucleus because "you don't want a jet blasting the lander in the face as it descends," adds Parker.
While the comet rendezvous sets the stage for the exciting lander phase, it is only the beginning for the year-long escort of Comet C-G as it rounds the Sun, during which Rosetta will gather unprecedented observations and data on the chemical and physical makeup of the comet's coma and on the activity on this short-period comet. Comet C-G promises to be what Mark McCaughrean (ESA Senior Science Advisor) calls a veritable "scientific Disneyland."
---
Senior Contributing Editor Kelly Beatty and Editorial Intern Maria Temming also contributed to the reporting on this story.