The Sun's second coverup of the year will be an annular solar eclipse whose path crosses south-central Africa and northern Madagascar on September 1st.
Update: The annual eclipse has come and gone. Initial reports state that the sky was clear (with occasional passing clouds) on Reunion Island, delighting the eclipse-chasers who'd' gathered there. Here's a high-definition video of the eclipse as recorded by astronomers from Paris Observatory. Tanzania also had beautifully clear skies.
You know you're a diehard eclipse chaser when you drop everything to see an annular (or "ring of fire") solar eclipse. And that's exactly what many of my eclipsophilic colleagues are doing right now. They're headed to locations in the heart of Africa, on the northern end of Madagascar, and even to tiny Reunion Island in the hope of watching the Moon pass directly in front of the Sun on September 1st.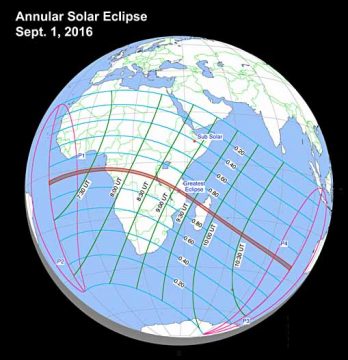 Because the Moon will be just a few days from its orbital apogee, thus presenting a smaller-than-average disk in the sky, it won't be able to completely cover the Sun. Instead, its silhouette will be encircled by brilliant sunlight for up to 3.1 minutes along a track that's 13,400 km long but at most 100 km wide. African countries along this path include Gabon, Congo, Democratic Republic of the Congo, Tanzania, and Mozambique.
Most eclipse-chasers seem to be headed for Tanzania and Madagascar, locations where meteorologist Jay Anderson predicts the chance of sunny skies are best. Eclipse specialist Jay Pasachoff (Williams College) is joining some other travelers on Reunion Island.
The rest of Africa will enjoy a partial solar eclipse on September 1st, from Aswan, Egypt (where you'd see a tiny 3% of the Sun's disk covered) to 69% coverage in Nairobi, Kenya, to 40% in Pretoria, South Africa. For full details, head for Fred Espenak's eclipsewise.com.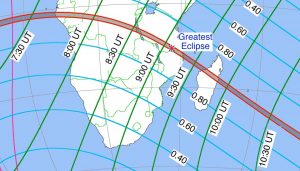 If you don't happen to be in the eclipse path that day, check out the Astronomical Society of Southern Africa's live webcast of the eclipse. But be prepared to get up early, as the webcast begins at 7h Universal Time (3 a.m. Eastern Daylight Time). A webcast by the team at Slooh begins 15 minutes earlier. A third, provided by astronomers from Paris Observatory, begins at 8:15 UT (4:15 a.m. EDT).
This event marks this year's second "central" solar eclipse, the first having involved totality over Indonesia on March 9th.
And, as often happens, Thursday's annular solar eclipse (occurring at new Moon) will be followed by a lunar eclipse two weeks later at full Moon. However, September 16th's lunar eclipse will be a "barely there" penumbral event, showing merely as a dusky shading on the Moon's northern half for viewers in Europe, Africa, and Asia.