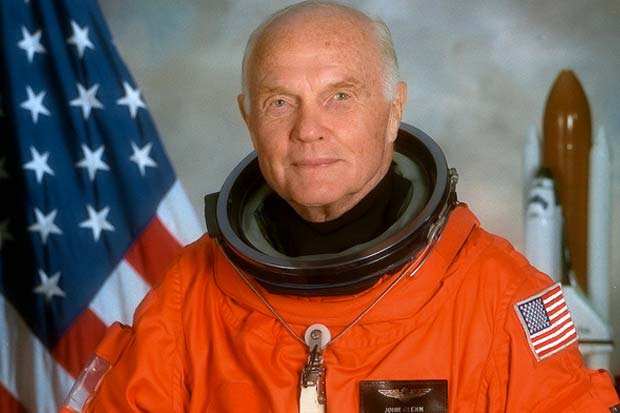 Do you remember? I do.
I was a starry-eyed 10-year-old watching on black-and-white TV as John Glenn became the first American to orbit Earth, in February 1962. Yes, the Soviet Union's Yuri Gagarin had done it first. Yes, Alan Shepard and Gus Grissom had already made brief pop-up flights from Cape Canaveral to become the first Americans in space. But for me, Glenn's three orbits made the Space Age seem real. The stars would be our destination. In my lifetime.
Well . . .
In 1998, at age 77, Glenn again returned to orbit, basically repeating his first flight. Yes, the space shuttle Discovery was a bigger and better vehicle, and he was no longer alone, and he stayed up much longer and lent himself to experiments in zero-g geriatric science. But the stars our destination? In the 1960s our society had been rocketing upward in so many great and confident ways.
This afternoon Glenn passed away at age 95. You can read full obituaries all over the news. But I can't help but feel that something else has passed.
And no human has ventured beyond low Earth orbit since 1972.