FRIDAY, JANUARY 7
■ Jupiter continues to shine high and bright in the southwest at dusk this week. Way down to its lower right Saturn is sinking toward the sunset, while Mercury approaches Saturn day by day from underneath. See the scenes below.

Today Mercury is at greatest elongation, 19° east of the Sun.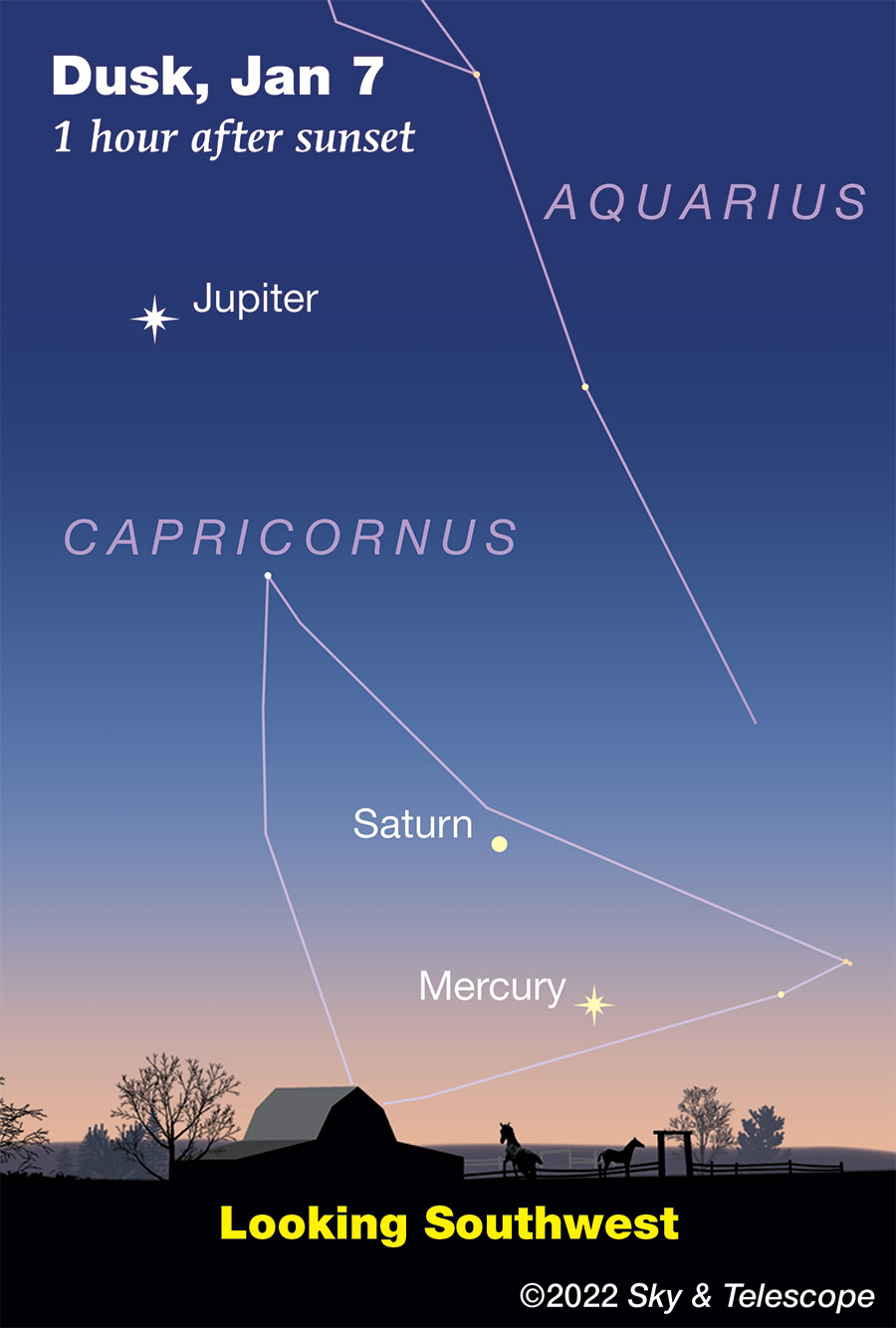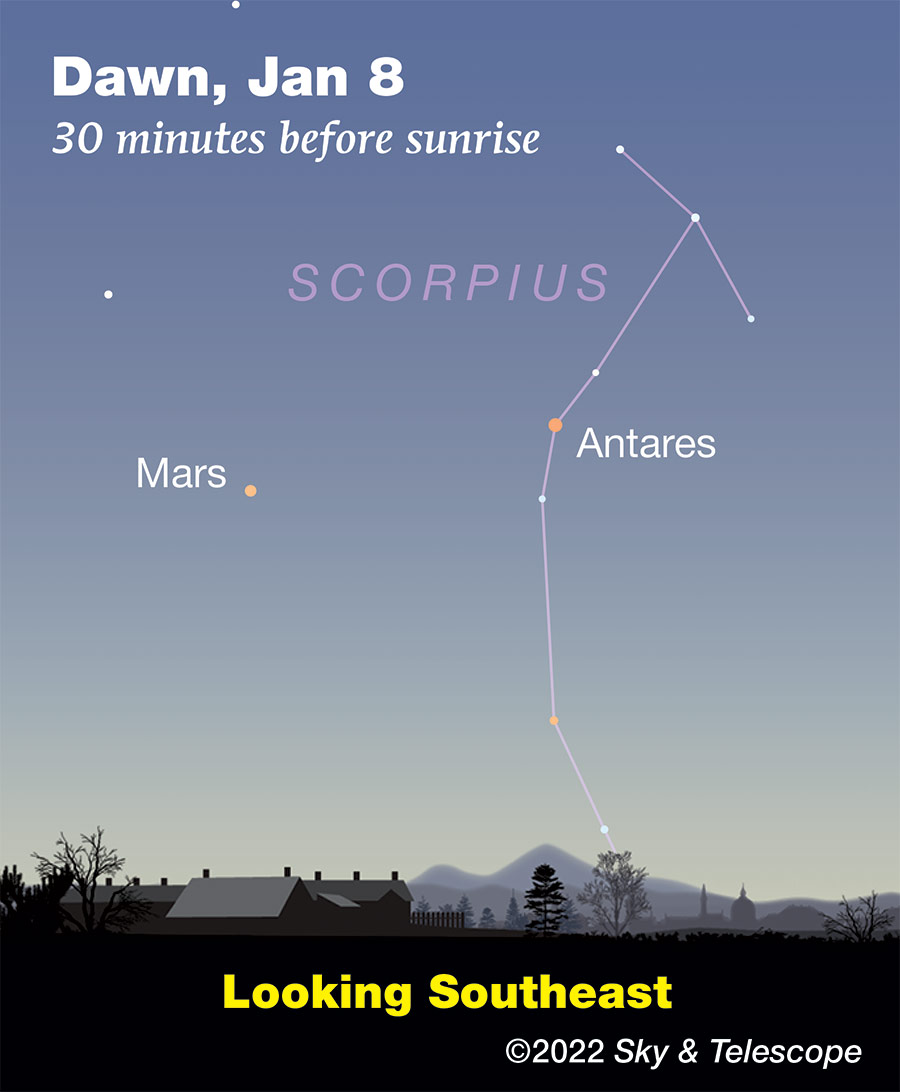 SATURDAY, JANUARY 8
■ After dinnertime, the enormous Andromeda-Pegasus complex runs from near the zenith way down toward the western horizon.
Barely west of the zenith, spot Andromeda's high foot: 2nd-magnitude Gamma Andromedae (Almach), slightly orange. Andromeda is standing on her head. About halfway down from the zenith to the west horizon is the Great Square of Pegasus, balancing on one corner. Andromeda's head is its top corner. From the bottom corner run the stars outlining Pegasus's neck and head, ending at his nose: 2nd-magnitude Enif, due west. It too is slightly orange.
SUNDAY, JANUARY 9
■ First-quarter Moon; exact at 1:11 p.m. Eastern Standard Time. Come evening the Moon shines high in dim Pisces, some 10° west of 4th-magnitude al-Rescha, the Knot of the two fishes' cords.
■ Very high in the southwest some three fists above Jupiter, the Great Square of Pegasus remains tipped on one corner. The Square's horizontal diagonal points left nearly at the Moon (by about its own length).
MONDAY, JANUARY 10
■ The big Northern Cross in Cygnus, topped by Deneb, is nearly upright in the west-northwest right after full darkness falls. Another hour or so and it's standing on the horizon. How straight up it stands depends on your latitude.
TUESDAY, JANUARY 11
■ The Gemini twins lie on their sides these January evenings, left of Orion. Their head stars, Castor and Pollux, are farthest from Orion, one over the other. (Castor is the top one, slightly the fainter of the two.) The Castor figure's feet are just left of Orion's very dim, upraised Club.
WEDNESDAY, JANUARY 12
■ Low in the sunset, Mercury has now faded to be less than twice as bright as Saturn; they're magnitudes +0.1 and +0.7, respectively. See below. Mercury will be further dimmed with respect to Saturn by the thicker atmospheric extinction at its lower altitude.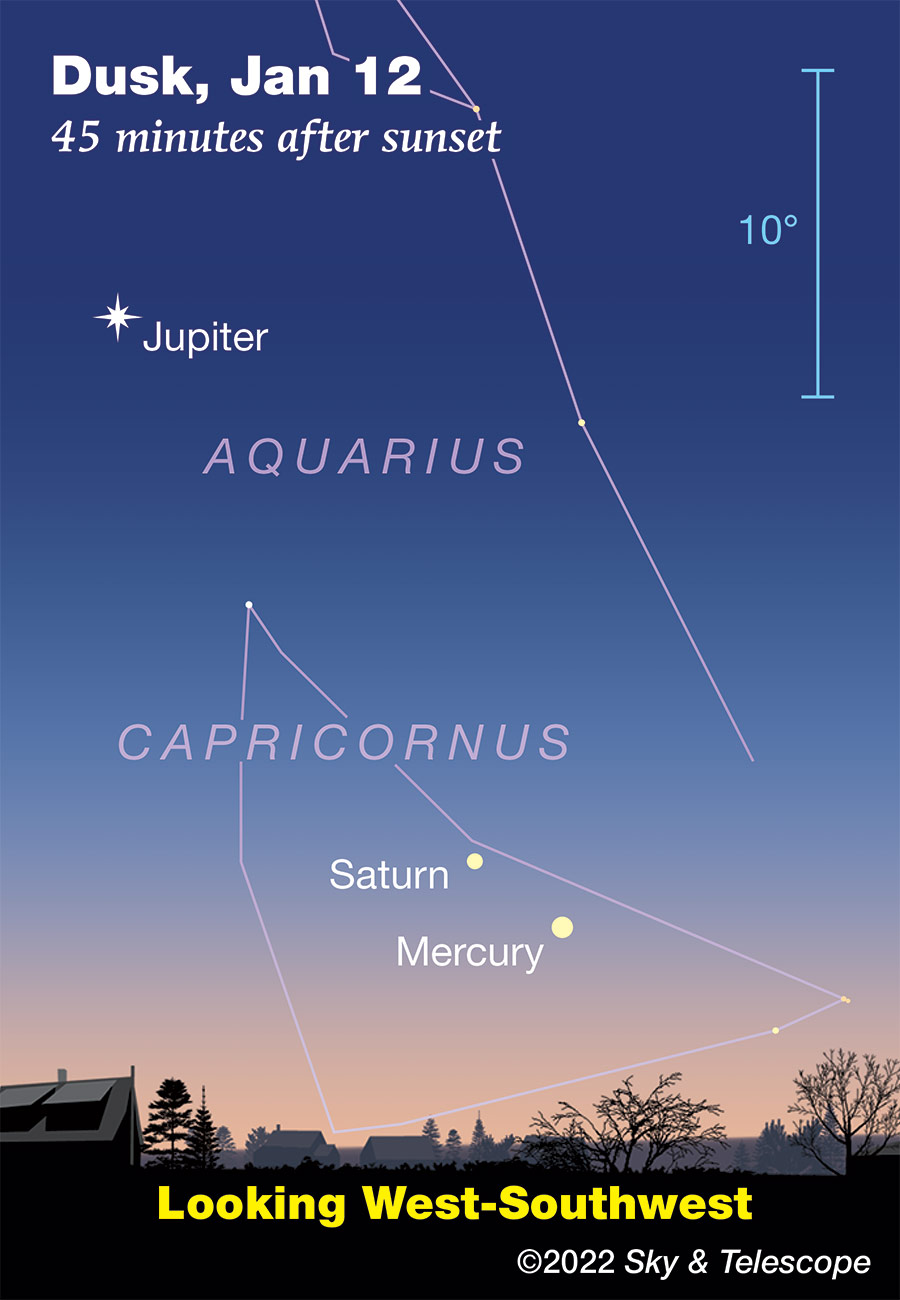 THURSDAY, JANUARY 13
■ Auriga the Charioteer rides high these evenings astride the Milky Way, awaiting your eyes and scope. Use Ken Hewitt-White's "Suburban Stargazer" guide with its chart of telescopic targets in central Auriga (working out from the Leaping Minnow and False Minnow asterisms) in the January Sky & Telescope, page 54.
FRIDAY, JANUARY 14
■ Zero-magnitude Capella high overhead, and equally bright Rigel in Orion's foot, have almost the same right ascension. This means they cross your sky's meridian at almost exactly the same time: around 9 or 10 p.m. now, depending on how far east or west you live in your time zone. So whenever Capella passes its very highest, Rigel always marks true south over your landscape, and vice versa.

Capella goes exactly through your zenith if you're at latitude 46° north: Portland, Oregon; Montreal; central France.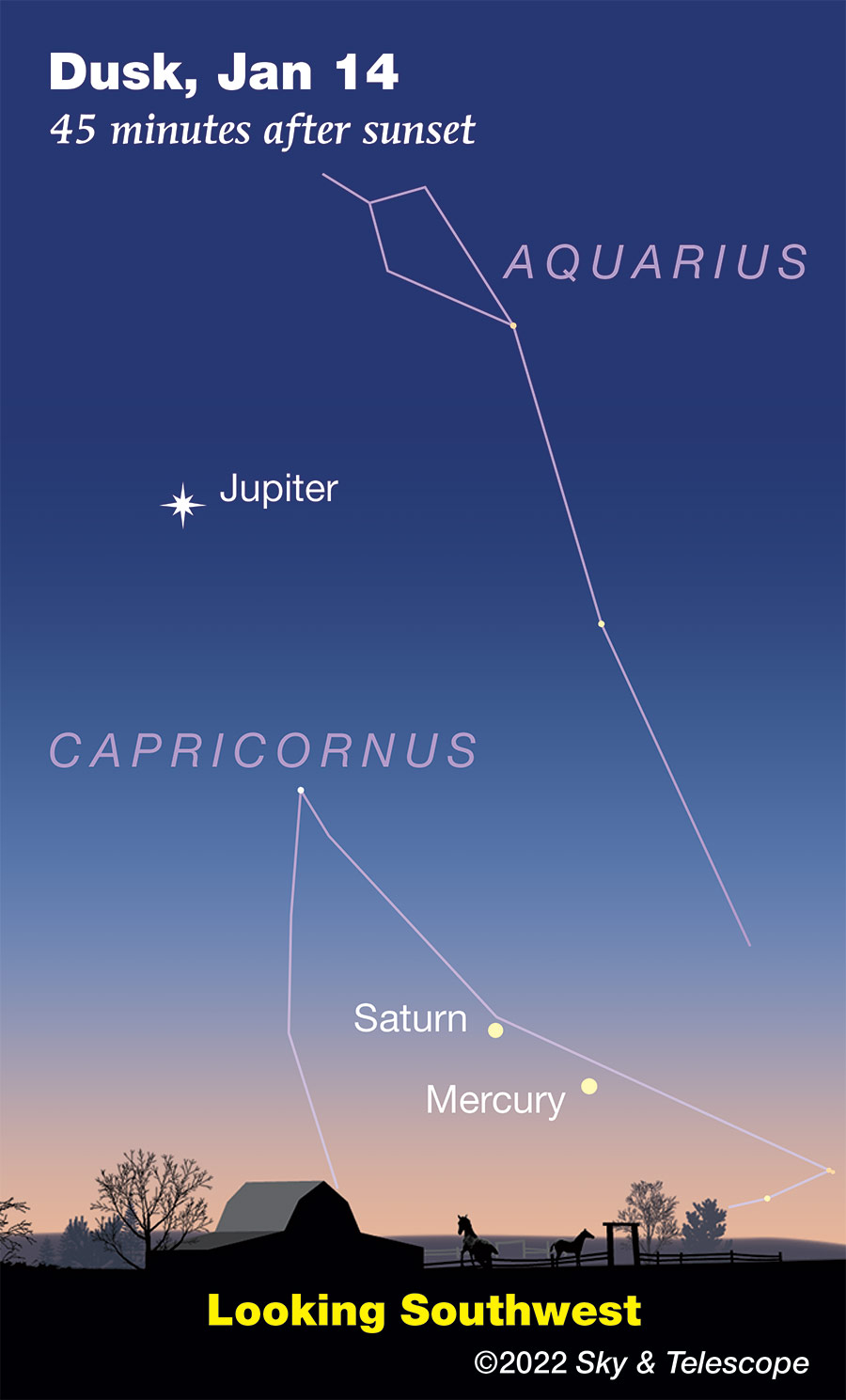 SATURDAY, JANUARY 15
■ Here it is the coldest very bottom of the year, but the Summer Star, Vega, is still barely hanging in. Look for it twinkling over the northwest horizon during and shortly after nightfall. The farther north you are the higher it will be. If you're as far south as Florida, it's already gone.
---
This Week's Planet Roundup
Mercury is low in the west-southwest in twilight, with Saturn near it. Watch their changing configuration, as shown above. Mercury is fading; this week it diminishes from magnitude –0.5 to +0.6.
Venus is out of sight. It goes through solar conjunction, passing 5° north of the Sun, on January 8th. Next week it will begin emerging low in the dawn.
Mars, in the feet of Ophiuchus, is low in the southeast in early dawn. It's far and faint at magnitude +1.5. To its right or upper right, Mars-colored Antares twinkles a little brighter at magnitude +1.0. Mars and Antares are nearly 10° apart on the morning of January 8th, widening to 13° by the 15th.
Mars is on the far side of its orbit from us, so in a telescope it's just a tiny shimmering blob 4 arcseconds wide.
Jupiter, magnitude –2.1 in Aquarius, shines brightly in the southwest at dusk. Spot Fomalhaut, magnitude +1.2, two fists at arm's length to Jupiter's lower left.
Saturn, magnitude +0.7 in Capricornus, is that same distance to Jupiter's lower right.
Uranus (magnitude 5.7, in Aries) is very high in the south in early evening. See Bob King's story and finder chart.
Neptune (magnitude 7.9, in Aquarius) is much lower in the southwest after dark. It adds an invisible (to the naked-eye) planet to the Saturn-Jupiter line, 20° upper left of Jupiter.
---
All descriptions that relate to your horizon — including the words up, down, right, and left — are written for the world's mid-northern latitudes. Descriptions and graphics that also depend on longitude (mainly Moon positions) are for North America.
Eastern Standard Time, EST, is Universal Time (also called UT, UTC, GMT, or Z time) minus 5 hours.
---
Want to become a better astronomer? Learn your way around the constellations. They're the key to locating everything fainter and deeper to hunt with binoculars or a telescope.
This is an outdoor nature hobby. For an easy-to-use constellation guide covering the whole evening sky, use the big monthly map in the center of each issue of Sky & Telescope, published by the American Astronomical Society.
Once you get a telescope, to put it to good use you'll need a detailed, large-scale sky atlas (set of charts). The basic standard is the Pocket Sky Atlas (in either the original or Jumbo Edition), which shows stars to magnitude 7.6.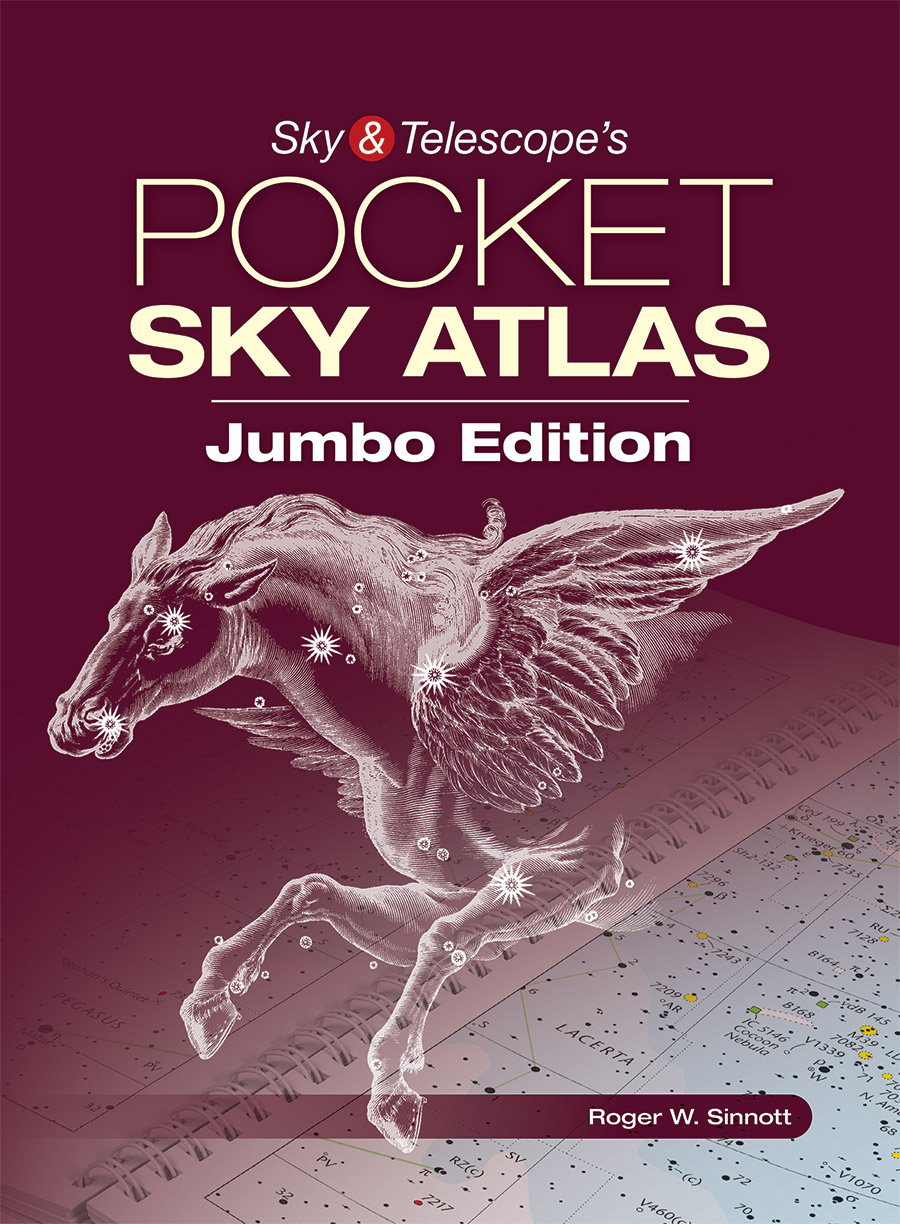 Next up is the larger and deeper Sky Atlas 2000.0, plotting stars to magnitude 8.5; nearly three times as many. The next up, once you know your way around, are the even larger Interstellarum atlas (stars to magnitude 9.5) or Uranometria 2000.0 (stars to magnitude 9.75). And be sure to read How to Use a Star Chart with a Telescope.
You'll also want a good deep-sky guidebook. An impressive one is the big Night Sky Observer's Guide set (2+ volumes) by Kepple and Sanner.
Can a computerized telescope replace charts? Not for beginners, I don't think, and not on mounts and tripods that are less than top-quality mechanically, meaning heavy and expensive. And as Terence Dickinson and Alan Dyer say in their Backyard Astronomer's Guide, "A full appreciation of the universe cannot come without developing the skills to find things in the sky and understanding how the sky works. This knowledge comes only by spending time under the stars with star maps in hand."
---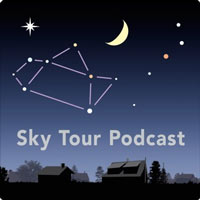 Audio sky tour. Out under the evening sky with your
earbuds in place, listen to Kelly Beatty's monthly
podcast tour of the heavens above. It's free.

---

"The dangers of not thinking clearly are much greater now than ever before. It's not that there's something new in our way of thinking, it's that credulous and confused thinking can be much more lethal in ways it was never before."
— Carl Sagan, 1996
"Facts are stubborn things."
— John Adams, 1770