We are now on our third generation of commercial DSLR's dedicated to astrophotography, and it just keeps getting better.
A perk of having a job where you write camera control software is that you have access to a lot of cameras. Most software development happens indoors with the camera on the desk next to the computer, but there is always the time when I get to take the camera out into the field to play with it — er, I mean, "validate the software code under real operating conditions." Yes, yes, that's what I mean!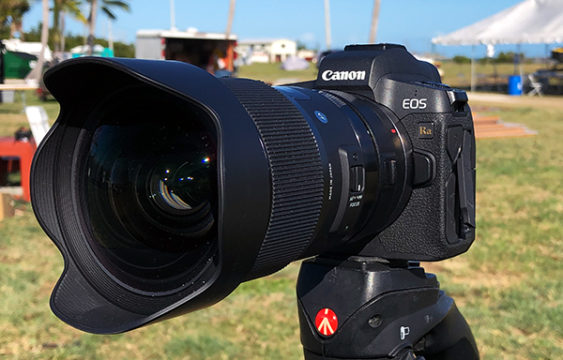 Canon recently released new mirrorless cameras and also updated their cameras' RAW file format. The older code I wrote for the last generation cameras doesn't work with the new files, so I found myself in need of a newer Canon model for development purposes. The company's developer support team arranged to send me an EOS R so I could quickly get to the bottom of the problems. I liked it, and so I decided a better field test would be to use the EOS Ra during my annual trip to the Winter Star Party in the Florida Keys to "validate the software code." (Read Alan Dyer's review of the EOS Ra in the April issue of Sky & Telescope).
It's been awhile since I've shot with a modified DSLR, and I was looking forward to seeing how things have improved with the latest models. I've written about modified DSLRs in the past, and I have a good bit of experience with them going all the way back to a modified Canon T1i. That old camera was pretty noisy, but it sure did deliver better results on emission targets and Milky Way images after its surgery.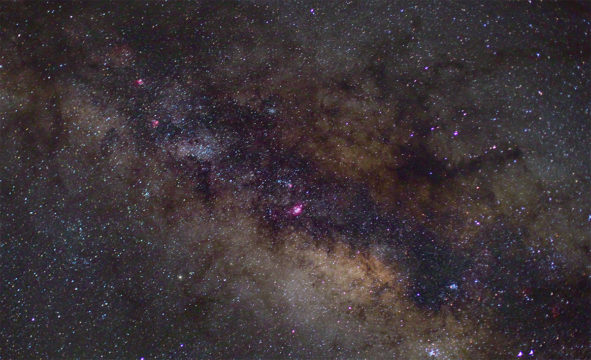 Over the subsequent years, I've had the opportunity to use the Canon 60Da, the Nikon D810a, and I still have a full spectrum Canon T3i that I still occasionally use. I've only missed using the Canon 20Da, the very first astronomically specialized DSLR on the market.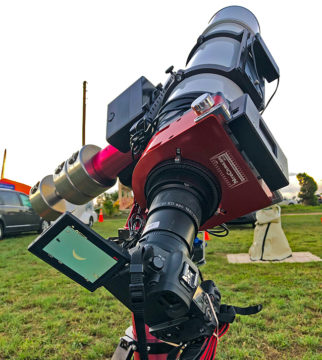 Daytime Photography
When you modify an off-the-shelf DSLR, using it for normal daytime photography requires some extra effort as I mentioned in my previous blog on this topic. Commercial offerings from Canon or Nikon, however, provide a built-in white balance mode to make the cameras useful for more than just astrophotography. I found the second generation of Canon astrocameras, the 60Da, to be much better than my own modified cameras of course. But it wasn't quite up to par if I just wanted to be lazy and shoot in JPEG format, where the camera makes several processing decisions, particularly in color balance. I'm not an expert, but all of my daylight JPEGs took some extra work to look natural.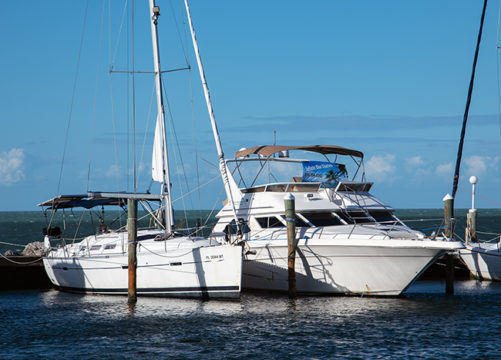 In contrast, both the Nikon D810a and the new Canon EOS Ra, which represent the latest and greatest in this arena, shoot excellent daytime photos that don't require any additional color balance adjustments. Again, I'm no expert in daytime photography, and both Nikon and Canon seem squeamish about making the claim that their astro-cameras are "just as good" as their standard models for daylight use. If you shoot in RAW format, you have that little extra insurance if you need it. But I've reached the time where I wouldn't think twice about using a modified DSLR for birding, sporting events, etc. This really makes these cameras far more versatile than ever before.
Nighttime Photography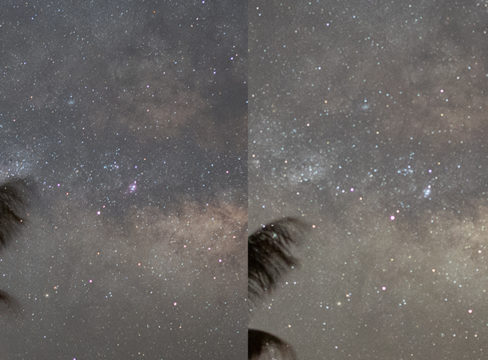 For nightscape photography, using a modified camera doesn't produce dramatic improvements, but often it's the small details that really make a difference. For example, shooting the Milky Way really brings out the reddish emission nebulae that are nearly invisible in unmodified camera images. This sprinkling of red highlights adds a lot to any nightscape that includes the Milky Way, and even the colors of the galaxy's central bulge seem a tad richer even before I start any processing.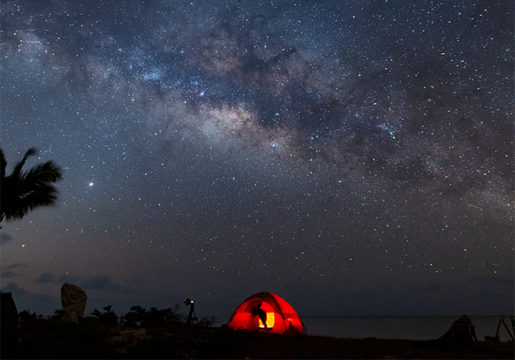 On a telescope pointed at an emission target, the difference is dramatic. Compare the two (raw, uncalibrated) 30-second shots of the Zeta Orionis region that includes the Horesead and Flame Nebulae. You can still just make out the flowing red nebulosity behind the horsehead silhouette, but its signal is very weak. The EOS Ra version really brings out these regions of hydrogen compared to the unmodified R version. The final stacked version (recorded through a 150-mm refractor at f/7 for an hour and 15 minutes) is quite a satisfactory result. Fifteen years ago, I'd never have gotten results this good with my first modified DSLR, even with longer exposures. 

Change of the Guard, Changing Rules
DSLR and CMOS technology is rapidly evolving (see my upcoming article "Changing of the Guard" in the May issue of Sky & Telescope). So old rules and advice are quickly becoming obsolete. For example, I previously had to experiment to find the ISO sweet spot with my old modified cameras where the ISO was pushing signal above the read and fixed pattern noise in low light circumstances. I outlined this technique here back in September, 2018. My results repeating this experiment with the Ra were quite different.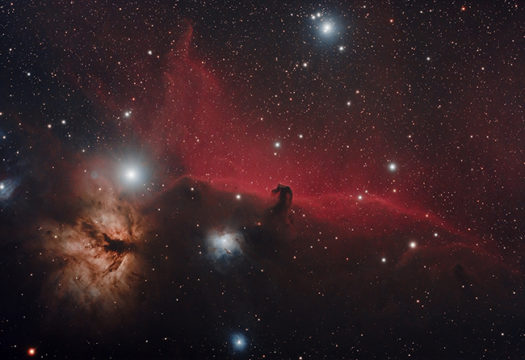 Shooting at ISO 100 and ISO 3200 provided comparable noise levels when the dimmer image was stretched to match the brighter one. Many of these newer DSLR's are what we call "ISO invariant" and we can optimize for greater dynamic range now without sacrificing noise performance. Lower noise in exposures is nearly as important as the extra red response. This is exciting, so it might well be time to upgrade my stock DSLR to take advantage of these improvements. The rules are changing, and it's for the better.