An Italian accountant, captivated by the sky since childhood, learned astrophotography to bring the heavens home with her.
Giorgia Hofer originally trained to be an accountant. But her love of the night sky drew her into the world of photography, and now her work has garnered international attention, receiving notice from The World at Night, NASA's Astronomy Picture of the Day, and others.
Hofer mainly focuses on landscape and nightscape photography. She prefers shooting a single shot on a tripod with a fast lens or a sky tracker — while she has done some work though a 400-mm Richey Chretien owned by her local astronomical association with her DSLR, she prefers a more active form of photography. Find more of her photos at giorgiahoferphotography.com.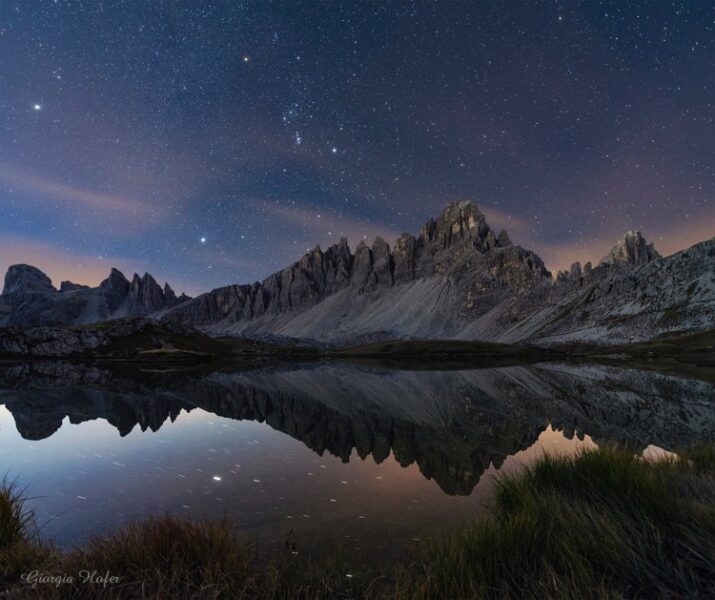 Hofer graciously agreed to answer some questions about her craft and her journey.
---
On your web page, you state that you "started photographing the sky in 2009 when you joined the Cortina Astronomical Association." What sparked your initial interest in astronomy?
Since I was a child, I had a passion about nature in general and astronomy in particular. The starry sky and mostly the Moon have always fascinated me. When I was a child, I tried to reproduce the celestial vault with drawings but never achieved convincing results, so I abandoned that creative path. Afterwards, following a meeting with some friends from the astronomical association, I realized that thanks to astrophotography I could "bring home" a piece of heaven in another manner.
Is there anything particularly inspiring about the night sky that led you to begin doing nightscape photography?
I bought my first astronomy book in 1999, after the apparition of comet Hale Bopp and before observing the total solar eclipse occurring that same year. This got me started on that path, but admiring the photographs of my friends from the astronomical association influenced me more than anything else. Their images of the starry sky framed by the Dolomite mountains ignited the flame of my passion and pushed me to discover the beautiful scenes next to where I live.
What do you want people to know about you as a photographer?
I photograph because I like to do it. It makes me feel good and makes me observe the world with different and more attentive eyes. Everything that comes after is an extra for me. Obviously, I cannot deny that it pleases me to have my work appreciated, but in any case, if that didn't happen, I would still do photography.
Do you use a star-tracking platform, or just fast lenses and a tripod for some of your deeper photographs?
For deep-sky photographs, I use a star tracker and software to combine several images. I could take single photos — the lenses I have would allow me to do it — but I notice that by slightly refining the technique, my images improve in terms of color, quality, and detail.
I have seen one deep-sky image of yours taken with a telescope. Is there anything you can tell us about this approach vs. your nightscapes?
For the photograph of Orion Nebula (M42), I used the telescope of my astronomical association, a 400-mm Richey Chretien. I captured the images with my DSLR camera and therefore I had no difficulty in processing them. I don't prefer this kind of photography, though, because it is rather static: You have to stand still for many hours always photographing the same subject. Landscape photography is a better fit as I love walking and moving.
What is your favorite kind of scene to shoot?
My favorite scene is the summer Milky Way overlooking the Dolomites mountain range [in Italy]. Every year I look forward to the arrival of summer for this reason. The grandeur of the summer Milky Way core is incredible, and the mountains put it into great relief. I also love to photograph the starry sky over snowy landscapes — the contrast between blue sky and whitewashed landscape is really beautiful and exciting.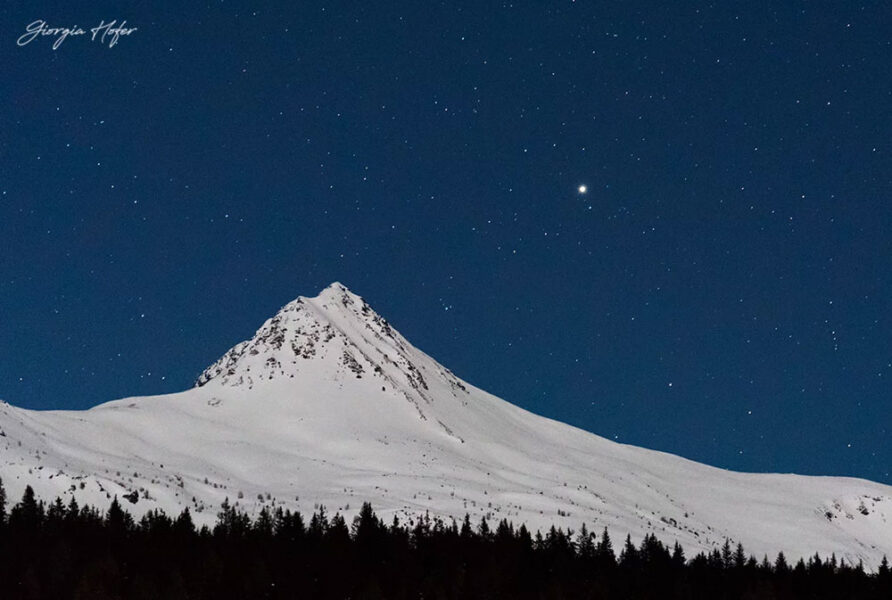 What makes you willing to stay up late, go out late in the cold, or rise well before sunrise to obtain these images?
The desire to experience those moments of peace and serenity that only a starry sky can give. I spend hours watching the stars without becoming bored. They excite me and give me sensations I have never experienced any other way.
Did you have any mentors, or guides when you started?
Yes, my main guide was my friend Alessandro Dimai from the Astronomical Association of Cortina, who has always encouraged me to move forward and helped me to gain confidence in myself that I was missing.
Is there anything you still struggle with today?
I do grapple with the new processing techniques that are constantly evolving.
Do you have any advice to newcomers or novices?
I advise everyone to never give up and continue to follow their path even if it seems to be tough at first. Only with experience can you refine the techniques, and with patience the results will come. I also recommend to always experiment with new situations and techniques, as in this way we will master our equipment and we will be able to capture beautiful images in many situations.
---
Editorial note (February 11, 2021): We have removed the lead image of this post, which was a composite that took considerable artistic license.