Comet lovers have much to look forward to this year, with six potential binocular comets in 2017 and at least two others for modest backyard telescopes.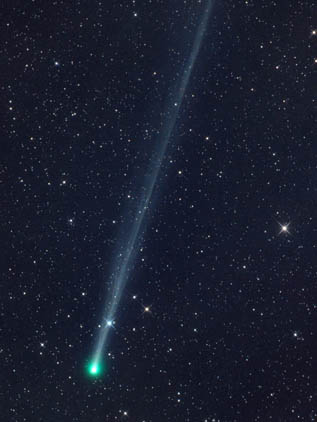 If you don't own binoculars, get a pair soon. I've gone over my list, checked it thrice, and come up with six likely binocular comets making appearances in 2017. At least one of these could reach naked-eye visibility.
The first of the comets in 2017 is returning periodic comet 45P/Honda-Mrkos-Pajdusakova, currently painfully low in the southwestern sky in late evening twilight but mustering a healthy magnitude +7. Several observers have reported seeing it with binoculars this past week, including amateur Scott Harrington of Arkansas who spotted it in a pair of 7×35s.
Due to clouds, my last observation was made two weeks ago. Then the comet appeared bright and well-condensed with a beautiful aqua-hued coma in a 15-inch reflector magnifying 64×.
Binocular Bonanza for Comets in 2017
As reported in an earlier blog, Comet 45P/H-M-P will show best in the early morning just before the start of dawn in February, when it could top out around magnitude +6.5. It will also be much easier to see, streaking from Hercules through Boötes over just a couple days as it makes an exceptionally close approach to Earth.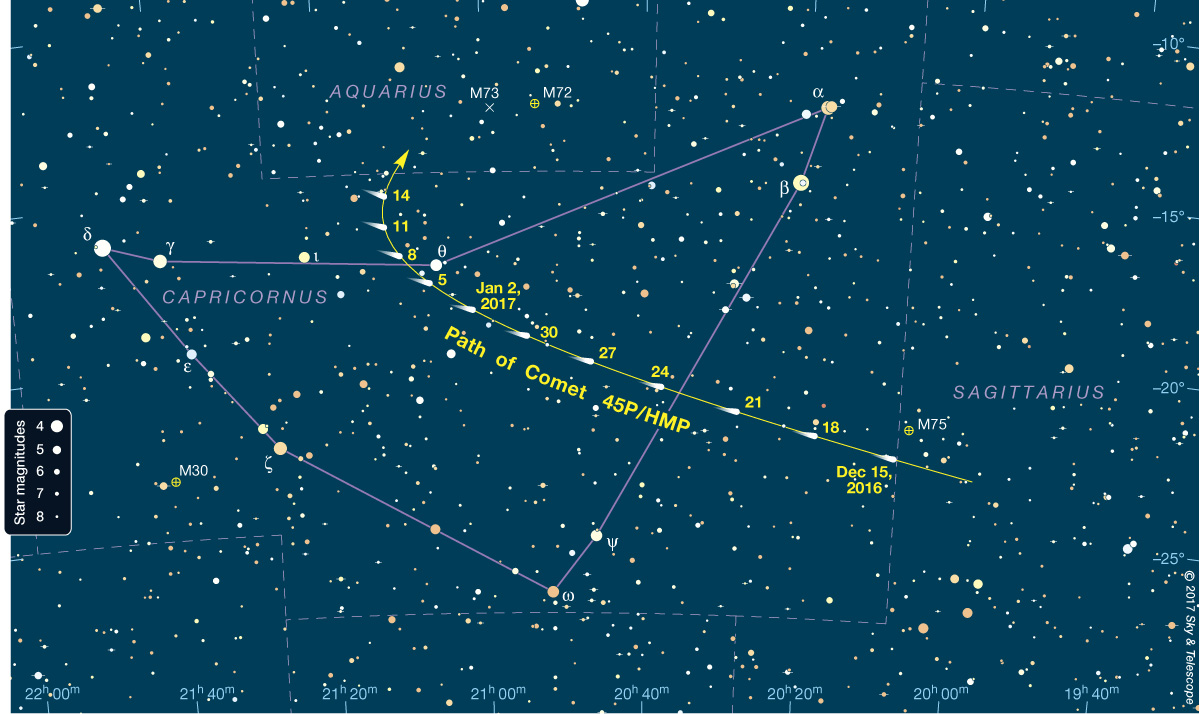 I hope you like getting up early because this week and early next will be your last chances to catch 8th-magnitude comet NEOWISE (C/2016 U1). Discovered last fall, this initially diffuse object has steadily brightened to become more compact and luminous to the point that it's now observable in small telescopes and even binoculars from a dark sky.
Get out there soon! The comet is sinking fast into the dawn glow, with only about a week left in its northern apparition. In late February, it might be glimpsed again around 12th magnitude low in the west at dusk but only from the southern hemisphere. With an orbital period of thousands of years, no one alive today will witness its next return. Sniff.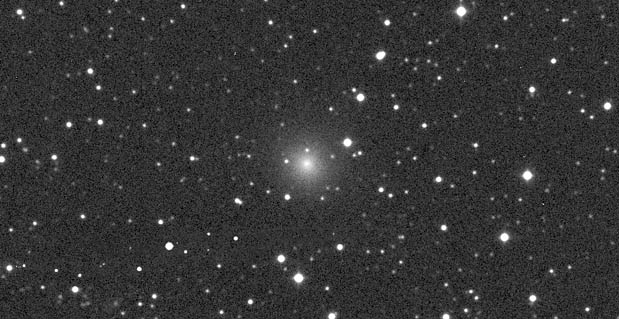 C/2016 U1 responds well to a Swan Band filter, an accessory every serious comet observer should have. It blocks unwanted light while enhancing fluorescing molecular carbon gases in a comet's coma. Some comets produce a lot of gas and respond very well to the filter; others are less gassy and show little change in contrast. For a gassy comet at low altitude, the filter can be make the difference between seeing it or not.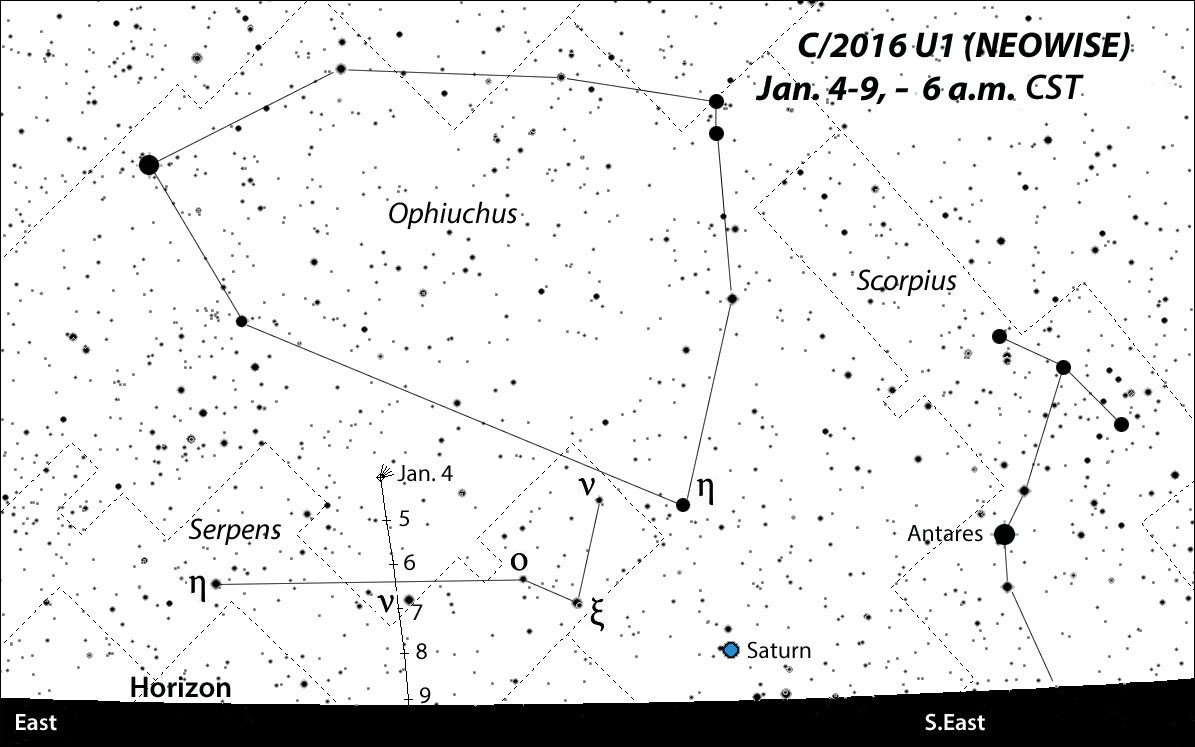 Periodic comets, those that lap the Sun in fewer than 200 years, are well represented among the comets in 2017. Next in line is the dashing little fuzzball 2P/Encke, which completes an orbit in a hurry, just 3.3 years. Encke always begins its apparition as a faint, diffuse mist but wastes no time brightening and compacting into a fine little comet suitable for small telescopes.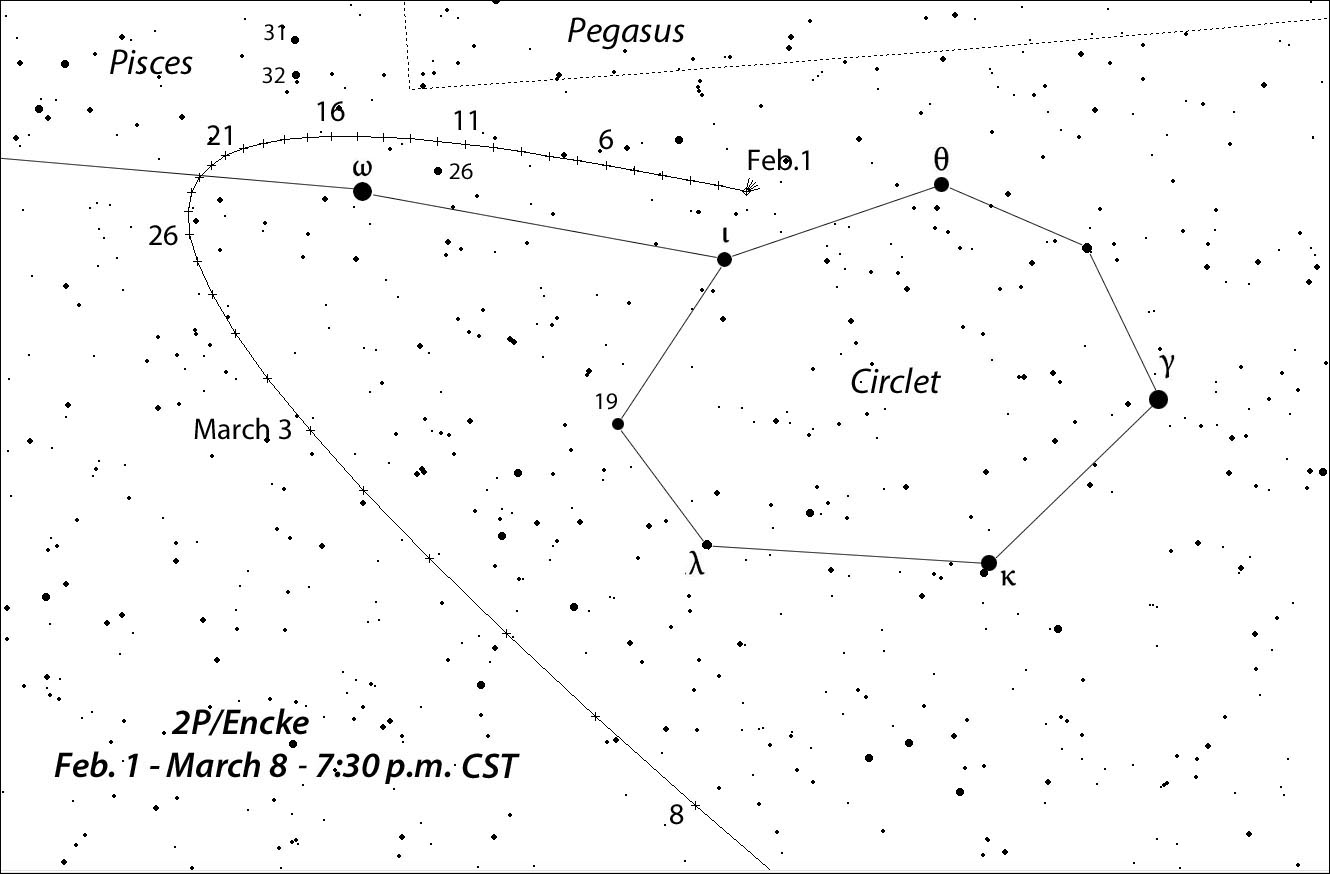 The comet was recently snared by visual comet observers in December, but it still shines wanly at magnitude +12 at this writing. Watch for it to brighten to magnitude +9 by mid-February as it cracks the whip around the Circlet asterism in Pisces at nightfall. Soon after, Comet Encke plunges south and becomes lost in evening twilight by early to mid-March even as it swells to a predicted magnitude of ~6.5. Just so we don't lose count, that's already three binocular comets and we're barely halfway through our list.
Comets in 2017: Keep 'em Comin'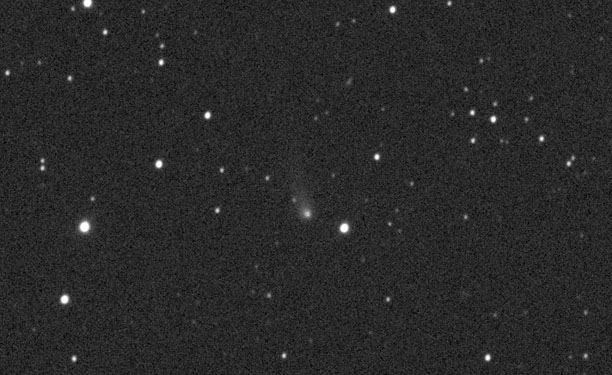 Eager for more comets in 2017? Pull closer to the table. The next comet, PanSTARRS (C/2015 ER61), has created a flurry of excitement with some estimating its peak magnitude as bright as +2. Discovered as an asteroid in 2015, it was later shown to exhibit a coma and renamed as a comet. Most sources I've checked, including Seiichi Yoshida's excellent Weekly Bright Comets and JPL's Horizon site, put C/2015 ER61 at magnitude +7 from mid-April through mid-May. No complaints here. Any comet visible in binoculars is a gift, and every one of them looks even more amazing in a telescope.
Still, some may struggle to find this cotton ball. Why? C/2015 ER61 has a serious altitude problem for observers at mid-northern latitudes throughout its apparition. The comet tracks along the ecliptic never far behind the Sun. This month, the 30″ diameter, 13th-magnitude comet creeps from Libra into Scorpius, keeping observers at bay until the very start of dawn, when it finally reaches a somewhat reasonable height above the horizon. When brightest in May, it will be crossing from Aquarius to Pisces.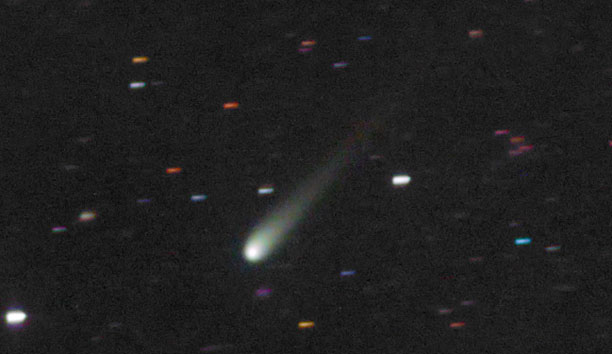 I've got high hopes for a relative newcomer to the comet scene, Johnson (C/2015 V2), which may peak around magnitude +6.5 in early June as it slides down the eastern side of Boötes high in the southern sky before the mosquitoes return. Currently at magnitude +11.5, 1′ in diameter and moderately condensed, this comet is warming up for its spring performance in the morning sky in northern Boötes. An 8-incher should coax it into view using magnifications of 100× and higher.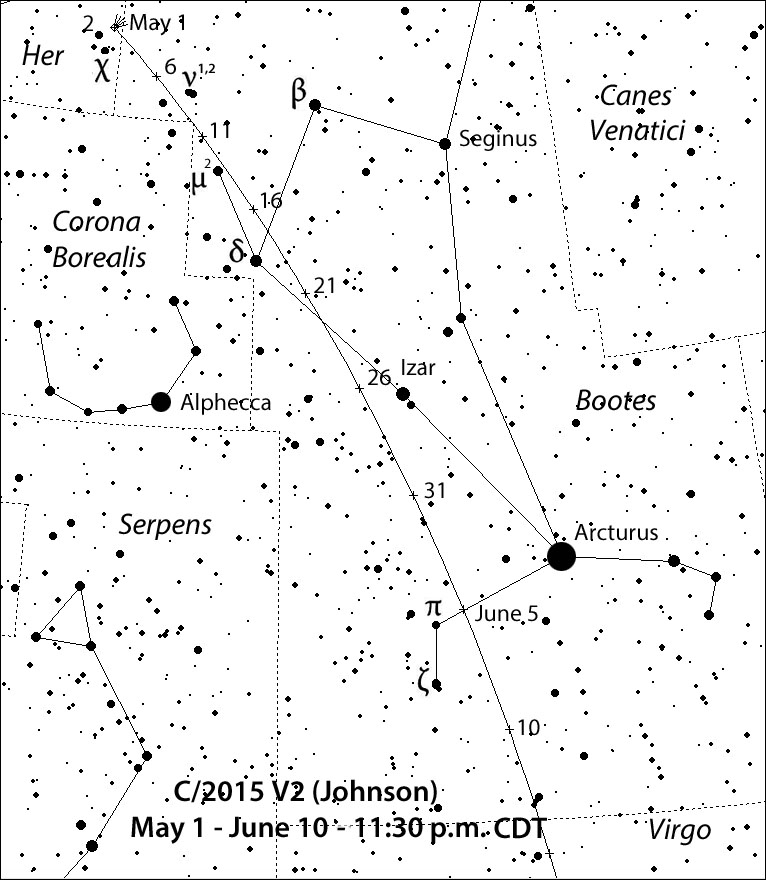 By the way, if you lack the software to create a comet path, you can always download the latest version of the free program Stellarium for Windows or Mac and pinpoint this and any other comet's position one night at a time, as well as other comets' paths. To ensure you have all the stars you need (down to magnitude 14 and fainter), click on the Configuration tab on the left side of your screen, select Tools, then download Star Catalog Updates.
Update March 16, 2017: Use the finder chart for Comet T-G-K here (the ticks are for 9 p.m. EDT = 1h UT on the following date). The earlier chart that appeared with this article, which is also printed in the May 2017 Sky & Telescope, is significantly wrong due to a change in the ephemeris.
I saved what might become the brightest comet of 2017 for last: 41P/Tuttle-Giacobini-Kresak. We touched on this one in a blog last November as one of the three periodic comets that are making extremely close passes of Earth in the next two years. Come April, as it tears across the northern circumpolar sky, it may max out at magnitude +6 and become faintly visible with the naked eye under rural skies. While that's exciting enough to contemplate, this comet is known for outrageous outbursts. Twice in 1973 it underwent 10-magnitude eruptions! More recently, in December 2001, it shot up three magnitudes unexpectedly. Watch out for this live wire!
Fainter Fuzzies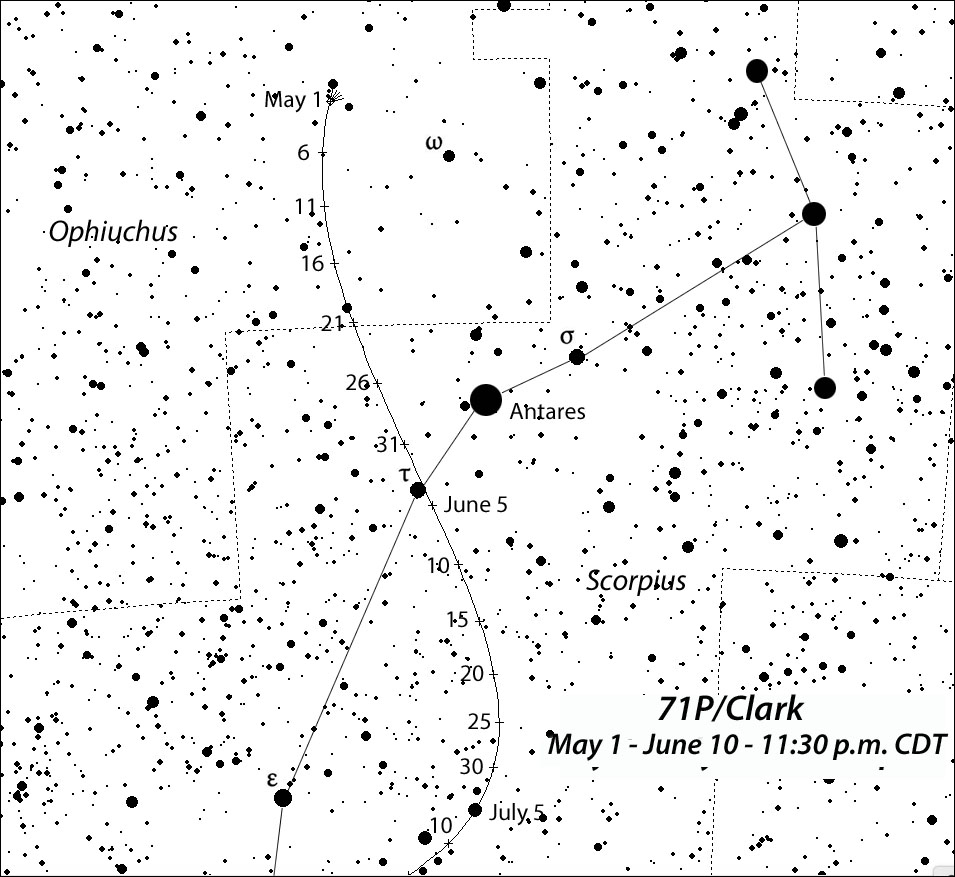 As if that's not enough, two other fainter comets in 2017 will help to fill in any gaps, making sure no one goes home cometless in 2017. They're both periodic: 71P/Clark and 24P/Schaumasse. Clark could reach magnitude +10 from mid-June to early July as it describes a lazy S through Scorpius. Southern Hemisphere observers are favored, but the comet will still be high enough to catch from mid-northern latitudes during its brightest period. In late May, watch for it to pass just 2° east of Antares.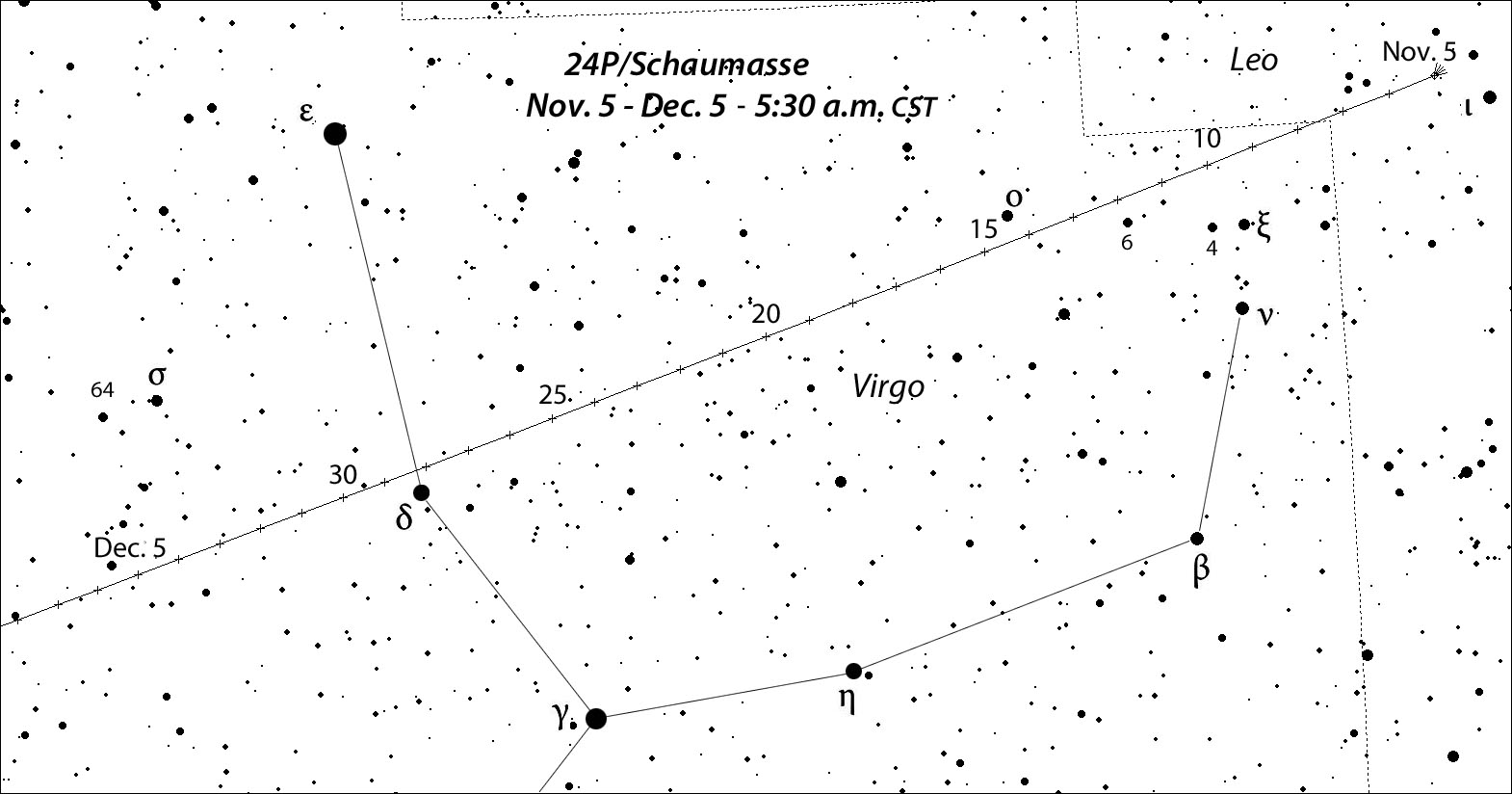 24P/Schaumasse, which returns every 8.2 years, rounds out 2017 with a morning appearance at magnitude +10–10.5 in November and December while tracking across the "Cup" of Virgo, home to hundreds of galaxies, including this mobile lookalike.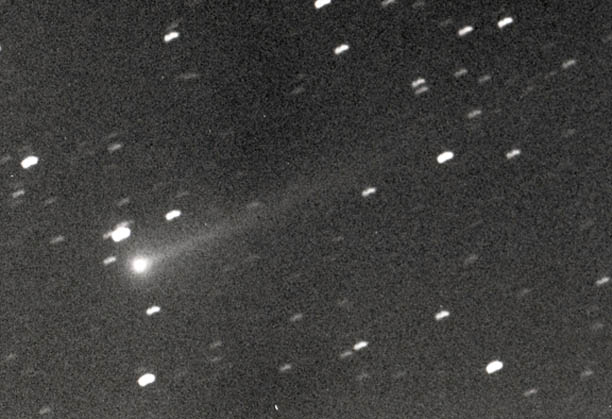 Finally, let's not forget the quixotic, exotic and alphabetic 29P/Schwassmann-Wachmann, known for frequent outbursts that can take it from magnitude +14 or +15 to +10 or +11 overnight. You can watch for it beginning in May and watch all the way through year's end as it crawls across northern Capricornus into Aquarius.
No matter what your instrument — naked eye, binoculars, or telescope — 2017 shows promise in being a bountiful year for comet lovers. And that doesn't even include new comets in 2017 that are just waiting to be discovered!