Like "catching some rays"? Explore the beauty and dazzle of crater rays, the tracks left by powerful impacts in the not-so-distant past.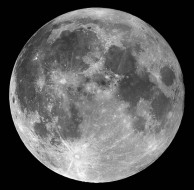 Your calendar has a special surprise this month — two Full Moons. The first occurred on July 1st across the Americas and the second, a "Blue Moon," happens early Friday morning July 31st. What are we to do with such an abundance of moonlight? Let's use the opportunity to explore rays and what I like to call "beacon craters."
Every lunar phase brings a unique set of lighting circumstances that highlights a particular class of features. Crescent Moons focus our attention on rarely noticed seas and craters along the lunar limb; a half Moon bowls us over with the richness and diversity of craters and rills. A full Moon usually means "time to relax" and catch up on sleep, but let's go rogue this weekend. After all, there won't be another Blue Moon till January 31, 2018.
At full Moon, the Sun shines over the Earth's "shoulder," hitting the Moon's face square on and lighting up one whole side of the lunar globe. Just as a light shining directly in your face hides the shadows cast by your nose, cheekbones and wrinkles, so the Sun shining in the Moon's face hides all shadow detail. The result: a flat, pasty, two-dimensional moon. Not much to look at, right? I beg to differ.
Rayed craters come into their own then, as do a plethora of smaller craters, both with and without rays, that light up like stars or tiny explosions in the shadowless full Moon afternoon.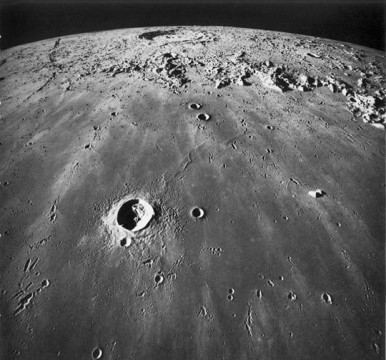 Rayed craters are craters surrounded by halos of impact debris that were excavated when meteorites and asteroids struck the Moon long ago. Pulverized rocks from those impacts fled the scene of the crime as great plumes of ejecta that moments later crashed back down to the surface tens to hundreds to even a thousand miles or more from ground zero.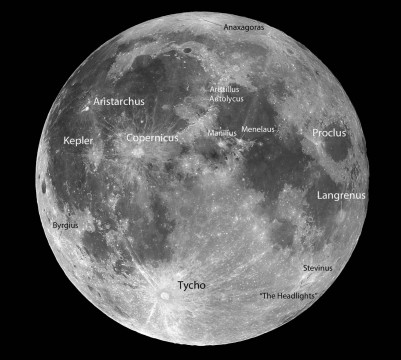 Some of the falling rocks were large enough to create secondary impact craters that exposed fresh crustal materials untainted by space weathering. That's why ray systems are bright compared to much of the lunar surface — the impacts that created them happened relatively recently. In other cases, such as the magnificent Copernicus system, the impact dug through the darker mare lavas into the original bright, highland crust and mixed this deeper, lighter-toned rock with that excavated by secondary impacts.
The brightest, most extensive system of rays emanates from 53-mile-wide Tycho, which formed an estimated 108 million years ago. Perhaps an observant Deinonychus caught site of the flash of impact. Rays fade over time; they're sand blasted by micrometeorite impacts and bombarded at the atomic level by the solar wind and cosmic rays until they darken and blend into the surrounding landscape.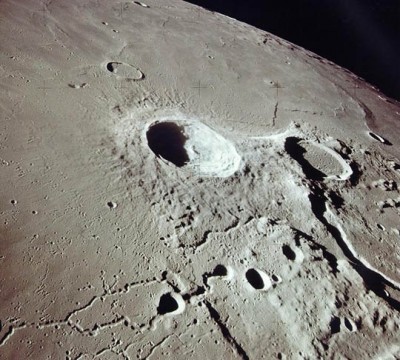 After Tycho, craters Copernicus, Kepler, and Aristarchus are the obvious standouts in the rayed crowd. While Aristarchus's rays aren't as broad or contrasty as those of Copernicus, the crater's relatively youthful age of 450 million years makes it the brightest large formation on the Moon. Nothing compares to its dazzle.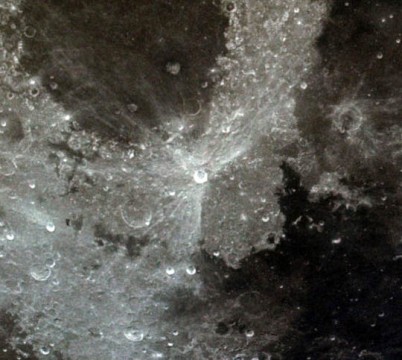 Located near the opposite limb of the Moon, Proclus is second behind Aristarchus in brilliance and proof that not all rays form neat radial patterns. Streamers shoot off to the east, north, and south, but are missing to the southwest, hinting that Proclus formed in an oblique, low-angle impact. To my eye, the asymmetry makes the crater look like a caldera atop a volcano spewing fire and ash. What do you see?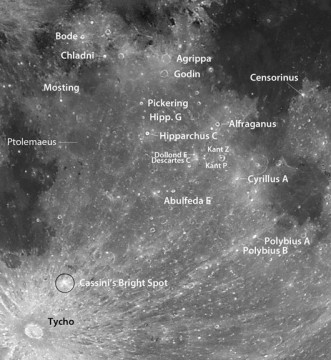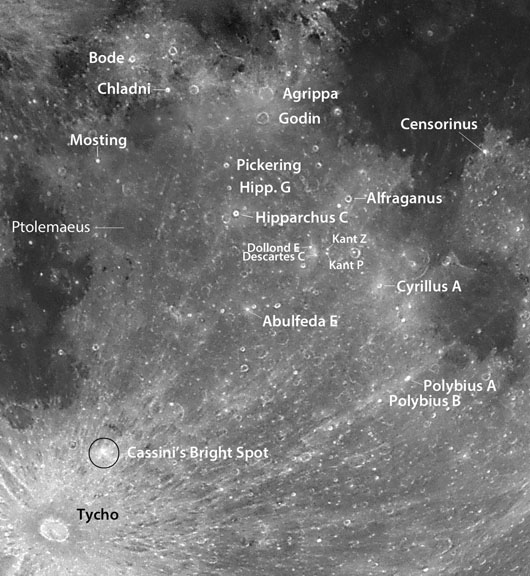 While you're in the neighborhood, be sure to stop by the crater Langrenus to nuzzle its fuzzy corona of fainter rays. On your way there, you just might get caught in the striking pair of "headlights" on either side of Stevinus.
I've saved the best for last. A motherlode of rayed and otherwise brilliant craters lies in a large region of ancient highlands bounded by Tycho to the south and the Menelaus–Manilius pair to the north. At full Moon, hundreds of freshly-punched craters so carpet the landscape, it resembles a glimmering field of stars. Use a magnification of 100x or higher to experience the full effect.
You'll find many of these tiny, barely-resolved bright spots on the full Moon, but nowhere are they more concentrated than here. My personal favorite is Hipparchus C, a 10-mile-wide perfectly circular divot. Many are undoubted tiny rayed craters, but some may get a boost from either the opposition effect, coherent backscatter, or both. For sure, the entire full Moon gets a kick from both processes, the reason it's brighter than can be accounted for compared to partial phases just before and after full.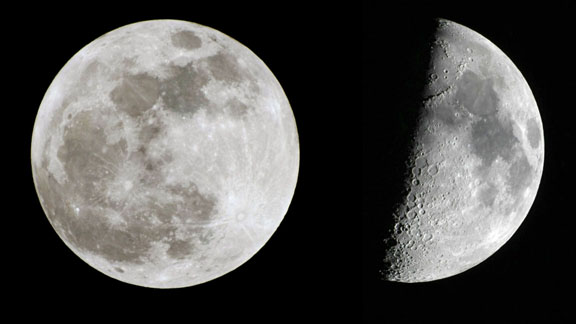 The opposition effect is basically shadow-hiding. At full Moon, sunlight streams past Earth and strikes the Moon straight in the face, not off to one side as it does during other phases. Shadows cast by rocks and other irregularities "hide" behind those objects. Without shadows to "darken" the scene, the view directly in front of us peaks in light intensity.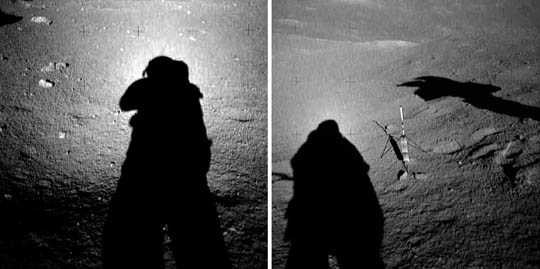 Coherent backscatter also plays an important role in lighting up rays, craters, and the landscape in general. When a light source shines at a very direct angle at material made of a multitude of tiny, dust-like particles, multiple reflections combine to produce a single brighter reflection directly back at the observer. Retro-reflection of sunlight by the crystalline minerals making up the lunar regolith may also play a part. Rays and "fresh" craters are already brighter than the surrounding landscape, but only become more so at special times like full Moon.
So don't stay inside and hide like a shadow behind a rock this Friday and Saturday. Grab your scope and a lunar filter and I guarantee you'll walk away with a sparkle in your eye.
---
Taking your telescope out to look at the full Moon? Be sure and bring along a Sky & Telescope Moon map!