Tag along with Comet Iwamoto (C/2018 Y1) as it scurries from Virgo to Leo in the coming week. It's already 7th magnitude and visible in binoculars from a dark sky.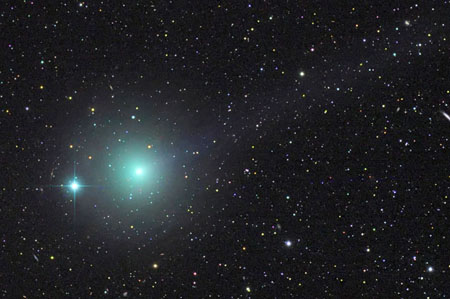 Having a comet meet expectations is saying something. I'm happy to report that Comet Iwamoto (C/2018 Y1) is making good on its campaign promises. Currently at magnitude 7 and visible in binoculars, it recently transitioned from the morning to the evening sky.
On Feb. 6, the comet rises around 9:30 p.m. local time in western Virgo and becomes well-placed in the southeastern sky by 11 o'clock. Over the next 5 nights, C/2018 Y1 will pole vault from Virgo to the Sickle of Leo and stand ready for your telescope or binoculars as early as 8 p.m.
The comet passes perihelion on Feb. 6 and then swings nearest Earth on the 12th at a distance of just 0.3 a.u. It should brighten a bit more to magnitude 6.5 before fading back to 9 by early March and magnitude 11–12 when April showers bring May flowers. Observers describe the comet as large and diffuse with a somewhat more condensed inner coma. Estimates of the coma size range from 20 to 30 arcminutes, or nearly the size of the full Moon.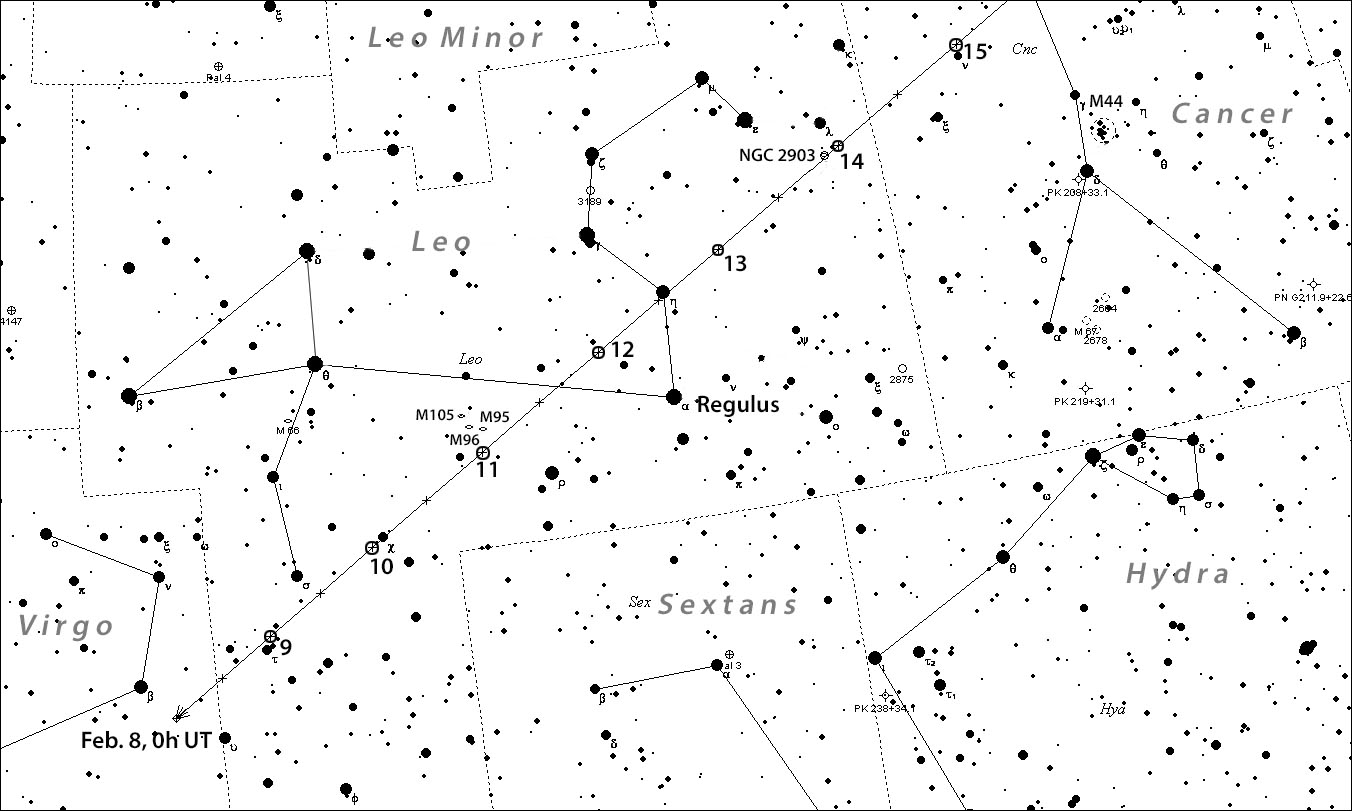 When it comes to large, diffuse objects, sky darkness can make a significant difference in a magnitude estimate. Those who see a larger coma will estimate a brighter magnitude than someone viewing from the suburbs, where only the inner core of the comet may be visible. Fortunately, C/2018 Y1 will stand high in the southern sky from mid-northern latitudes around the time of peak brightness.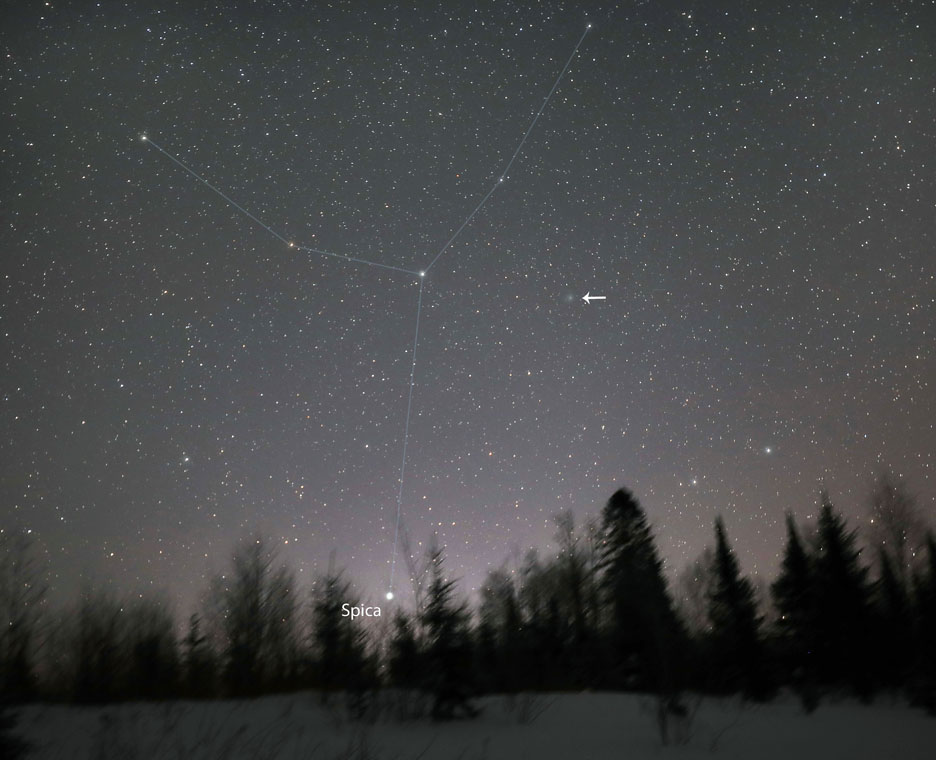 When you look for the comet, expect to see a fuzzy glow similar to how Comet 46P/Wirtanen appeared earlier this year but fainter. Wirtanen never showed a tail in my binoculars, but Iwamoto may. At least one observer reported a faint, 1.5-degree-long tail pointing northwest on Feb. 6 using only a 45-mm monocular. I observed it in 10×50 binoculars about 20° high in dark sky on Feb. 5.2 UT and saw a dim patch of haze 20′ across with a slightly brighter center. I wouldn't say it was bright, but I found the comet quickly and easily.
The view through the 10-inch reflector at low magnification was impressive. The big coma looked like a cloud of condensed breath with a hint of blue coloration. The inner core appeared dense with a faint, near-stellar nucleus glimpsed at 160×. The comet's degree of condensation was 4 on a scale of 0 (no compaction) to 9 (stellar appearance). A Swan Band filter brightened up the coma relative to the sky background, indicating emission from carbon-enriched gases.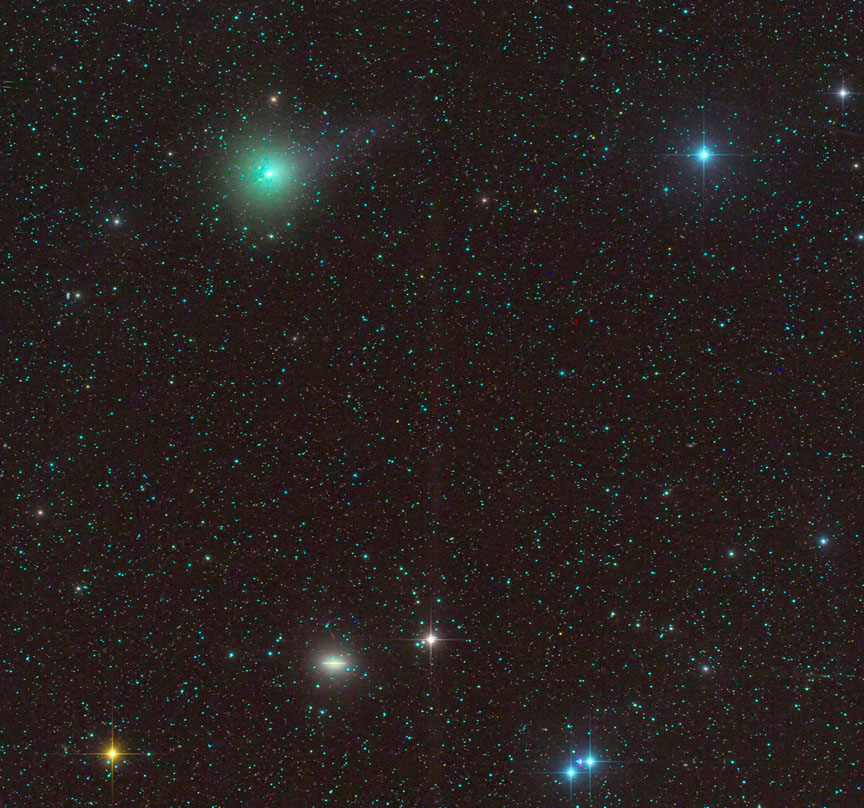 Comet Iwamoto gallops across galaxy country during the next week — moving nearly 7.5° per day on Feb. 10 and 11 — and makes two memorable galactic pit stops perfect for astrophotographers. The first occurs on the night of Feb. 10 when it glides about a degree west-southwest of the M95-M96 duo.
Its next encounter will be even more exciting both photographically and visually. On Feb. 13 around 21.3 h UT (4:20 p.m. EST), Comet Iwamoto will pass just 3.5 arcminutes south of the 9.7-magnitude galaxy NGC 2903 at the tip of Leo's Sickle. Given the galaxy's dimensions of 12′ × 6′ and a coma expected to be 30′ or larger, the comet should completely smother the galaxy! How often do we get to see a bright galaxy through a comet's veil?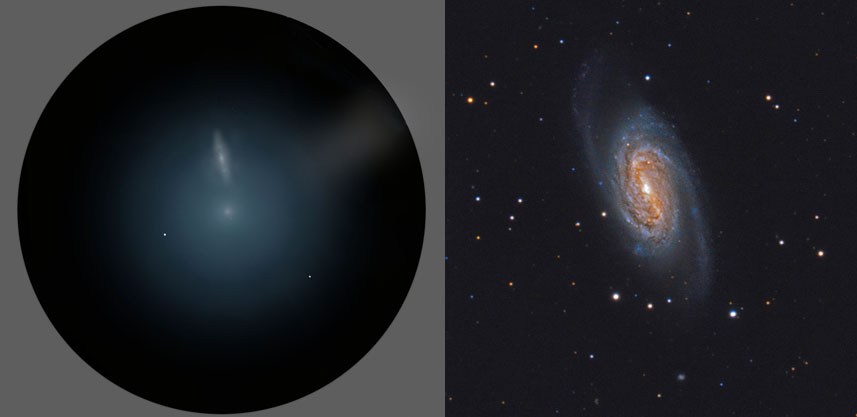 Observers in Europe, Africa and Asia will get a great view of the close conjunction, but because the comet moves so swiftly at this time, their separation will have widened to 50′ at nightfall for the East Coast and 2° for the West Coast on the evening of Feb. 13.
Comet observers always keep track of the Moon, knowing its power to seriously diminish a broom star's splendor. Here we're in luck. Although the Moon will be waxing in the coming nights, it won't be a bother until about the 12th, when it reaches first-quarter phase. Even that's tolerable. Purists can still find black sky by observing after moonset: The last moonless morning to see the comet at its prime will be Feb. 16. Good luck all!