The planets are aligning! The week ahead will feature multiple planetary conjunctions at dawn and great views of Neptune and Triton at nightfall.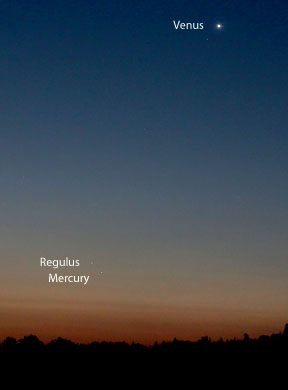 My wife has me asked me more than once about taking ballroom dance lessons. She'd love to get back to the dance floor. Me, too — as soon as time allows. Until then, I'm going to leave the dancing to the stars. Well, planets mostly. In the coming week, there will be no fewer than seven conjunctions between Regulus, Venus, Mars, Mercury and the crescent Moon at dawn.
North American observers have the best seats for several of the events, while others are best seen from Europe or the western Pacific. But no matter where you live, this bunch slides and shimmies within close proximity of each other for seven mornings and then some.
As we spin the clock forward, the interweaving motions recall a square dance, each planet changing position according to its own orbital motion and touched by Earth's own travels around the Sun. Mercury reached greatest elongation on September 12th and is now well placed for skywatchers in the Northern Hemisphere this week.
To begin, find a location with a wide open eastern horizon. This is where all the action's happening. And bring binoculars to help you search out the planets. Some, like Mars, are fainter and closer to the horizon than others and need a little help. You needn't to go out just during the conjunctions either. Every single morning over the next week will offer a new and unique celestial arrangement.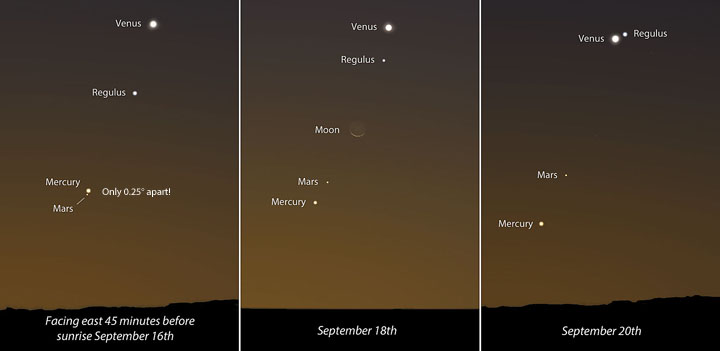 Lucky for us, Venus will shine nearby the entire time, a trusty guide to the action happening closer to the horizon. I encourage you to take a camera along to capture some of these celestial do-si-dos. Photography is easy in dawn light because exposures are short. You'll need a tripod, the lens set to f/2.8 or 4.0, ISO 400 and a brief 1- to 5-second exposure.
Here we go:
The gap between Mercury and Mars shrinks until September 16th, when they'll be in kissy-face conjunction, only 15′ (arcminutes) apart as seen from eastern North America, 10′ apart for the West Coast, and 3′ for Japan and the western Pacific on September 17th local dawn time.  Mercury, shining at magnitude 0.0, passes to the north of dimmer Mars, at magnitude 1.8.
September 18th: Venus, Regulus, Mars, Mercury, and a thin lunar crescent form a celestial conga line 11.5° long at dawn. Like an itinerant preacher going from town to town, the Moon on the 18th will be in conjunction with Venus (1h UT), Regulus (5h UT), Mars (19h UT), and Mercury (23h UT). None of these will be a close conjunction for the Americas, but observers in much of Europe will see the Moon pass only minutes of arc south of Regulus on the 18th with an occultation visible from southeastern Europe and points east and south.
September 19–20th: Venus passes just ½° from Regulus. Best in Europe on the morning of the 19th; in the Americas, they'll be closest (~35′) on the 20th at dawn.
October 5: The series of close dawn conjunctions wraps up when Venus passes just ¼° north of Mars for the Americas at dawn.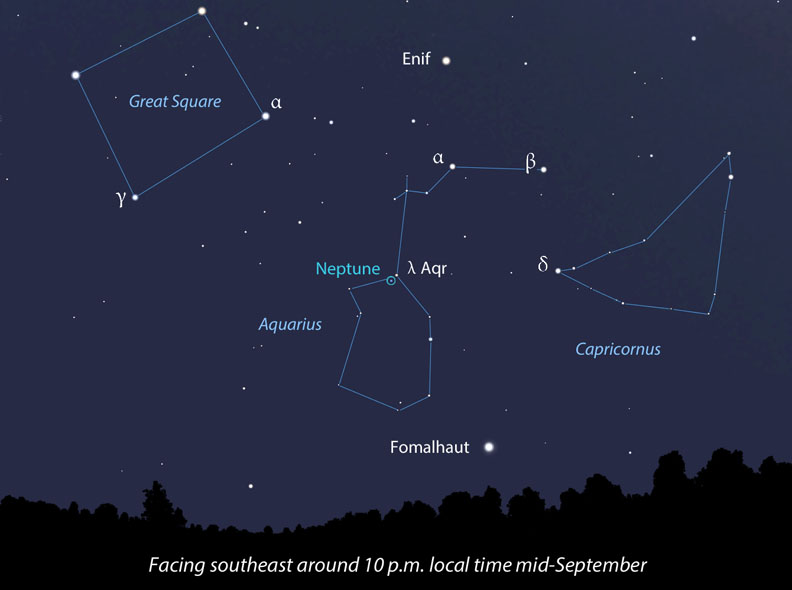 Meanwhile, in the evening sky, Neptune reached opposition on September 5th and now invites a look in the southeastern sky starting around 9:30-10 p.m. local time. We're fortunate that the most distant and faintest of the planets sits less than 1° southeast of the easy naked-eye star Lambda (λ) Aquarii and it never strays farther from it until next February.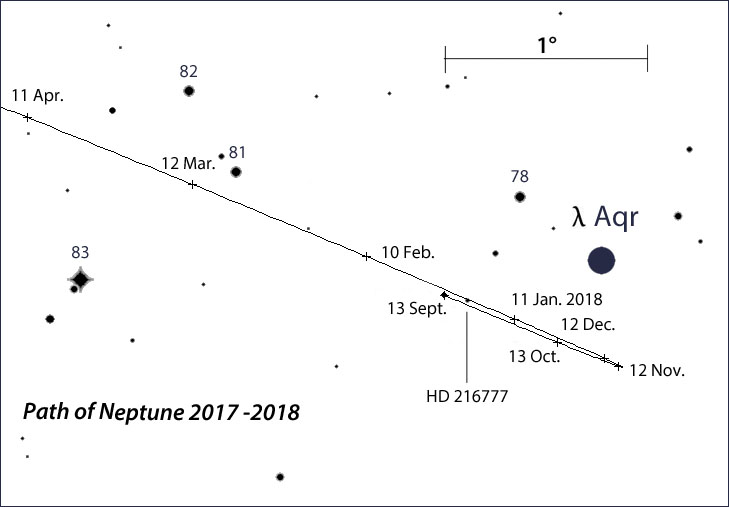 Plunk a low magnification eyepiece in your scope, point it at Lambda and shift about a field of view to the southeast to spot a pale blue, magnitude 7.8 "star." That'll be Neptune. Lambda serves as a convenient guide to the planet whether you're using binoculars (7×35s will grab it under reasonably dark skies) or a telescope. Point your instrument at the star and shift about a field of view to the southeast to spot Neptune. At low magnifications (30×–70×) the planet looks like a pale blue star, but its 2.4-arcsecond disk expands expands into a plump period at 150×–200×.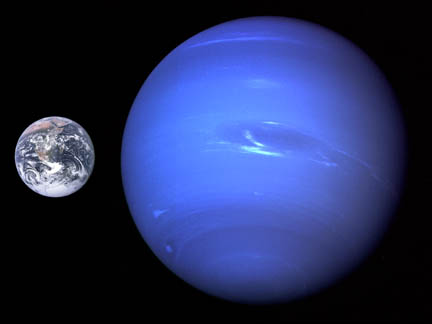 A most opportune time to watch the planet move track against the background stars happens over the next few nights, when Neptune skims just south of 8th-magnitude HD 216777. Closest approach occurs September 18th when the planet and star will look like a wide double star separated by just 1.3 arcminutes.
High-resolution astrophotography will reveal occasional details on Neptune's cloudy disk, but all I've ever seen are slight changes in color most likely brought on by physical changes within my own eyeballs. The pleasure of Neptune derives from the mind's eye. While absorbing its cool, blue, methane personality consider these highlights:
Neptune takes nearly 165 years to make one spin around the Sun, about twice the average human lifespan;
This ice giant possesses five rings composed of ice grains and dust coated with a carbon-based substance;
Peak winds clock at 2,400 kph (1,500 mph), faster than those on any other planet in the solar system. Neptune's internal heat powers these super-winds. Can't count much on the Sun when it's 4.5 billion km (2.8 billion miles) away;
The planet's average temperature of –353° F (–214° C) is a few degrees below the freezing point of nitrogen;
Neptune has the only large moon in the solar system — Triton — that revolves around its host planet backwards.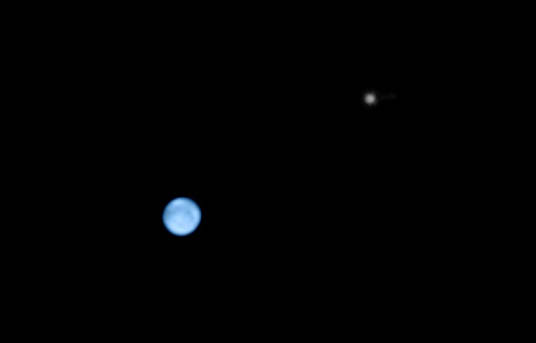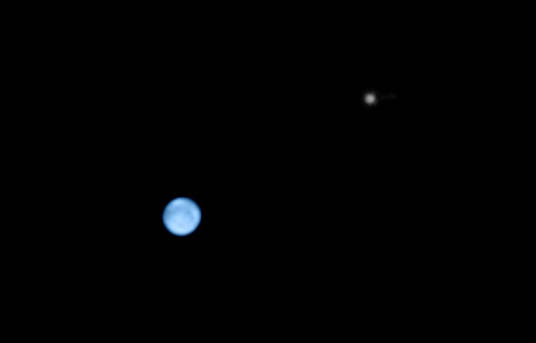 The big surprise at Neptune is that despite its spectacular distance, seeing Triton is relatively easy in 10-inch and larger telescopes. The moon circles Neptune from west to east every 5.9 days, inclined 157° to the planet's equator. At greatest elongation, the best time to seek it, Triton stands off 15 arcseconds either the northeast or southwest of the planet and shines at around magnitude 13.5. Visit Sky & Telescope's Triton Tracker and play around with dates know exactly when and where to see it best.

Path of Totality: Eclipse 2017
And now for a treat.  If you can spare 5 minutes and 24 seconds, you won't be disappointed. This wonderful slide show is set to music composed by David Fogel inspired by the August 21st total eclipse. Fogel's an amateur astronomer, musician, and composer who lives in La Jolla, California. Stirred by the sight of totality in Rexburg, Idaho, he composed the piece and then worked with Joe Woolbright of Sparta, Illinois, who took still images of the entire event, to create the video.
I think the music and photos mesh well for a fitting farewell to a wonderful event so many of us shared. Enjoy.