Springtime is galaxy time. Only 30 million light years away, the Leo I Group and nearby Leo Triplet entice the eye with an assortment of bright spiral and elliptical galaxies.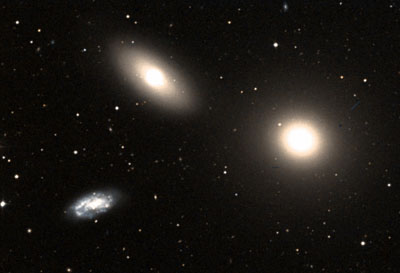 Welcome to spring! The new season begins (or began depending on when you read this) at 5:58 p.m. EDT on March 20th. That's also the night of the full moon, a perfect time NOT observe today's featured galaxies. But the March Moon hurries southward and soon departs the sky, opening a lengthy dark-sky window beginning Friday the 22nd.
Leo the Lion stands high in the southeastern sky at nightfall this month, flinging galaxies our way like a clown tossing Tootsie Rolls at a parade. Point your scope in the right direction and you're bound to catch a few. We'll focus on the Leo I Group, a cluster of galaxies located about 30 million light-years from Earth. There are a couple things I love about this group — the members are all on the bright side (around magnitude 10), and you can observe the entire bunch in one viewing session.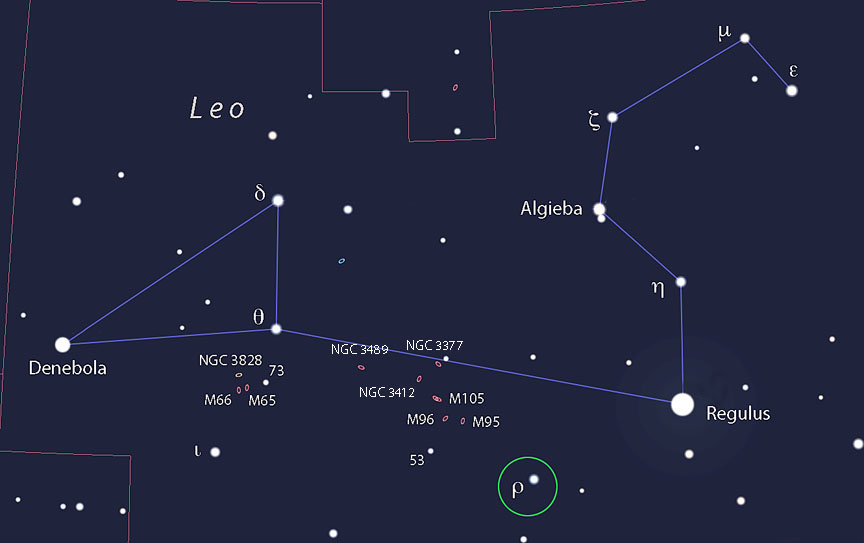 The Leo I Group, also called the M96 Group, is centered on the bright Messier galaxies M96 (magnitude 9.3) and M95 (magnitude 9.7), located 4° northeast of 4th magnitude Rho (ρ) Leonis. Various sources list anywhere from seven to nine members, but a recent deep survey turned up three dozen additional faint dwarf galaxies, including several rare ultra-diffuse galaxies. The latter are similar in size to the Milky Way but contain only a fraction as many stars. The striking Leo Triplet of M65-M66-NGC 3628 lies just 7.5° east of the core group and may be physically connected to Leo I; all three have similar distances and radial velocities. We'll add those to the mix, too.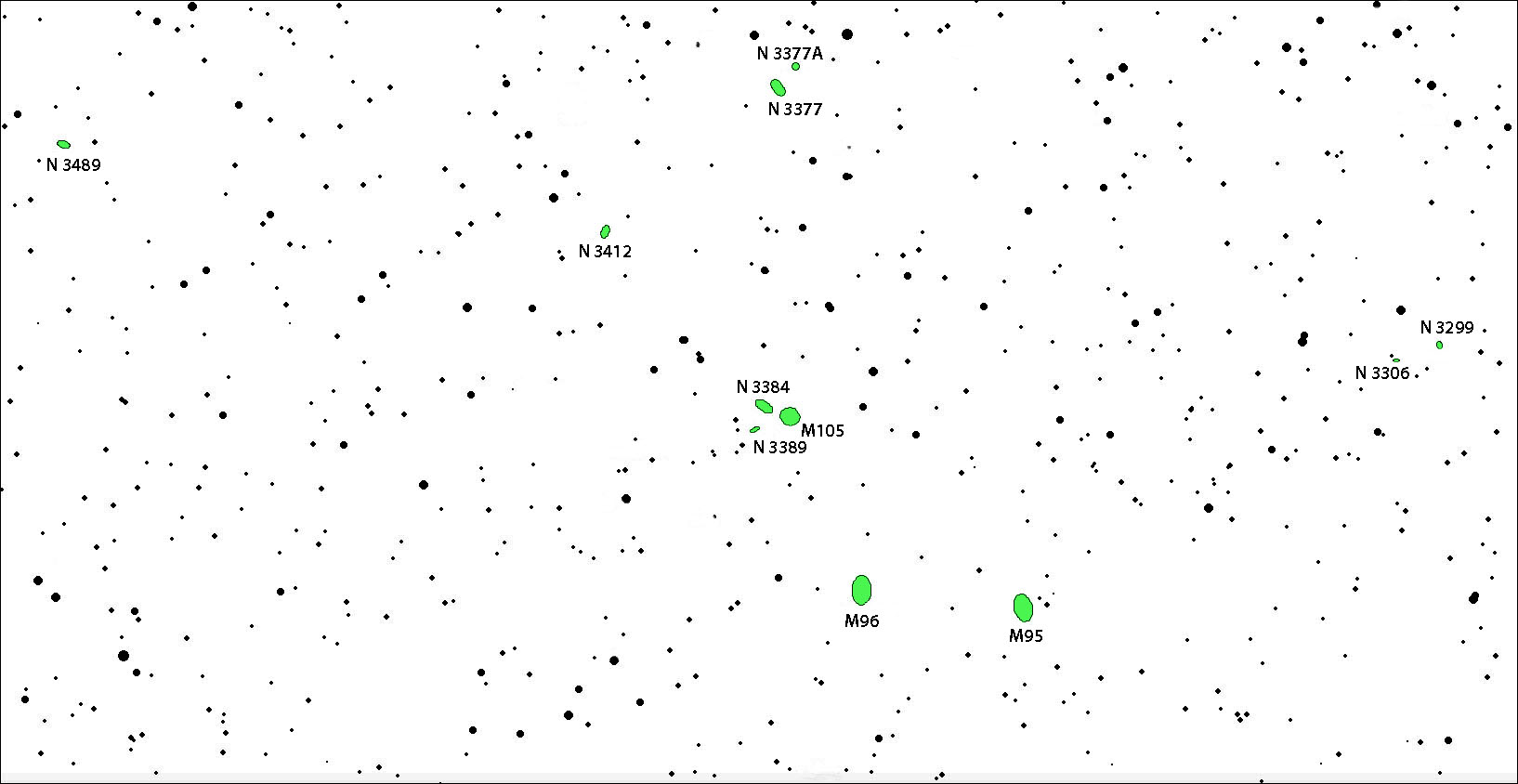 Center Rho (ρ) Leonis in your finder and you'll have little difficulty spotting the M95-96 pair 4° north-northeast. Both are barred spirals and fit comfortably in the 64x field of view of my 15-inch Dob. M95 is round with a bright, compact nuclear region and faint stellar nucleus. At 242x the disk appeared mottled with averted vision, but I couldn't distinguish either the bar or the faint spiral arms peeling off either side of the central disk and extending to the north and south.
M96 is the largest galaxy in the group. It's similar in size to the Milky Way, with a diameter of 100,000 light-years. An 11.5-magnitude near-stellar nucleus glares from within the galaxy's bright, extended inner disk. But something kept bothering me as my eye roved back and forth across the scene. Then it hit me — the inner disk appeared askew, oriented approximately east-west inside the fainter, north-south elongated outer disk. Aha!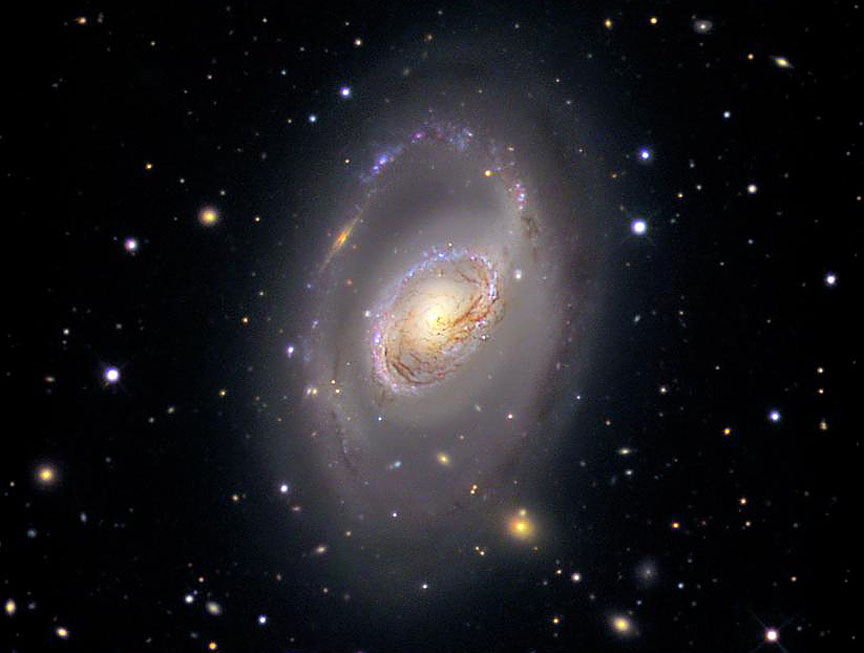 Gravitational interactions past and present with other members of the Leo I group have warped M96's disk and drawn out a spiral arm rich with new star-forming regions. With 242x and averted vision, I saw the bright, innermost section of this arm as a faint stub of light extending a short distance northwest of the nuclear disk. On a night of good seeing, M96 is anything buy stingy on detail and makes a great target for high-magnification exploration.
Next, we come to the "Eyes," a delightful close pairing of the elliptical galaxy M105 and its lenticular neighbor NGC 3384 located just 7 arcminutes to the northeast.  Both are nearly equally bright with magnitudes of 9.7 and 10 respectively. You might also catch a glimpse of faint pretender NGC 3389 (magnitude 12.8), a faint but unrelated spiral galaxy that's 9.5′ southwest of M105. This tight trio makes a wonderful sight huddled together in the same field of view at medium and high powers.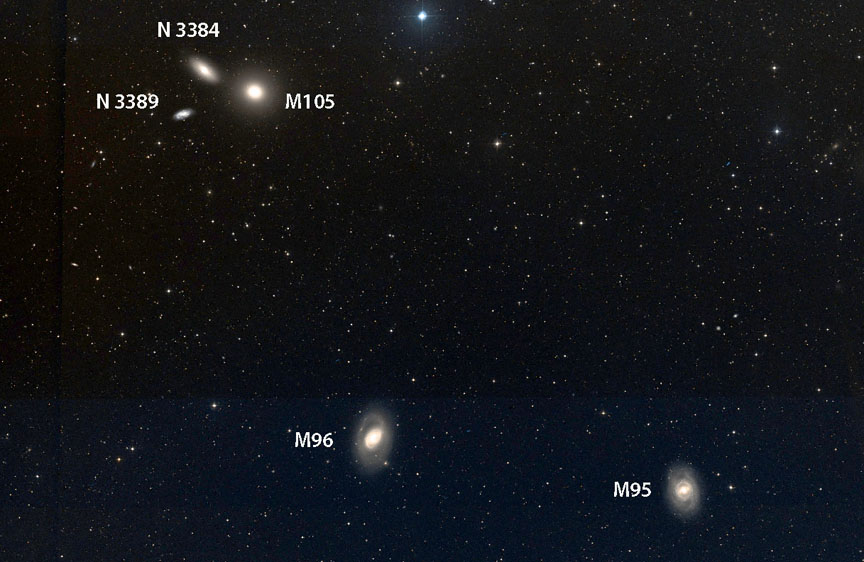 Both M105 and NGC 3389 appear smooth and diffuse with prominent near-stellar nuclei. M105 is round, while NGC 3389 is clearly oval. Deep within M105's bright core, astronomers have identified a 200-million-solar-mass supermassive black hole. As you take in the view, the invisible beast waits for its next snack to cross the event horizon.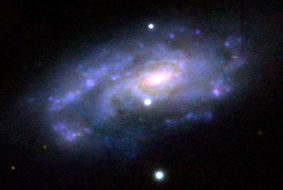 NGC 3389 immediately struck me as odd. A nub of a thing tipped northwest-southeast and asymmetrically bright, its west end glowed brighter than the east. Later, in studying photos of the galaxy, I realized that the bright nuclear region appeared off-center to the west because a large spiral arm extends in the opposite direction like the claw on a fiddler crab, creating visual asymmetry. What do you see here? Can you discern the chunky arm?
NGC 3377 (mag. 10.4) lies 1.4° almost due north of M105 — a little nudge of the scope and you're there without need of a map. This elliptical galaxy displays a bright, near-stellar nucleus embedded within a bright, elongated inner disk set inside a 5′ x 3′ oval haze tipped northeast-southwest. Seven arcminutes northwest, look for NGC 3377A (likely unrelated but appears on some lists), a very faint 2-arcminute, amorphous glow of magnitude 13.6.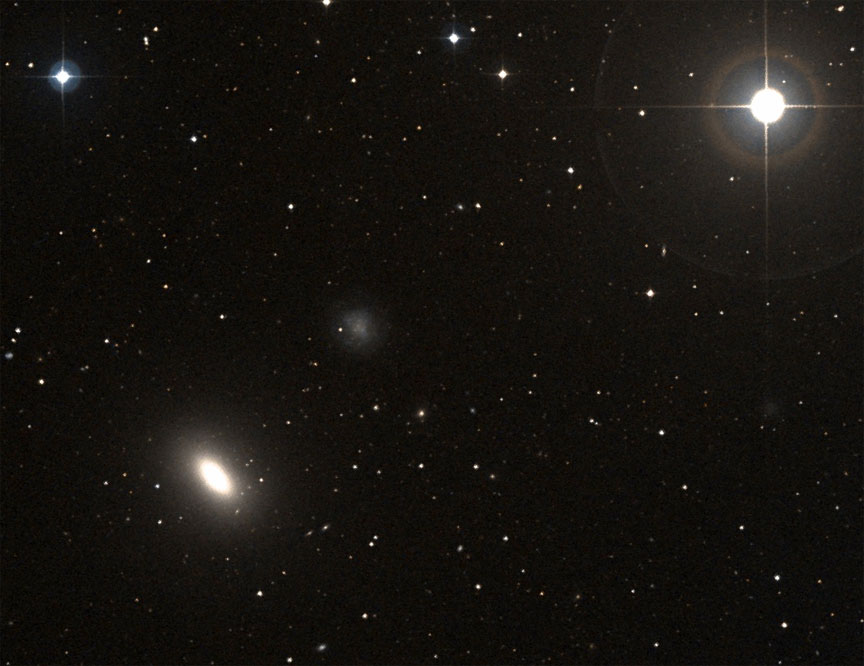 We move far afield to another possible group member, NGC 3299, located 3° southwest of NGC 3377. This one appeared as little more than a faint, diffuse patch of 14th magnitude, but it wasn't difficult to spot at 64x. Just 12 arcminutes southeast, I also found the unrelated galaxy NGC 3306 (magnitude 13.6), a small fuzz tipped northwest-southeast with a faint stellar nucleus.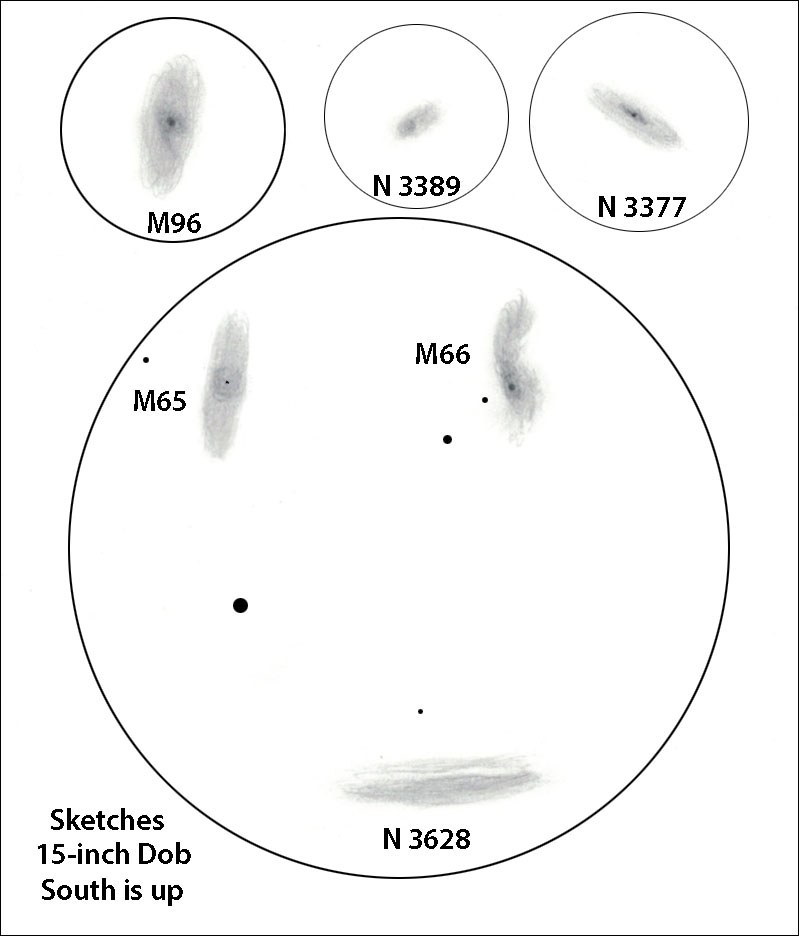 We now swing back east to pick up two true group members, NGC 3412 and NGC 3489.  The former is a 10.5-magnitude barred lenticular galaxy. It's 3.6′ x 2′ across with a bright, compact core set in a smooth, hazy lozenge of light that's tilted northwest-southeast. NGC 3489 (mag. 10.2), located 2.2° further east, is another lenticular with a bright, near-stellar nucleus and a brighter nuclear region. It's elongated east-west, though narrower than the other members of the group.
If bright nuclei and 10th-magnitude sound good to your ears, you'll be captivated by the Leo I Group. If you need brighter sights, something closer to the magnificence of the Grand Canyon, shift your scope another 7° to the east to the Leo Triplet. M66 is the showpiece here with one prominent, wide spiral arm reaching southward like a bent index finger. A much fainter arm extends to the east and north. M65 is a gorgeous galactic paramecium with an extended brighter core and tiny, faint stellar nucleus.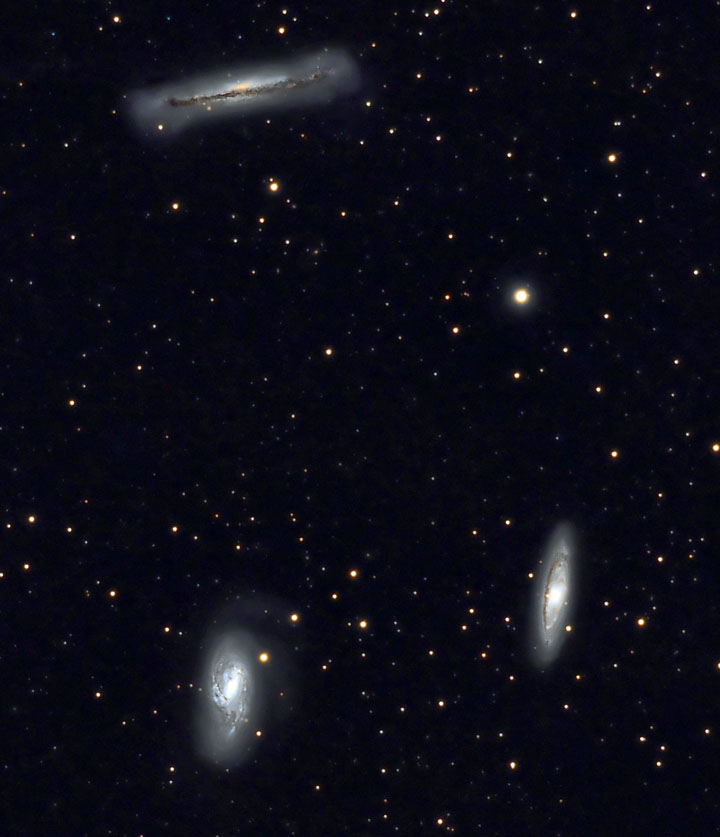 You can finish off the triplet with a midnight snack that, despite its name, is suitable for carnivores and vegetarians alike — the aptly-named Hamburger Galaxy, NGC 3628. With averted vision and 142x, a dark lane — the burger — flits in and out of view between either half of the pale bun. All three galaxies fit with room to spare in a 1° field of view. They make for a sight that's certain to top off the night!