After taking us to Comet Catalina's doorstep, the Moon covers Venus in a spectacular daytime occultation visible from most of North and Central America on Monday.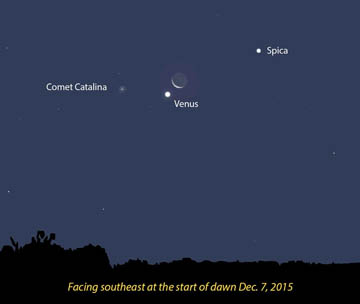 Mark your calendars. In less than a week, we're in for a double treat. Before dawn on Monday, December 7, 2015, the crescent Moon parks right next to Venus with Comet Catalina a stone's throw away. From the central United States, the comet lies just 4° northeast of Venus and 5° from the lunar crescent. Hours later, the Moon occults Venus for most of North and Central America and the Caribbean.
With a nearby Moon and the comet currently around magnitude 6, you're not likely to see it with the naked eye, but it will be an easy sight in binoculars from suburban and rural skies. Bonus! Wide-field glasses will corral all three celestial bodies in one field of view.
To make sure you see Catalina, first focus sharply on the Moon then ease it just outside the field of view to the right; now look for a fuzzy spot with a brighter center on the opposite (left) side of the field.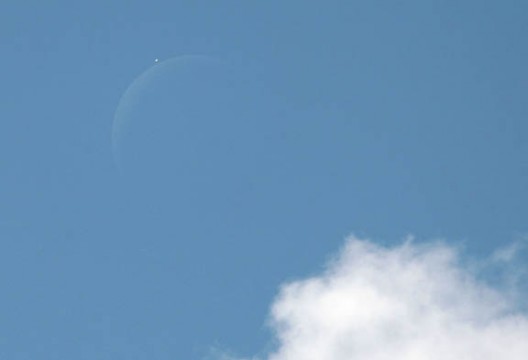 Now go back to bed and get some rest. Or have breakfast and go to work, but don't forget to sneak out for a coffee break shortly that morning or early afternoon (depending on your time zone) when the bright limb of the waning crescent Moon begins to nibble away at the gibbous Venus. It will take about 30 seconds for Venus to "set" behind the Moon, a sight reserved for those with a small telescope or large binoculars. You'll find the Moon about 40° west of the Sun and either in the southwestern sky (from the eastern half of the viewing area) or in the south-southeastern sky (from the western half).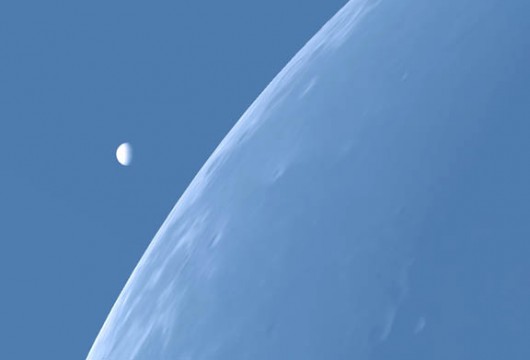 Most of us will either be in school or at work on a Monday, so bring along those binoculars. Finding Venus with the naked eye will be easy thanks to the Moon being so close. Look immediately to the left and a little above (north) of the crescent. Will you be able to see the planet right up to and during occultation? I suspect you will.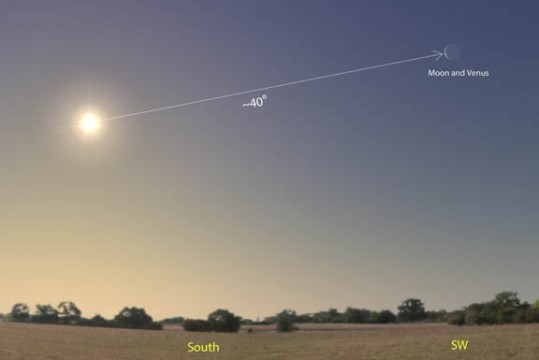 Overall, the Moon will be brighter at magnitude –8.8 versus –4.2 for Venus, but the planet always wins out because of its much higher surface brightness; swaddled in clouds, it makes a far better reflector than the Moon's charcoal-toned dust and rocks. The contrast between them is quite striking to the eye.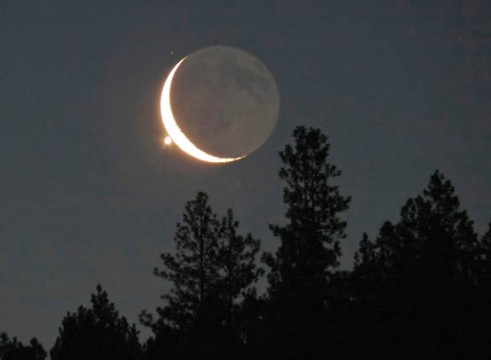 Some lucky skywatchers will get to see the entire event in a dark sky. If you're reading this from northwestern North America including Alaska, Yukon, British Columbia, and the Northwest Territories, that's you! Darkness will add dramatic contrast to the occultation. A low Moon at those far northern latitudes also means abundant celestial-meets-terrestrial landscape photo opportunities. Don't forget an extra set of fresh (warm) batteries.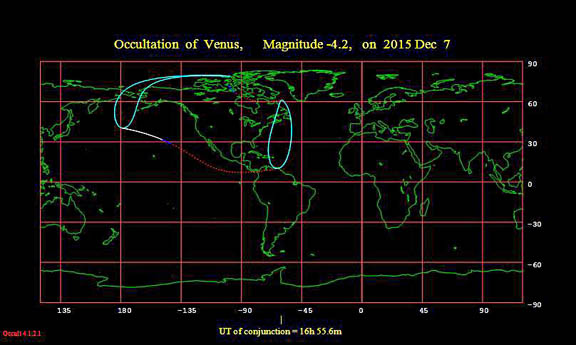 Here are occultation start times and end times (in parentheses), accurate to 1-2 minutes, for 20 U.S. cities on December 7th. Venus disappears at the Moon's bright limb and emerges from behind the dark limb as the Moon travels from west to east across the sky. The Moon will be too low to see emersion from cities in the northeastern U.S. and eastern Canada.
Boston, MA — 12:42 p.m. EST (1:46 p.m.)
Atlanta, GA —12:31 p.m. EST (1:57 p.m.)
Miami, FL —12:51 p.m. EST (2:16 p.m.)
Cleveland, OH —12:29 p.m. EST (1:40 p.m.)
Indianapolis, IN —12:22 p.m. EST (1:39 p.m.)
Jackson, MS —11:21 a.m. CST (12:54 p.m.)
Chicago, IL —11:17 a.m. CST (12:32 p.m.)
Minneapolis, MN —11:03 a.m. CST (12:15 p.m.)
New Orleans, LA —11:24 a.m. CST (12:59 p.m.)
Oklahoma City, OK 10:58 a.m. CST (12:35 p.m.)
Denver, CO — 9:35 a.m. MST (11:12 a.m.)
Billings, MT — 9:24 a.m. MST (10:51 a.m.)
Albuquerque, NM — 9:33 a.m. MST (11:19 a.m.)
Tucson, AZ — 9:23 a.m. MST (11:14 a.m.)
Las Vegas, NV — 8:09 a.m. PST (9:58 a.m.)
Seattle, WA — 7:53 a.m. PST (9:25 a.m.)
San Fransisco, CA — 7:52 a.m. PST (9:37 a.m.)
Los Angeles, CA — 8:03 a.m. PST (9:53 a.m.)
Fairbanks, AK — 6:42 a.m. AKST (7:48 a.m.)
Anchorage, AK — 6:34 a.m. AKST (7:46 a.m.)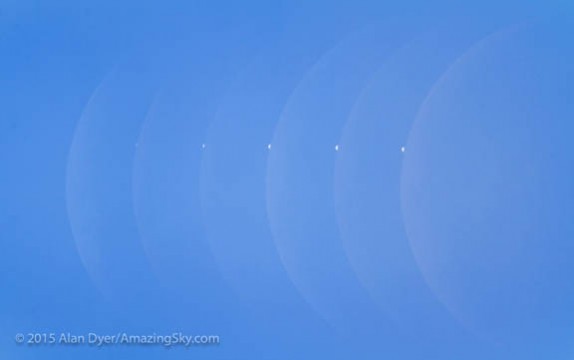 Notice how long it takes for Venus to reappear, often more than 90 minutes. There are at least two reasons for this: Venus is also moving east, forcing the Moon to "chase it down," and the Moon is just two days past apogee — the most distant point in its orbit — when it travels at its slowest speed.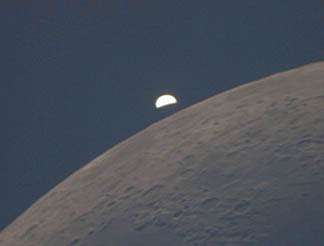 To summarize, there are three ways to partake of this eye-catching celestial event: See Venus and the Moon in the company of the comet at daybreak; use the Moon to make a daytime sighting of Venus; or be present at just the right time to witness the occultation.
I know what I want to take — half a day off from work so I can see all three! Clear skies to all on Monday.