Aaah-ooooooooooh! Let me howl it to the world. I finally saw "the Pup," the companion to the Dog Star, Sirius. Here are some tips on you can see it, too.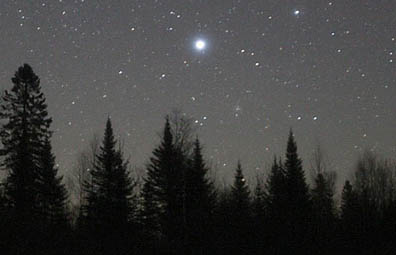 Saturday night the phone rang. The words "Unknown Caller" glowed on the landline phone screen. "Has to be a spam call," I thought. Then I looked at the number and noted that it was local. Against my better judgement I lifted the receiver and answered a tentative "Hello ...?"
"Hi Bob," a familiar voice said. It was my friend Jim, a real human and fellow amateur astronomer.
"I've got Sirius B in the scope right now and it's really obvious. Would you like to come over?" Would I?! I told him I'd get in the car right now.
"Be there in two minutes," my voice trailed off.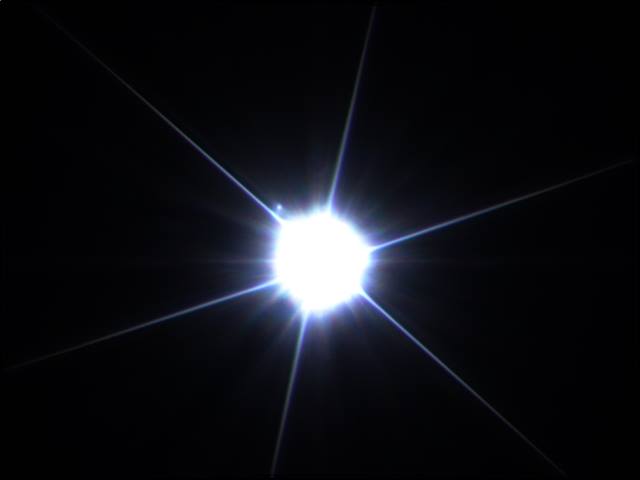 After explaining to my wife that despite untold hours under the sky, I'd never seen the Pup, the informal name for the white dwarf companion to Sirius, the sky's most brilliant star, I was out the door. I've tried finding it with a variety of telescopes ever since I was a teen, but the dwarf has always eluded me. Either it was too close to Sirius and swamped in its glare or jittery seeing mushed the two canines into a single unresolvable blob. Sirius never rises higher than 26° altitude from my home, and serene air is as hard to come by as a good January tomato.
Even in great seeing, the magnitude difference makes splitting the pair a worthy challenge. The Dog Star shines at magnitude –1.46 and the Pup at +8.4, a difference in brightness of 10,000 times. Why would anyone bother? Amateurs would! We bother a lot because we like to see real stuff with our own eyes. To witness how the universe is put together and even at times to see it fall apart.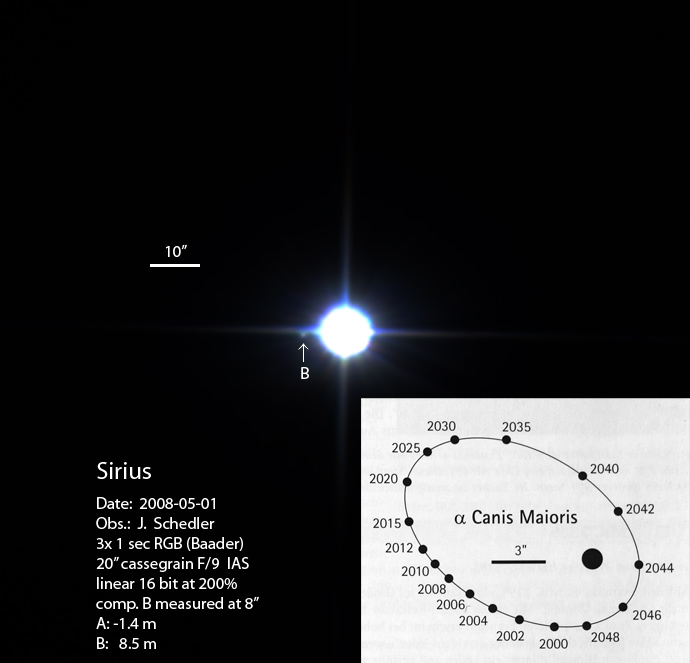 I arrived at Jim's place and stepped up to his 18-inch homemade Dob fitted with an eyepiece providing 300×. The air was calm, the sky partly cloudy, and the stars appeared as still as sleeping babies. I knew to look for Sirius B a short distance to the northeast of the primary. Jim described it as obvious and located just below a prominent diffraction spike sticking out like some luminous cactus spine due east of Sirius A.
OMG — there it was!
It took only a little effort to uncover this shyest of suns, but once seen, it was easily acquired again and again. For fun, we upped the magnification to 600×, and while the seeing degraded at bit, the white dwarf became even more obvious. It's one thing to read that Sirius A is 1.75 times larger than the Sun and 26 times more luminous, but when you see it next to Sirius B, a star 360 times fainter than the Sun and 400 miles smaller than the Earth, you begin to appreciate how radically different a white dwarf is from an average main sequence star.
I found it even more amazing to behold two stars that on average are only as far from one another as Uranus and the Sun, a distance of about 20 a.u. To see the pair is to sense something of the scale or our Solar System as seen from Sirius, 8.6 light years away.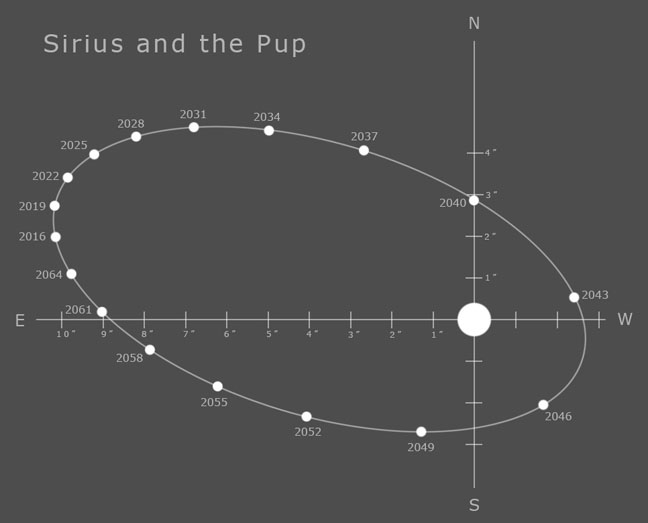 While an 18-inch proved handy in making an astronomical wish come true — thank you, Jim! — a large scope isn't required to split these inseparables. I've seen reports of amateurs cracking them with 8-inch and occasionally even with 6-inch telescopes. The keys to success are these:
Excellent seeing: Walk away and look at something else if Sirius shimmies and shakes in the scope. Check every clear night till the seeing allows.
High magnification: You'll need at least 300× to get enough dark sky between the two stars to pry them apart. More is better!
Knowing exactly where to look: Keep the orbital diagram featured here handy to know where to focus your gaze. If your reflecting telescope uses a standard spider mount for the secondary mirror, stars will produce diffraction spikes. Make sure when searching for Sirius B that one of those spikes doesn't block the star from view.
Clever tricks: When seeking its companion, place Sirius just beyond the edge of the field or fashion a simple occulting bar for your eyepiece and tuck Sirius behind it. Both methods block the overbright star's ferocious glare, making it easier to coax out the fainter Pup.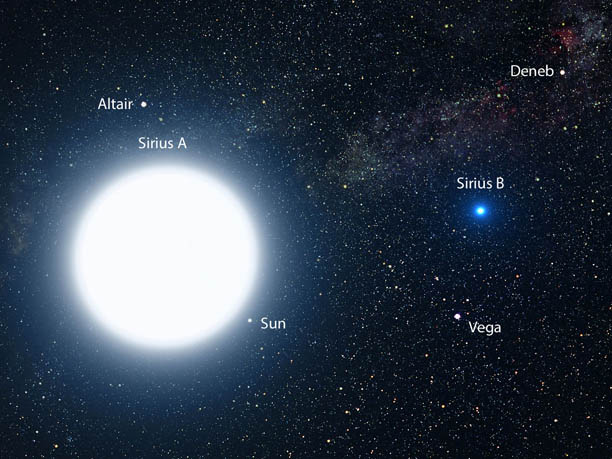 I thoroughly enjoyed seeing Sirius B, and now that I know what to look for, I hope to find it in my own 10-inch scope. After all, the timing is good. If you've never seen the Pup, it will be at or near maximum separation for the next few years. Take advantage of a stellar opportunity to see the most famous pair of dogs in the sky. Steady skies!