On Monday night observers in parts of Mexico, the western U.S., and central Canada may see the occultation of a lifetime when a tiny asteroid momentarily blots out the night sky's brightest star. 
UPDATE (Feb. 15, 2019): Path shift! See end of article.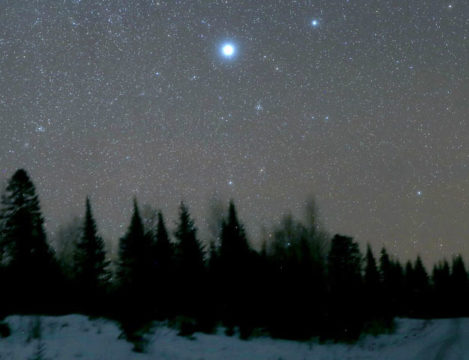 Can a 7-kilometer-wide asteroid make Sirius disappear? You bet it can. That just might happen on Monday night, February 18th. That evening around 10:30 p.m. MST (5:30 UT February 19th), there's a good probability that the 17th-magnitude 4388 Jürgenstock will occult the sky's brightest star for up to 1.8 seconds. Visibility stretches along a narrow path from the southern tip of Baja California to the Las Cruces–El Paso region, up through the Great Plains, and north to the Winnipeg area. While only a limited number of people may see this event, anytime Sirius disappears, however briefly, it's news!
The reason for the uncertainly lies in not having a precise position nailed down for Sirius. The recent Gaia Mission plotted a billion star positions to an accuracy of less than 0.0001 arcsecond, ideal for dead-on occultation predictions. But Sirius couldn't be measured because its singular brilliance oversaturated Gaia's detector.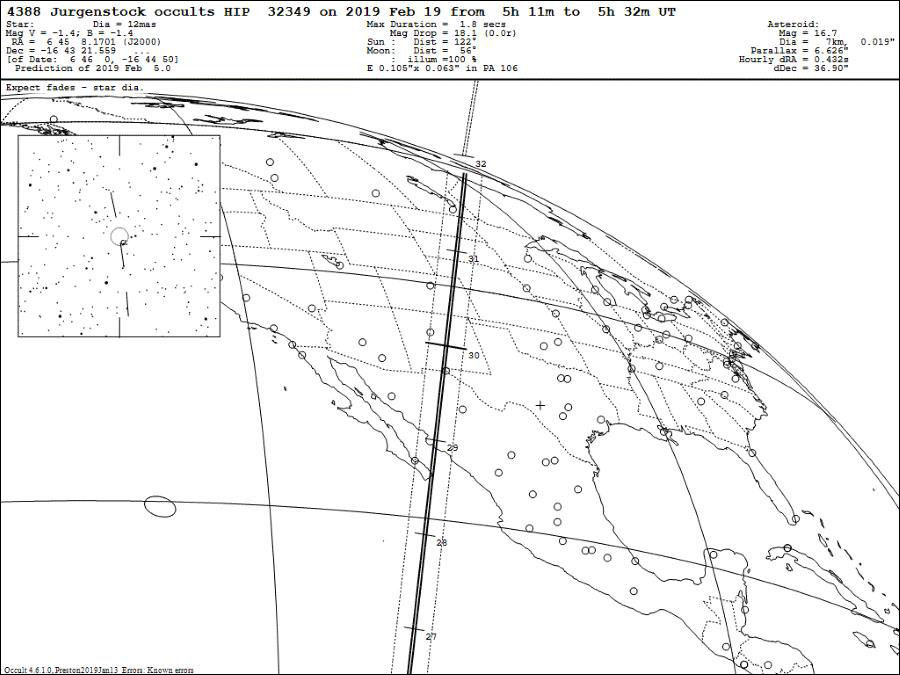 Ironically, while Gaia couldn't pinpoint Sirius's position, astronomers examining the sky around the star discovered a hitherto unknown, massive star cluster hidden in its glare. Gaia 1, located 10′ (arcminutes) east of the Sirius and 15,000 light-years away, has eluded skywatchers for centuries! Even the 1991 Hipparcos mission struggled with Sirius, but despite some uncertainty it produced reasonably good data.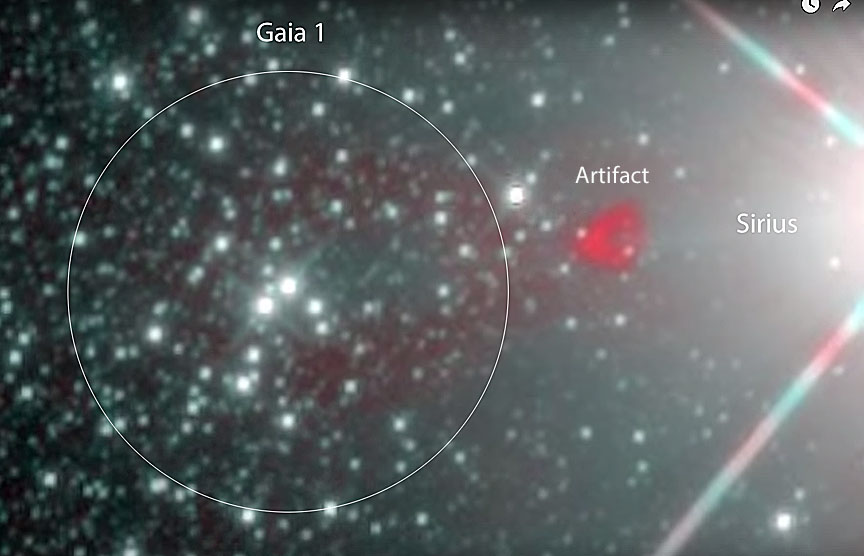 Assuming the occultation occurs, the asteroid's tiny size (0.007″) is only slightly larger than the disk of Sirius (0.0060″). According to David Dunham with the International Occultation Timing Association (IOTA), the star may completely disappear at the centerline for a mere 0.2 seconds of the 1.8-second-long event. Observers will see Sirius fade, blank out only momentarily, then brighten to full brilliance. Since Jürgenstock is likely to have an irregular shape and could be a little larger or smaller than predicted, there's a chance that Sirius might blink-out for longer or shorter than expected, or fail to completely disappear.
There's also a bit of fuzziness about the asteroid's position, which might alter the timing and path slightly. Planned observations by JPL's Table Mountain Observatory before Monday (weather permitting) will tighten up those parameters. If there are updates or changes, I will post them here ASAP and make a note at the top of the blog. Be sure to check back if you're in or near the path.

The Moon will be nearly full Monday evening with Sirius well placed in the southwestern sky at the time of the occultation. Observers are encouraged to make timings of the event to help get a fix on Sirius as well as glean details about the asteroid and its orbit. Sirius can exhibit violent twinkling — let's hope for serene air lest atmospheric turbulence mask what could be the most amazing occultation in a long time.
Dunham has lots of extra information including sectional maps and times for specific cities. Check these links for more details:
Coincidentally, a second occultation occurs earlier on Monday morning, February 18th, just after 12:30 UT (6:30 a.m. CST) when the 37-kilometer-wide asteroid 396 Aeolia covers 4.2-magnitude Chi (χ) Virginis for about 11 seconds. Chi is located 11° west of Spica; the path crosses southern Texas and northern Mexico. Click here for details.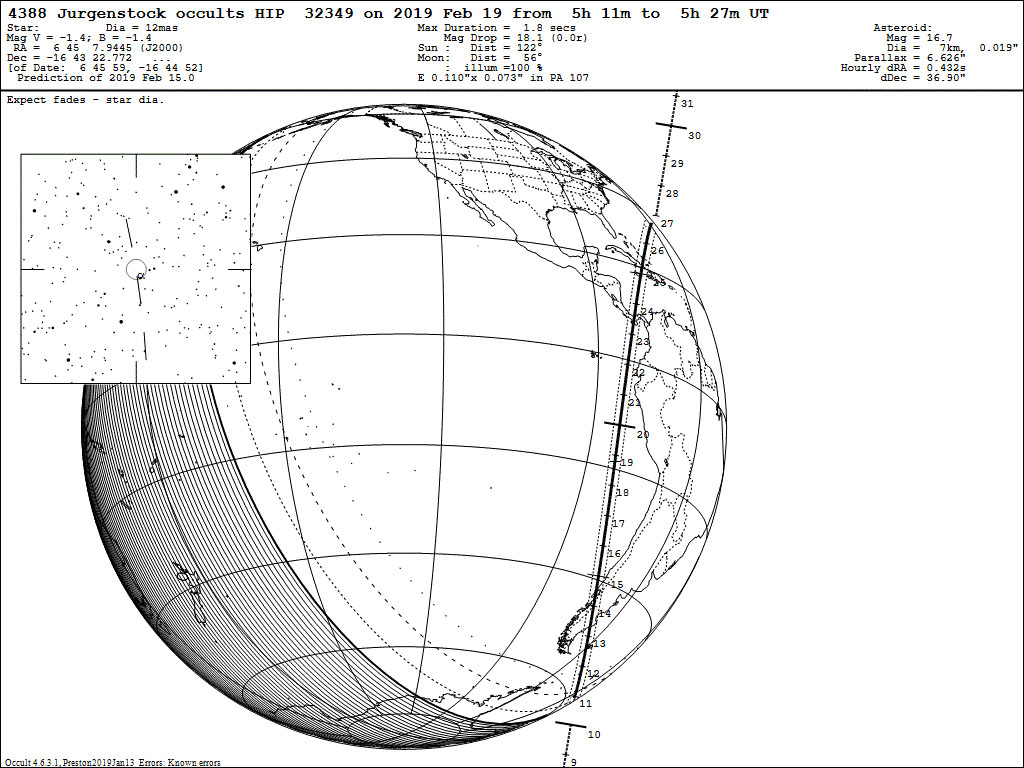 UPDATE (Feb. 15, 2019): New information from the IOTA group that takes into account the offset of Sirius A from the center of mass of the Sirius A-B system moves the occultation path substantially to the east. It's now predicted to cross southern Argentina, southern Chile, Central America and the Caribbean. For more details, click here and here.