The ongoing worldwide COVID-19 pandemic is having a significant impact on spaceflight, science, and professional and amateur astronomy.
It's a different world we live in right now: The novel coronavirus pandemic has affected 185 countries, causing national and state agencies worldwide to take drastic measures to attempt to contain the spread.
These measures, including physical distancing and quarantine, are unavoidably impacting space and astronomy. Yet even in the face of temporary closures, delays, and even bankruptcy, some of this work continues.
Impact on Space Missions
One of the first casualties of the pandemic was the European Space Agency's Rosalind Franklin Mars rover. The rover had already experienced significant problems with its parachute system; the pandemic only exacerbated the delay and the mission has now been postponed to the next launch window in 2022.
As of this writing, NASA's newly christened Perseverance Mars rover is still on track for a July 2020 launch. The United Arab Emirates space agency states that their Mars Hope orbiter mission is also still on track. The China National Space Administration hasn't yet clarified if its rover/orbiter mission will make the trek to Mars this year.
One only has to look at the cautionary tale of the Galileo mission to realize the perils of such mission delays. After the Challenger disaster, Galileo's mission to Jupiter changed significantly, causing years of delays and modifications to the spacecraft. These changes ultimately led the main antenna, which should have sent data back to Earth, to malfunction.
The joint European-Japanese BepiColombo mission successfully completed its Earth flyby on Friday, April 10th, en route to Mercury. To make that happen, a good number of European Space Agency (ESA) controllers were either working remotely or under physical distancing constraints at the control center in Darmstadt, Germany.
Space launch cadence worldwide has slowed down during the pandemic, with many missions slipping into a "to be determined" status. However, SpaceX continues to add to its controversial Starlink constellation, with another launch of 60 satellites planned for April 16th.
OneWeb, another startup in the satellite mega-constellation game, recently filed for bankruptcy. It cited the financial downturn in the wake of the worldwide pandemic, though the company had been struggling to come up with funding for its full venture before the pandemic hit. OneWeb already has 74 satellites in low-Earth orbit.
All NASA sites across the U.S. are either in NASA Response Framework Stage 3 or Stage 4, which means that employees are working either at home or at minimal staffing levels. The Kennedy Space Center is currently a Stage 3 facility, and the 45th Space Wing at Patrick Air Force Base in Florida, which supports the Cape Canaveral Air Force Station, is in Health Protection Condition Charlie.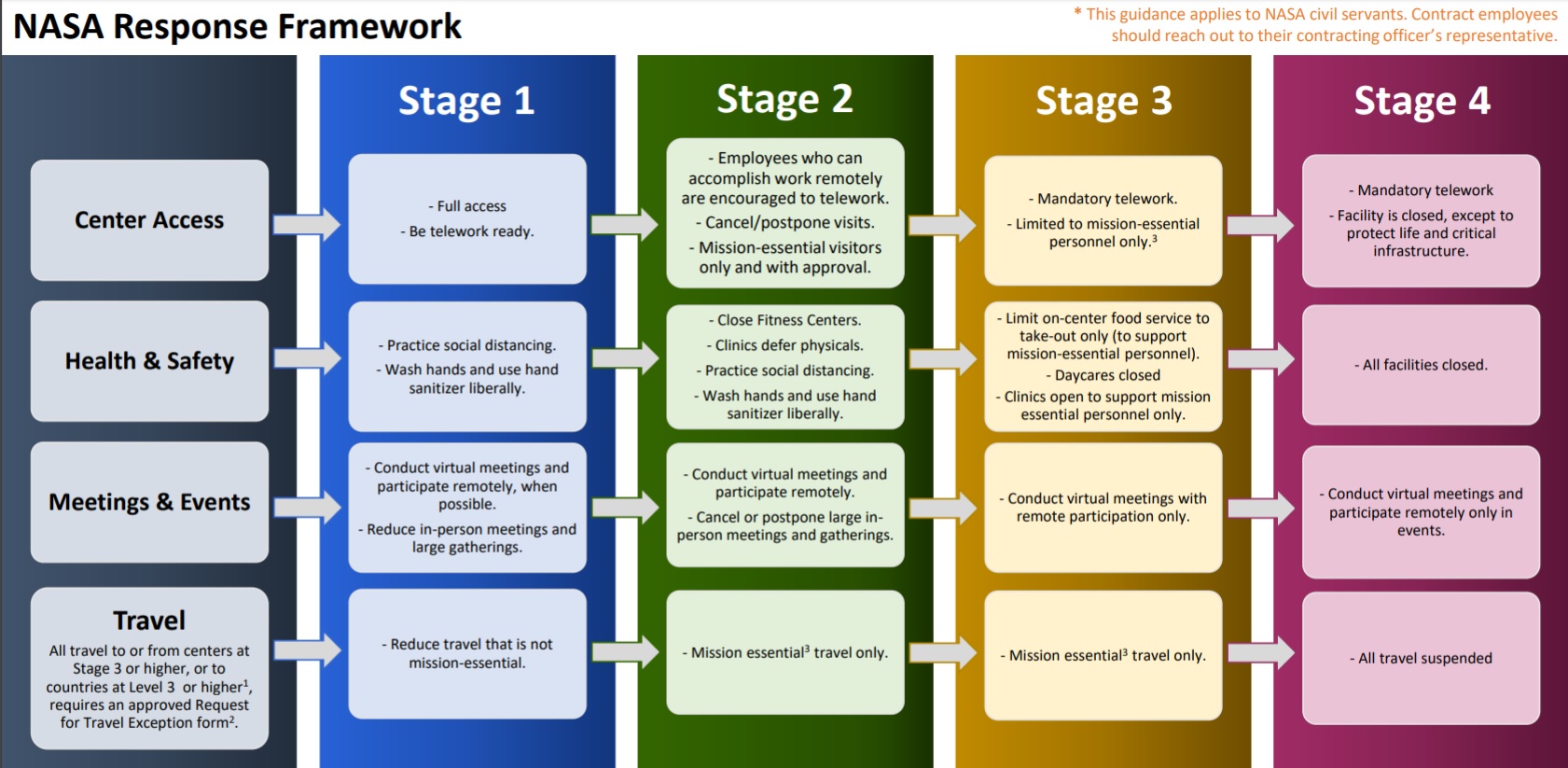 "Mandatory telework is in effort for NASA personnel at both facilities until further notice," says NASA Administrator Jim Bridenstine in a recent press release. "These measures are being taken to help slow the transmission of COVID-19 and protect our communities."
The team operating Curiosity on Mars is even roving from home. After picking up needed hardware curbside, team members also had to make logistical adjustments.
"We're usually all in one room, sharing screens, images and data. People are talking in small groups and to each other from across the room," Alicia Allbaugh, who leads the team, said in a recent press release. Now they do the same job by holding several video conferences at once while also relying more on messaging apps.
Crewed spaceflight activities in support of the International Space Station are also continuing. The Soyuz MS-16 launched from the Baikonur Cosmodrome on April 9th, carrying new crew to the International Space Station. This launch was carried out with abbreviated media activities and no press on-site. Astronauts typically undergo a two-week quarantine period prior to launch.
However, the pandemic may push back the timeline for the Space Launch System and Artemis initiative to the Moon. The Stennis Space Center and Michoud Assembly Facility are both at Stage 4, with no personnel onsite.
Development of the long-awaited James Webb Space Telescope project is likewise paused, although the team managed to complete mirror deployment tests just prior to shutdown. JWST is still set to launch in 2021.
Impact on Astronomical Facilities
The pandemic is also having an effect on Earth-based astronomy. The recent Lunar Planetary Science Conference (LPSC) was suspended, and the upcoming 236th American Astronomical Society (AAS) conference on June 1–3 has gone virtual.
The Mauna Kea Observatories in Hawai'i have suspended operations as part of the governor's stay-at-home order. And the Laser Interferometer Gravitational wave Observatory (LIGO) has also suspended its third observing run due to the pandemic.
The Canary Islands astronomical facility, off the coast of Morocco is also under lockdown. "Due to the stop of all non-essential activities in Spain . . . the 10.4-meter Gran Telescopio Canarias is undertaking a safe shutdown of the facility," says Gianluca Lombardi (ESO). "The shutdown is affecting the whole Roque de Los Muchachos Observatory installations."
The Stratospheric Observatory For Infrared Astronomy (SOFIA) airborne observatory has also suspended operations in the wake of the pandemic. SOFIA was also zeroed out in the FY 2021 budget proposal; unless that changes in Congress, which it has in previous years, the mission would have few if any flights left.

Personal Impacts in the Amateur Astronomy Community
We're also feeling the effects of stay at home orders and physical distancing in the amateur astronomy community as well, as star parties are canceled or postponed (find the latest update on star parties here) and observing runs are cut short.
If the travel halt runs into summer — a very likely scenario — eclipse expeditions planned for the June 21st annular solar eclipse over central Africa and southeast Asia will be canceled.
As students out of school are turning to online remote learning, many in the space community are taking up online efforts for science education. Sky & Telescope has compiled a list of homeschooling activities focused on astronomy, including astronomy craft projects and several virtual initiatives from Universe Today, NASA, and others. South African-based observer Cory Schmitz has also been doing amazing live astronomy streams of the Moon and more from his backyard.
Finally, telescope-makers are even offering their skills to address the shortage of protective gear for healthcare workers. Oregon-based amateur astronomer Robert Asumendi recently turned his talents for 3D printing telescope kits (see Sky and Telescope's June 2019 issue) to printing parts for face shields for local hospitals.
2020 fashion alert: translucent blue stiffener adds a splash of color while white headband coordinates with everything. Now have local production up and running and enough clear petg for 600 shields. My county has 650 hospital beds for 30k expected hospitalizations. #OpShieldsUp pic.twitter.com/XvMrzcrJjO

— Robert Asumendi (@AnalogSkyCo) March 30, 2020
The South African Radio Astronomy Observatory is also stepping up, managing the development and production of 10,000 ventilators by the end of June as part of the government's National Ventilator Project.
It's a strange new normal. Perhaps, we can all take advice from ESA Mars 500 crew member Diego Urbina on how to stay occupied during quarantine: Diversify tasks, organize your time, exercise and eat well, and do kind things for those at home with you. Stay safe, and may we never take sharing the night sky together for granted again.
---
Editorial note: Edited April 14th to add details about NASA's Curiosity rover as well as the ventilator production now being managed by the South African Radio Astronomy Observatory.