As Starlink satellites continue to enter low-Earth orbit — there are 360 of them now — SpaceX is working to mitigate the serious problems they pose for astronomy.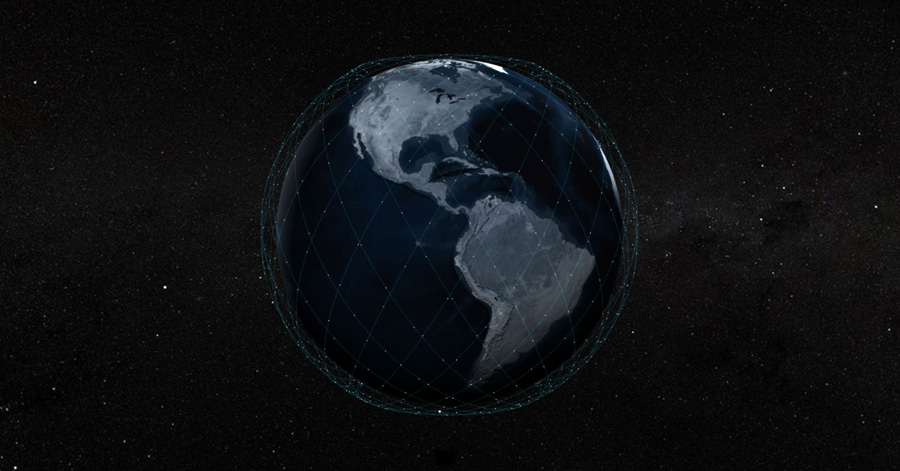 On March 18th, aerospace company SpaceX sent its sixth batch of 60 Starlink satellites into the sky. That brings the total number of Starlinks in low-Earth orbit to 360, putting SpaceX well on its way to having a working network of broadband internet-providing satellites. The company is staying on course to build a preliminary network of 1,584 satellites, and ultimately one that's 12,000 or even 40,000 strong.
Those numbers throw many astronomers into despair. Satellites in our skies are nothing new — the number has been increasing steadily since the Space Age began. But for the first time, thousands of satellites will be reflecting sunlight from low orbits, making them bright enough to outshine the stars.
One Potential Solution: The DarkSat
Astronomers have voiced their concerns, and SpaceX is listening. They launched a DarkSat (technically identified as Starlink-1130) on January 6th with an "experimental darkening treatment" to reduce the amount of light it reflects.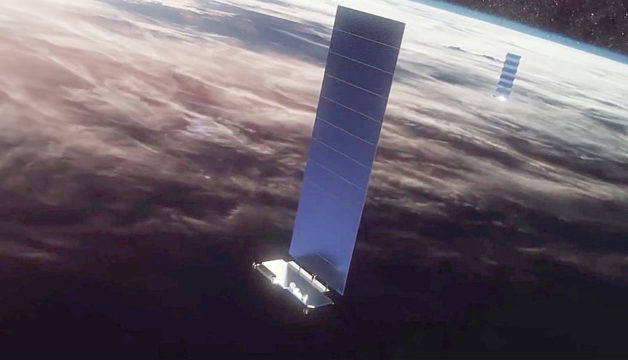 "Preliminary results show a notable reduction," said SpaceX engineer Jessica Anderson in a webcast of the most recent launch.
However, observations by Jeremy Tregloan-Reed (University of Antofagasta, Chile) and colleagues using the 0.6-meter Chakana telescope in northern Chile, show that the reduction, while notable, is modest. The results are posted on the astronomy preprint server arXiv.
Using images of satellite tracks taken on March 6th, when the satellite had reached its nominal 550-kilometer altitude and oriented its solar panel to the Sun, the astronomers measured a brightness of 7.6 magnitudes. That's only slightly fainter than another satellite (Starlink-1113), which came in at 6.7 magnitudes.
A lot of factors come into play when determining how bright a satellite will be, among them the angle between the satellite, the Sun (whose light it's reflecting), and Earth. The satellites were at a low elevation, putting them farther away from the telescope than they would have been if they were directly overhead. Using a simple calculation, the astronomers found that if directly overhead, the satellites would both be brighter, but the reflective coating would help more: the darkened Starlink would be 0.88 magnitudes, or 55%, fainter than its counterpart.
The upshot is that the experimental darkening could help make the satellite less visible to backyard astronomers, but it won't do enough to help professional observatories, especially ones set to perform wide-field surveys.
The Vera C. Rubin Observatory being built in Chile will scan the whole night sky every three days. Astronomers and SpaceX alike recognize it as representing one of the observatories most severely impacted by Starlink.
The issue for Rubin Observatory is that a single too-bright satellites not only streaks across an image, but cross-talk effects between detector segments also create multiple fainter echoes of that trail. A single satellite trail thus ruins not just the pixels within the actual trail but significant portions of the image.
---
Read more about the potential impacts of Starlink and other megaconstellation satellites on astronomy in the March 2020 issue of Sky & Telescope.
---
The Sun Umbrella
Fortunately, the experimental coating isn't the only trick up engineers' sleeves. Another idea, which SpaceX CEO Elon Musk announced March 9th at the Satellite 2020 conference, is to equip each satellite with what amounts to a sun umbrella, shielding the spacecraft from the Sun and thus preventing reflection. However, it's still unclear what this sunshade would look like or when it would be launched.
"SpaceX has been aggressively pursuing multiple solutions," says Kelsie Krafton (American Astronomical Society). SpaceX's incremental approach to manufacturing makes it adaptable, she adds, so that potential solutions can be continually incorporated, tested, and improved upon.
The AAS and the International Astronomical Union (IAU) have been coordinating talks between SpaceX and astronomers around the world.  "Every time we talk to [SpaceX], they reveal even more work they are doing on this project," Krafton says.
Tony Tyson (University of California, Davis), an astronomer with the Rubin Observatory, agrees. "SpaceX is taking this seriously and is committed to solving the problem," he says. "This is a complex engineering problem."
So What's Next?
SpaceX is continuing to roll out its broadband internet plans, having just received Federal Communications Commission (FCC) approval for 1 million Starlink ground stations. And even amid the coronavirus pandemic, another Starlink launch is scheduled for April.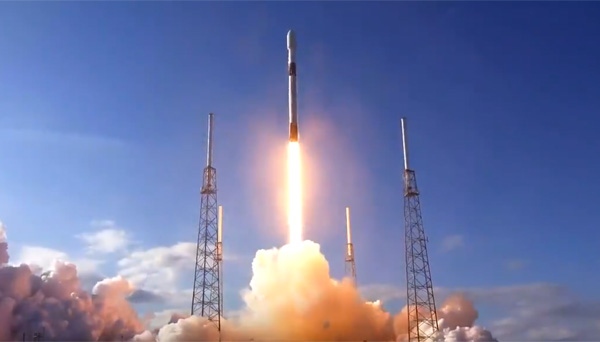 What's more, on March 30th, SpaceX's only major competitor, OneWeb, filed for Chapter 11 bankruptcy protection. OneWeb is the only other company with megaconstellation dreams to have actually launched working satellites; the company had already brought 74 of them into low-Earth orbit, most recently on March 21st. Those satellites — and the radio spectrum they've claimed — will likely not come down but rather be sold as part of the bankruptcy proceedings. Amazon and several Chinese companies have expressed interest in operating a megaconstellation.
The business of telecom satellites is a risky one that SpaceX CEO Elon Musk acknowledges. Most companies that have attempted it have failed. But so far, it looks like SpaceX is succeeding. As such, the company's engineers will need to keep hacking away at the problem of how to make their satellites less of an intrusion to the night sky.