The FITS file is so much more than just an image format. If you're looking to get serious about deep-sky astrophotography, here's what FITS can offer you.

Something I see over and over again with beginning astrophotographers is their complete dismissal of the .FITS file format. I saw this with a friend recently who had begun his journey from a solar imager to deep-sky astrophotography. Yes, the Sun counts as astrophotography, but the Sun is also just slightly brighter than say, the Andromeda Galaxy (well, going by apparent brightness, anyway)! Taking pictures of something so bright it could conceivably set your camera on fire is quite a bit different than shooting something that takes several minutes of exposure just to register as a blip above the background noise of your camera's sensor. Anything that can take a picture of a duck can, with proper filtering, also take a photo of the Sun. Solar, lunar, and planetary astrophotography each has its own unique challenges; it's just that low light and low signal isn't one of them.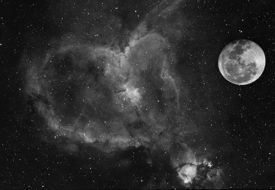 For bright objects, amateurs can often use standard, off-the-shelf photography programs to process images. Even when such processing tools are geared specifically toward astrophotography, they lean heavily on the standard file formats such as .JPG, .AVI video files, as well as typical daylight approaches to acquiring images.
Deep-sky astrophotography is another matter. Yes, we can use an ordinary DSLR camera, but we also have the option of using many other specialized cameras designed for deep-sky imaging. These photographic tools are quite specialized in comparison to recording well-lit objects or events. Processing tools at hand are typically derived from or influenced by the tools real working astronomers use. One consequence of this is that images are often stored in the .FITS file format. FITS is short for Flexible Image Transport System. The disconnect in most peoples' minds is that .FITS doesn't store photographs in a way they're used to. Instead, it's an astronomical data archival format. It is geared towards images, but the word images can be used pretty loosely here. For the incurably curious, you can find the 50+ page .FITS file standard document here on NASA's website.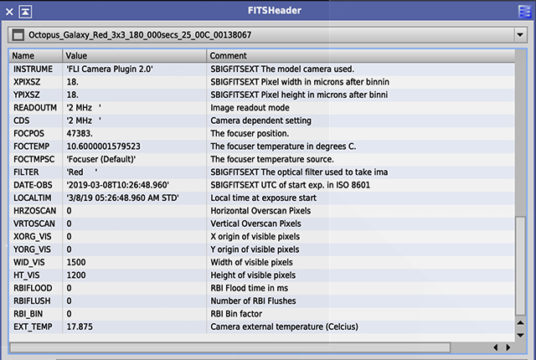 If you shoot with a DSLR or mirrorless camera, you have undoubtedly been told to shoot RAW instead of JPG because of this format's greater bit depth and the resulting ability to manipulate the data therein. Well, think of FITS files as "Super RAW." They can store image data in whatever format the camera or scientific instrument can produce, be it 8 bits, up to 64 bits, or even complex numbers (you know, those real and imaginary things you learned about in high school algebra)! The data can also be of various numerical types, integers, floats/reals, etc.; whatever data type best suits the instrument that is recording the data (and it doesn't have to be a camera either). Furthermore, the FITS file can contain additional information, including the time and date of acquisition and all sorts of other information about the instrument. For example, camera temperature, telescope right-ascension and declination pointing information at the time the image was read out, site latitude and longitude, gain settings, pixel size, and more.
If you want to look at a .FITS file, you will need an image-processing-program that is geared specifically toward working with astronomical images. As I've pointed out before, unstretched and linear astronomical data right off the camera is often not much to look at, and that data must be treated differently than if it were a photo from, say, a friend's wedding.

For most deep-sky photography, you can't just pop a .FITS file into Photoshop without some processing ahead of time. In fact, most astronomical image-capture programs will perform a so-called screen stretch to display the camera data that is stored in the FITS file, while not actually stretching the actual image data or file. Without the screen stretch, the image would mostly be black and you wouldn't even know you'd captured any data!
However, not all screen stretches are created equal. Some software will do a better job aesthetically than others, while other software will strive instead to show as much contrast as possible in order to visualize the data better. I've often seen beginners on user forums complaining that software X is corrupting the data from the camera because it doesn't look as good as when captured by software Y. Nevertheless, both images look similar when loaded into the same program and thus are treated with the same screen-stretch approach. Contrast that to a photo of a bird stored in .JPG format and it looks pretty much the same (neglecting color space and color calibration nuances) no matter what program is displaying it.
FITS has been around a long time, and is here to stay. I'm seeing FITS being incorporated into programs such as Sharp Cap that targets solar, lunar, and planetary imaging as well. I think that's great, because anyone doing serious science on those targets will want the added rigor and completeness that FITS offers.