Keep your eye on the prize in the western sky. Venus sets exceptionally late this month, presenting skywatchers with several unusual observing opportunities.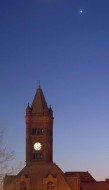 This season's apparition of Venus has been a happy one for northern hemisphere skywatchers as the planet continues to part from the Sun and increase in brightness. In May, Venus stands high in Gemini, an eye-catching beacon to draw the gaze of even the most casual observer.
Through a telescope, Venus looks a day or two past half this week but as it approaches dichotomy on June 6th, it will reach greatest elongation from the Sun and appear 50% illuminated, mimicking a half Moon.
Increasing distance from the Sun also means the planet sets later. We usually associate late setting times with the superior planets, those that orbit beyond the Earth. The inferior planets, Venus and Mercury, hang close to the Sun and normally disappear by twilight's end or soon thereafter.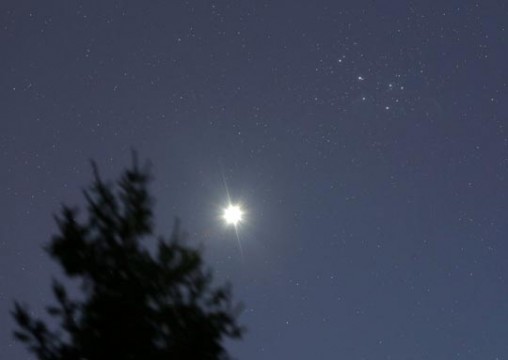 But this month is anything but normal for Venus. Thanks to its position on the "high end" of the ecliptic, the planet has been riding the late-night train all month, setting some 3.5 hours after sunset from many locations. Paired with ever-later sunsets, Venus now remains up till midnight! Or even later!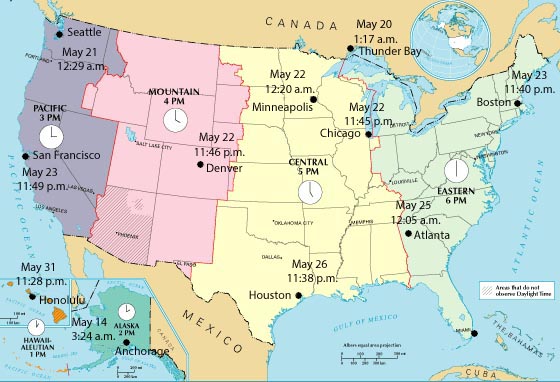 During the third week of May across the U.S. and Canada, Venus will notch some remarkable setting times especially for observers in cities far to the west of their standard time meridians.
Skywatchers in Chicago and Bismarck, North Dakota, may share the same Central time on their clocks, but the two cities are more than 800 miles apart. When the Sun sets in Chicago around 8 o'clock in mid-May, an additional hour passes before sunset arrives in Bismarck.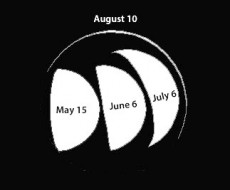 Looking at the map, Thunder Bay, Ontario, has one of the latest Venus setting times at 1:17 a.m. Not only is it located relatively far north, where sunset times are later than those in the southern U.S., but the city is near the extreme western edge of its time zone, similar to Bismarck's situation. Anchorage takes the cake at 3:24 a.m. because of its extreme latitude and exceptionally late sunsets.
Venus reaches its greatest elongation of 45° east of the Sun on June 6th, so you'd naturally think it would set even later then. But because the planet will have slid southward along the ecliptic compared to mid-late May, it actually sets a bit earlier.
With all this Venusian time on our hands, what's there to see? Even a small telescope will reveal all the planet's phases from the white dot "full moon" appearance to a filament-thin crescent. Be sure to time your observing when Venus first becomes visible at dusk. If you start when the planet's blazingly bright, glare will distract from its beauty. Decreasing altitude also means more air turbulence and softer images.
Amateur astronomers using UV and infrared filters with digital cameras have made remarkable photos of moving clouds in the planet's upper atmosphere. Visually, these features are elusive. If I can see the relative duskiness of the planet's terminator compared to its brilliant limb or the extension of the crescent into a full circle around the time of inferior conjunction, I feel fortunate. Maybe someday we'll don UV specs and see the patterns of Venus's clouds.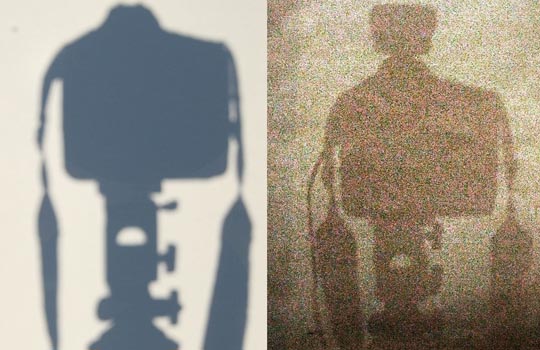 Venus's brilliance sets it apart from the stars and most of the planets and also makes possible at least two surprising phenomena — sharp shadows and ice pillars. Extended objects like the Sun and Moon cast blurry-edged shadows because light from one side of the Sun (or Moon)  reaches areas that are shadowed by the other side of the Sun. We see the same phenomenon every lunar eclipse with Earth's shadow. Parts of the Sun not hidden by the planet spill around its circumference to create the semi-dark, fuzzy penumbra.
Because Venus is a point-like object instead of an extended disk, it casts razor-sharp shadows. One night a couple years back, I set up a camera when Venus was near maximum elongation and photographed its shadow on a piece of white cardboard. Despite the high ISO and grainy image, it worked!
I'll bet you can do better with your cameras. While you're at it, see if you can spot your own shadow. Walking or moving your arms about will make it stand out better. My favorite technique is jumping up and down.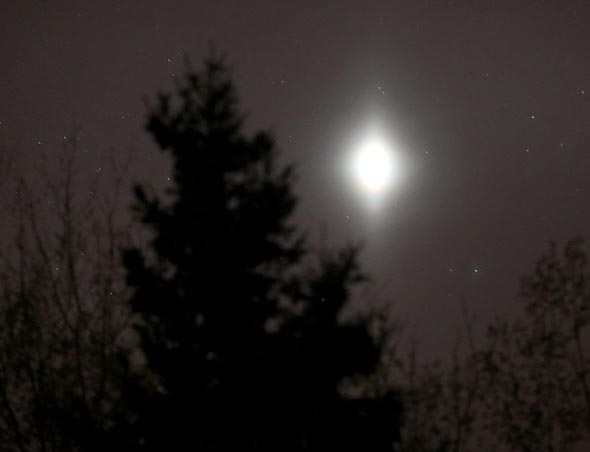 Several nights ago, I had high hopes for a night of deep sky observing, but 10 minutes after setting up the scope, cirrus clouds filtered in from the west. Disappointed, I started to take the scope down when I noticed something strange about Venus. Light pillars extended both above and below the planet with a hint of a more extended, color-rich corona. I could easily see the phenomenon with the naked eye; binoculars gave a terrific view.
Venus pillars, halos, and coronae are rare phenomenon, but perhaps that's because we're not looking closely. Keep an eye on the planet when a weather front passes through and high clouds billow in the west. With Venus up so late, the odds are good you'll see something surprising.
---
Can't get enough of Venus? Check out the exclusive Sky & Telescope Venus Globe. It's a beauty!