A new Hubble Space Telescope image shows the very heart of the Crab Nebula, one of the most studied supernova remnants.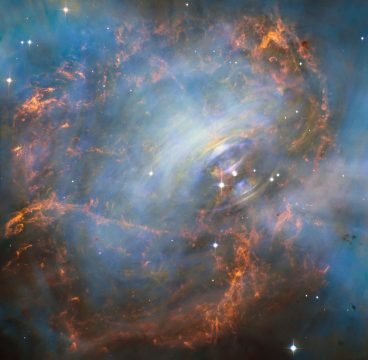 In A.D. 1054, Chinese and Japanese astronomers first observed a new star in the sky. Second only to the moon in brightness, the new object turned out to be the Crab Nebula. The Crab Nebula, a supernova remnant, has been well-studied over the years and is one of the most recognizable deep-sky objects.
But thanks to the Hubble Space Telescope's sharp eye, we can look at the supernova remnant in a way never before seen. Technicians combined three high-resolution HST images that used two different kinds of filters (606nm and 550nm) and were taken about ten years apart.
Many popular images of this object highlight the dazzling filaments in the outer regions, but this new look shows just the inner part of the nebula, revealing what's left of the original star. This mysterious object is known as a neutron star. Made entirely of neutrons (hence the name), it has the same mass as the Sun. Yet all of that mass is compressed into a sphere only a few tens of kilometers across. A neutron star is so dense that single teaspoon of its matter would weigh as much as a mountain!
Hubble also captured the complex details of the ionized gas, shown in red, that form an intricate mélange of cavities and filaments around the edges of this image. A ghostly blue glow surrounds the spinning neutron star — which rotates approximately 30 times per second — deep within the shell of ionized gas. The subtle rainbow effect seen in this composite image is due to the rapid motion of the material nearest the star in the time-lapse between one image and another.
The Crab Nebula lies 6,500 light-years away in the Taurus constellation. Its long observation history has made it a valuable object to study supernova remnants and has enabled astronomers to probe the lives and deaths of stars.