Years after initial space-mining ventures went bust, startup AstroForge has announced two missions in 2023 to obtain rare minerals from a near-Earth asteroid.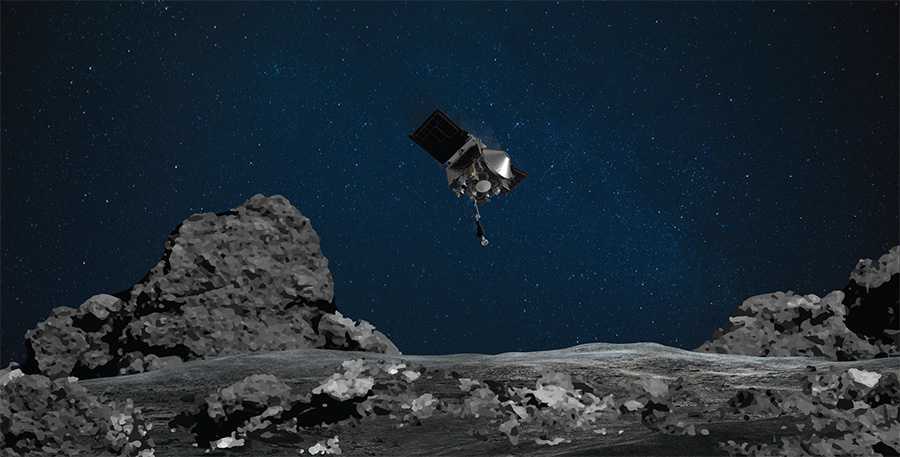 Asteroid mining is back in the news. In January, California-based startup AstroForge announced that in 2023 it will lay the foundations to become the first commercial company to mine an asteroid and bring the materials back to Earth. Two missions launching in April and October 2023, both on SpaceX rockets, will test technology and survey a target asteroid.
It's an exciting proposition, but haven't we heard all of this before? Over the years, similarly ambitious companies have claimed to be on the cusp of the impossible, among them Planetary Resources and Deep Space Industries, neither of whom could ultimately finance their plans. What makes AstroForge different?
"The space infrastructure on Earth is pretty mature and we can buy a fairly high-energy launch for a fairly low cost," says Jose Acain, AstroForge's cofounder and Chief Technology Officer. He adds that there are also now a lot of satellite manufacturers to choose from; for its CubeSat tests launching this year, AstroForge has chosen Orb Astro in Oxford in the U.K.
"A lot of capital expenses that we would have had if we had started this company 10 or 15 years ago, we don't have now," Acain adds, "so we can really focus on the actual mining tech that we need to actually extract these platinum-group metals from these asteroids."
The platinum-group metals (PGMs) — iridium, osmium, palladium, platinum, rhodium, and ruthenium — which are among the rarest mineral commodities in Earth's crust. Just 30 tonnes of rhodium, used in catalytic converters, are mined every year, and only three tonnes of iridium. Mostly these minerals come from mines in South Africa, Siberia, with some mines in the U.S. and Canada.
But Acain coauthored a paper published in the January Planetary and Space Science suggesting PGMs are abundant in meteorites. "From studying the meteorite database, we found that in general there is a higher concentration of PGMs regardless of what asteroid type you go after, but it's significantly higher if you go after metallic M-types," says Acain.
However, meteorites might present a misleading picture, because anything that survives the fall to Earth is more likely to be metal-rich. In space, metal-rich asteroids only make up around 5% of the asteroid population, and only a handful of those are within the grasp of would-be asteroid miners. But for Acain, less is more.
"We can only access a subset of the total asteroid population, but it's not based solely on accessibility and type," says Acain. He confirms that AstroForge's target list contains a large number of strong candidates. "If you find a large accessible metal-rich asteroid that you can keep going back to it over and over again, that would be enough," he adds.
"The appeal of asteroid mining is elements that are rare in the Earth's crust may be found near the surface of some asteroids, where they could be relatively easy to access," says Michael Brown (Monash University). "But developing the technology to robotically and effectively mine tons of raw material from distant asteroids won't be easy."
AstroForge plans to start small, literally, with its first CubeSat the size of two loaves of bread. Its first mission will test in-situ refining in a zero-gravity environment. "That's really the piece that we see as the highest risk because it's unproven technology in space," says Acain. "So we're launching a CubeSat up to low Earth orbit to understand and characterize our refinery in those harsh environments."
The long-term plan is to have much larger spacecraft mine the surface of M-type asteroids and return to Earth only refined PGMs. It's a big jump. "Scaling that up to return commercially viable quantities of processed material from asteroids millions of kilometers away is going to be difficult," says Brown.
AstroForge will fly its CubeSat on a Falcon 9 as part of SpaceX's Transporter-7 mission, which will launch out of Vandenberg Space Force Base in California this April. The mission is expected to last between 18 months and two years before burning up in Earth's atmosphere.
In October, a second mission will see a spacecraft sent on an 8- to 11-month journey (depending on the exact launch date) to prospect a specific near-Earth asteroid. Exactly which one is top secret, but it was chosen because it will be relatively easy to frequently return to. That CubeSat will hitch a ride with Intuitive Machine's IM-1 mission to the Moon.
"We'll take advantage of that high-energy launch so we don't have to carry as much propellant," said Acain. "It's a prospecting mission to understand kind of the surfaces of our target asteroids and see potential landing sites for future missions."
While it's only a brief flyby the spacecraft will take many images of the asteroid's surface and its impact craters to see what type it is. Next will come a more detailed prospecting mission followed by an all-important fourth mission when mining begins.
"I hope the satellites are successful, but there are good reasons for caution," said Brown. "The small satellites that will be flown in 2023 have masses of kilograms and budgets of millions, but commercial space mining missions would have masses of many tons and budgets of billions."
AstroForge plans to take it milestone by milestone, but Acain thinks it's an absolute necessity to extract these rare minerals off-Earth. "We have a finite supply of resources here on Earth – that's a fact – and there's more demand for these resources than ever before," he says. The present mining process, he adds, is costly and polluting. "Taking it off-Earth is the only way we see to solve all of these issues."
---