A recent jump in solar activity means you might see a display of the northern lights tonight.
Skywatchers at northern latitudes should keep an eye to the north tonight (Thursday, October 13), because the aurora borealis might light up the horizon. The National Oceanic and Atmospheric Administration (NOAA) predicts a strong chance of geomagnetic activity tonight, with G3 ("strong") storm levels possible. meaning you'll have a pretty good chance of seeing an aurora. According to an alert from NOAA's Space Weather Prediction Center, "aurora may be seen as low as Pennsylvania to Iowa to Oregon."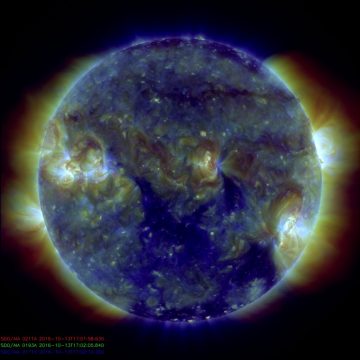 Well, maybe. Auroras often don't behave as predicted, but occasionally they perform better than expected. A large coronal hole in the Sun's outer atmosphere is currently facing the Earth, producing an extra-high-speed blast of solar wind, which in turn disturbs Earth's magnetic field. A G3 storm should produce auroral activity visible at about latitude 45° and higher. It can also disrupt satellite navigation systems (like your GPS) and interfere with some radio transmissions.
Indeed, a minor storm is currently underway, possibly due to the impact of a minor coronal mass ejection (CME) on October 9th that shot from the Sun directly toward Earth.
So keep your eyes to the north tonight, and if you happen to photograph any activity, be sure to share your pictures on our online photo gallery.