China's Chang'e-5 ascent vehicle has departed Oceanus Procellarum with pieces of lunar soil after a lightning-quick sample collection.
Update:
The Chang'e 5 Ascent Stage successfully docked with the service module in lunar orbit on December 5th, transferred its lunar sample return overnight, and undocked Sunday morning December 6th at 4:35 UT. There's word that the Ascent Stage may have enough fuel for a brief extended mission in lunar orbit.
---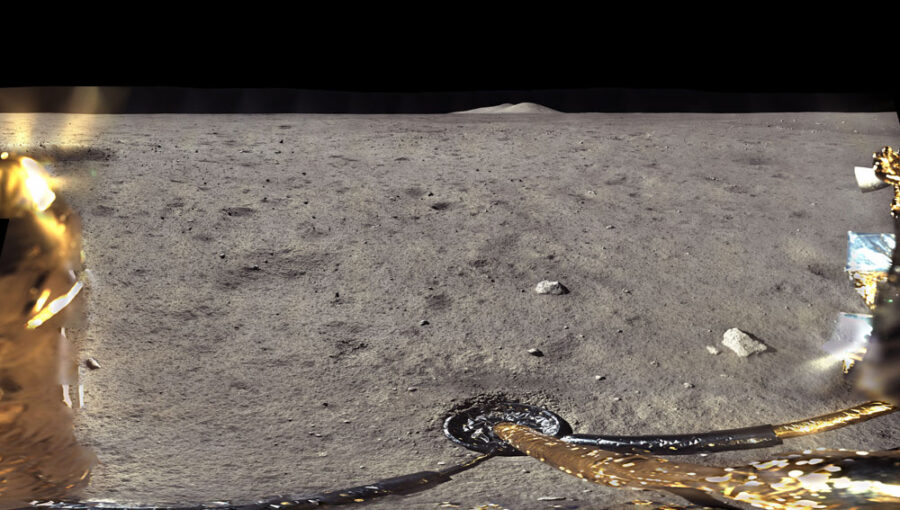 In a lightning-fast mission, China's Chang'e 5 sample of the Moon is on its way back to Earth. The mission launched last week, transited to the Moon in a little over four days, then entered lunar orbit this past weekend. The 3.8-ton lander separated from the service module and then made a pinpoint touchdown in Oceanus Procellarum on Tuesday, December 1st, at 10:13 a.m. EST / 15:13 UT.
Chang'e 5 landed northeast of the Mons Rümker volcanic feature, and mission controllers wasted no time in collecting a sample, completing the process less than 24 hours after landing. Live-stream captures available via Chinese social media showed the lander drilling for samples, then stowing them for departure. Launch of the ascent vehicle occurred on December 3rd at 10:10 a.m. EST / 15:10 UT.
Updates on the successful landing have slowly made their way out from the China National Space Administration over the state-run CGTN TV network and social media.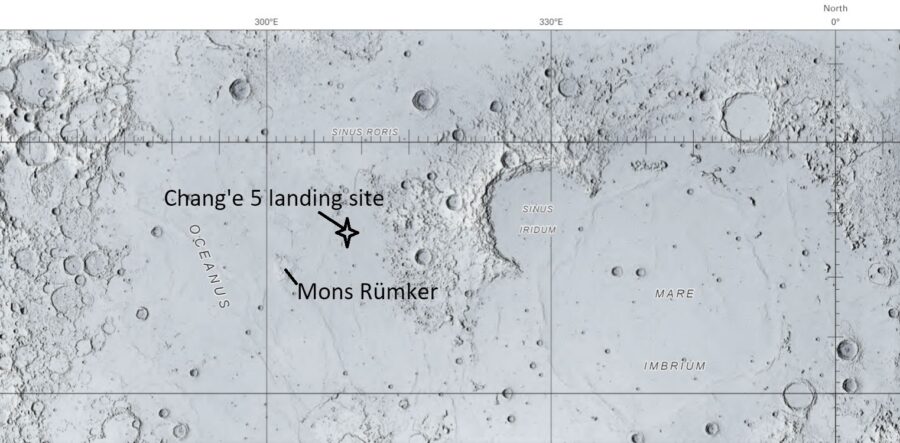 Mons Rümker and the surrounding volcanic plateau is thought to represent relatively young lunar basalt, only 1.3 billion years old — younger than the average age of earlier lunar samples, which range from 3 to 4 billion years old. The lander's rotary arm is equipped with a percussive drill and scoop. Chang'e 5 collected complete cores down to 2 meters in depth. The deepest Apollo cores were from Apollo 17, collected from a depth down to almost 10 feet (3-meters).
The plan was to collect at least 2 kilograms (4.4 pounds) of lunar material for transfer to the ascent vehicle in 15 scoops, but officials from the China Association for Science and Technology reported that the container was filled after only 12 scoops.
Footage of the ascent vehicle lifting off from the Moon and back into space pic.twitter.com/yJfeVNi6Bo

— Andrew Jones (@AJ_FI) December 3, 2020
After launch, the ascent vehicle must attain a velocity of 1.67 km/s (3,740 mph) as it departs the Moon's surface for a rendezvous with the service module in low lunar orbit, at an altitude of 400 km (250 miles). The ascent vehicle is expected to dock on Saturday, December 6th, at around 21:40 UT.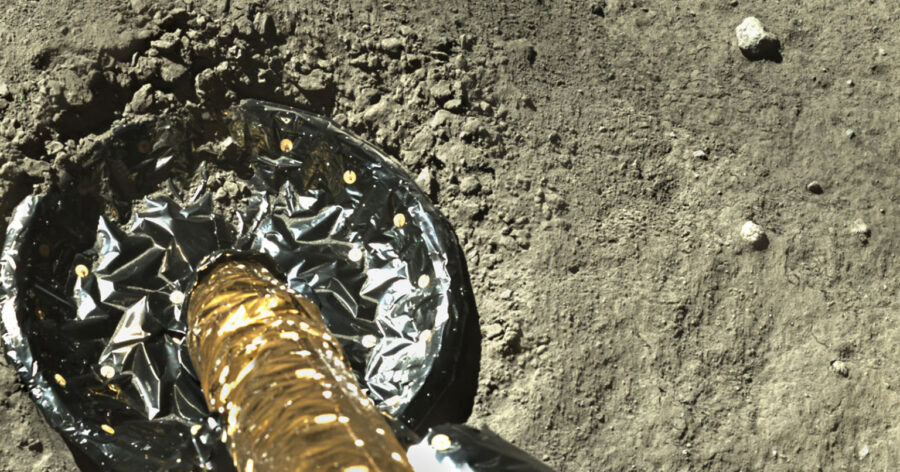 Once the precious scientific cargo is transferred to the service module, Chang'e 5 will head for home, dropping the sample return capsule for a "skip reentry" over the Dorbod Banner region of Inner Mongolia on December 16th or 17th. China practiced this sort of reentry return with the Chang'e 5 T1 mission in 2014.
Shortly after Chang'e 5's launch, NASA made a call via Twitter for China to share its data with the scientific community, as it shared lunar samples from the Apollo program. This sparked some online controversy among observers of both space programs over the weekend. U.S. Congress banned NASA from coordinating with China in space in 2011. NASA plans on carrying out the inaugural launch of its SLS heavy-lift rocket next summer and returning astronauts to the Moon by late 2024.
The European Space Agency assisted with tracking Chang'e 5 en route to the Moon, but much of the information on the status of the mission has come from amateur radio operators such as Scott Tilley, and observers of the Chinese spaceflight program such as Andrew Jones (@AJ_FI).
The lunar sample is inbound even as Japan expects its sample-return from the asteroid 162173 Ryugu on December 6th, delivered by the Hayabusa 2 mission. Just think: In the span of just over a week, we have two sample returns coming to Earth, with more on their way.
---