New data collected by Galaxy Zoo show early galaxies with central bars, providing implications about how galaxies grow.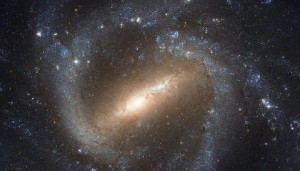 The Hubble Space Telescope peers across the universe — imaging everything from the exquisite details of "nearby" galaxies millions of light-years away, to the blurry galaxies that formed only a few hundred million years after the Big Bang. Imaging the whole shebang allows astronomers to study the origin and evolution of galaxies, gaining insight into our own Milky Way Galaxy.
But many mysteries remain. Most spiral galaxies in the nearby universe, for example, have a bar in their center, with the spiral arms coming off it like streamers off the ends of a twirling baton. Although astronomers agree that these bars form when a galaxy passes from youth into adulthood, they disagree on the point in cosmic history at which this typically happens.
Now, astronomers using data collected by Galaxy Zoo — a crowd-sourced astronomy project that invites the public to analyze fuzzy images of distant galaxies — are peering deeper into the universe in search of these barred galaxies.
"Galaxy Zoo works because spotting features in galaxies is a task well suited to humans. We as a species are great at pattern recognition," says project astronomer Brooke Simmons (Oxford, U.K.). "And you don't need to be an astrophysicist to recognize a boxy shape inside a rounded disk."
The first disk galaxies were puffy and "hot," with the gas and dust inside moving in highly turbulent ways. But gradually they "cooled" and the contents settled down, flattening into a thinner shape. At this point the thin disks grow magnificent spiral arms or barred features.
But astronomers remain unsure about when this settling occurs. Nearly 10 years ago astronomer Kartik Sheth (now at the National Radio Astronomy Observatory in Charlottesville, Virginia) found that the fraction of barred galaxies dropped from 50–70% in the nearby universe to 10% when the universe was only 6 billion years old. Further studies found roughly the same gradient.
So Simmons and her colleagues used Galaxy Zoo to probe even deeper. Extending the previous trend farther back in time, they expected the fraction of barred galaxies to drop to zero when the universe was 5 or 6 billion years old. Instead, they found that the number of barred galaxies when the universe was only 3 billion years old was still as high as 10%. The surprising results suggest that the young universe churned out bars relatively quickly.
Sheth worries about using volunteers' eyes to determine the number of barred galaxies, instead of using statistical analyses. "Like Richard Dawkins says, we all see the patterns we want to," he says. But he does agree that whatever the exact number, there are certainly some barred galaxies in the early universe, and this is unexpected.
These results are "new and fresh because no one really looks that hard," says astronomer Bruce Elmegreen (IBM Corporation). These early barred galaxies might have formed either because they settled down earlier than expected, or because they were the result of two galaxies colliding.
Understanding the exact mechanisms that helped these galaxies grow their striking structures will shed light on how our own Milky Way became a starry behemoth with spiral arms and a central bar.
Reference:
B. D. Simmons et al. "Galaxy Zoo: CANDELS Barred Disks and Bar Fractions." Monthly Notices of the Royal Astronomical Society, Accepted.
---
Find your own galaxies with our classic Pocket Sky Atlas.