Two new studies of the planets orbiting TRAPPIST-1 shed light on what these worlds might look like.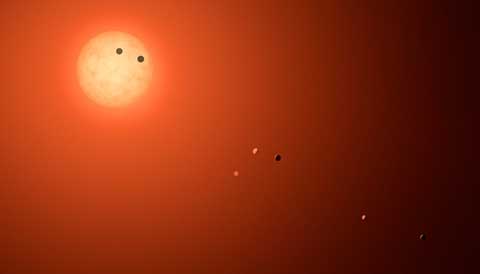 About a year ago astronomers revealed that seven roughly Earth-size planets orbit the star known as TRAPPIST-1. All of them — named b, c, d, e, f, g, and h in order of their discovery and distance from the star — could be contained within Mercury's orbit around the Sun. Yet despite their compact orbits, the star is so cool that three of them are in the so-called "habitable zone," where liquid water could exist on the surface. Under the right conditions, even the other four planets could host occasionally liquid water — and potentially life.
But are they habitable? Two studies characterize the planets' atmospheres and composition to get a handle on this question.
No Neptunian Atmospheres
In Nature Astronomy Julien de Wit (MIT) and colleagues present Hubble Space Telescope observations of planets d, e, f, and g. As Hubble watched the planets transit across the face of their star, Hubble measured infrared starlight that had passed through the planets' atmospheres on its way to Earth. While the data are pretty sparse, there's enough information to firmly rule out a Neptune-like hydrogen-rich atmosphere for d, e, and f. Earlier investigations by the same team had ruled out hydrogen-rich atmospheres for planets b and c, too. (There's not enough data to say anything yet about planet g, and Hubble hasn't yet examined h.)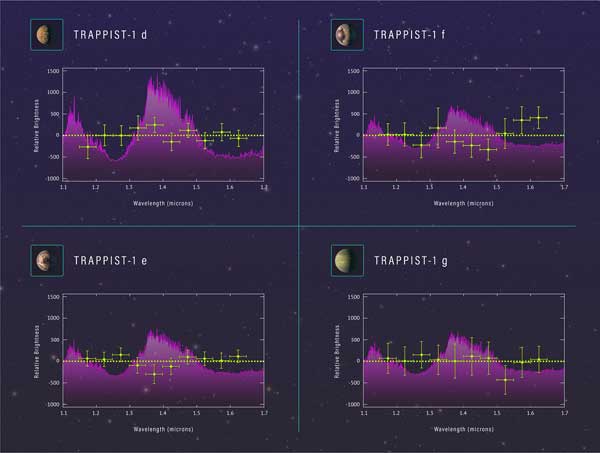 The Hubble data aren't clear enough to say anything about the presence of other atmospheric molecules, such as water — for that, we'll have to await the launch of the James Webb Space Telescope. Nevertheless, what the Hubble spectra rule out fills out these planets' history.
All seven planets go around TRAPPIST-1 in a resonant chain, in orbits that are multiple integers of each other. For example, as the innermost planet circuits the star eight times, the next planet out completes five orbits, and so on. Planets don't form like this. Instead, TRAPPIST-1's planets likely formed much farther out. They migrated inward by interacting with the primordial planet-forming disk before stabilizing in their current, resonant configuration.
Their history means that these planets would probably have collected hydrogen-rich atmospheres as they formed. The fact that they don't have those hydrogen-rich atmospheres now means that the hydrogen might have boiled away as the planets came closer to the star. Any atmosphere they have now would be secondary, collected or outgassed after their migration.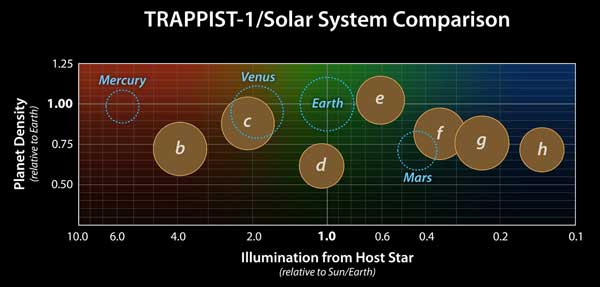 How Rocky is Rocky?
The resonant chain is key to a second round of results, to be presented (independently of de Wit's team) in Astronomy & Astrophysics by Simon Grimm (University of Bern, Switzerland) and colleagues. The regular timing of the planets' transits is altered ever so slightly by the planets' gravitational tugs on each other. From such transit timing variations, astronomers can calculate each planet's orbital period, distance from star, mass, radius, average density, and surface gravity.
With observations of 284 transits from SPECULOOS at the Paranal Observatory in Chile, as well as the Spitzer and Kepler space telescopes, Grimm and colleagues worked out the planets' densities at much better precision than before. They find that while e is rocky through-and-through — even denser than Earth — the other planets (b, c, d, f, g, and h) require something lighter in the mix, most likely water in vapor, liquid, or ice form.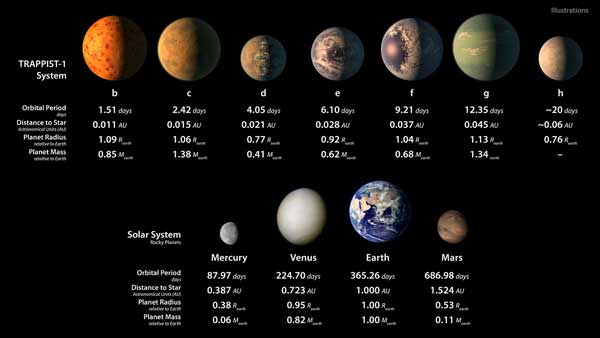 The water doesn't make up more than 5% of any one planet by mass, but that's still 250 times more than Earth's percentage of water. (The oceans are vast but minuscule compared to the bulk of Earth's interior!)
The planets b and c probably have atmospheres thicker than Earth's, while the outer planets f, g, and h more likely have an ice layer with no thick atmosphere. The planet d, which is most similar to Earth in terms of how much light it receives, is the lightest planet, with 30% of Earth's mass. Planet e is the only one that's denser than Earth.
Yet TRAPPIST-1 still holds more questions than answers — none of the studies released today, for example, can say whether the planets are habitable. But they're a step in the right direction. Thanks to the system's proximity to Earth, these planets are the best option astronomers have for studying the atmosphere and composition of Earth-size planets outside the solar system — and this isn't the last we'll hear of TRAPPIST-1.