A recent study suggests the dwarf galaxy Antlia 2 had a long-ago run-in with our galaxy, rippling and warping its disk. But not everyone agrees with that scenario.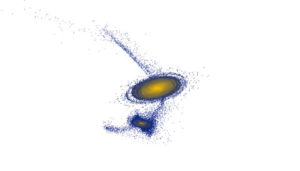 Last fall, astronomers announced the discovery of a giant but incredibly faint dwarf galaxy 420,000 light-years away from Earth, on the far side of the Milky Way. That galaxy, dubbed Antlia 2, just might be the one that Sukanya Chakrabarti (Rochester Institute of Technology) has been looking for, she announced at a meeting of the American Astronomical Society in St. Louis, Missouri.
In multiple studies published between 2009 and 2014, Chakrabarti fleshed out a prediction: that a dwarf galaxy had smashed through the Milky Way several hundred million years ago, setting off ripples that decorate our galaxy's outer disk. The theorist turned observer and set out to look for signs of the dwarf, but while she found some promising hints of its existence, there was no smoking gun.
"Then last year, I heard from my colleagues and friends about the discovery of the Antlia 2 dwarf galaxy," Chakrabarti recalls. "I hadn't looked at astro-ph [the astronomy preprint arXiv] that day actually. But four or five people wrote to me, having seen the discovery paper, and asked if it wasn't the dwarf galaxy that I'd predicted 10 years ago!"
Galactic Ripples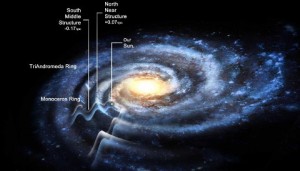 In 2006, astronomers mapping out the hydrogen gas in the Milky Way's disk found something puzzling: The outer disk is warped and rippled at its edges, as if some galactic sculptor wasn't paying attention at the pottery wheel.
Chakrabarti learned about this galactic-scale oddity as a postdoc. She started simulating th effects of dwarf galaxies sweeping by outer galactic disks, ultimately coming to the conclusion that such a gravitational interaction was the best way to recreate the Milky Way's unique shape. But long-term Hubble Space Telescope measurements of the stars in known dwarf galaxies, including the Small and Large Magellanic Clouds and the torn-apart Sagittarius Dwarf, showed that they wouldn't do the trick. The dwarf galaxy had to be a new one, as yet undiscovered.
"'Round that time, I thought I would try and look for it myself," Chakrabarti says, "though up to that point I'd been mainly a theorist." With collaborators, she found a couple of candidate Cepheid variable stars that appeared to be 300,000 light-years away, presumably part of (or recently part of) a dwarf galaxy being torn asunder in the Milky Way's gravitational field. However, the nature and distance of these stars remained unclear, and Chakrabarti in the meantime moved on to other studies.
Then Gabriel Torrealba (Academia Sinica, Taiwan) and colleagues discovered Antlia 2. As dwarf galaxies go, it's an odd duck. Its stars are spread surprisingly thin, so that even though it's about the size of the Large Magellanic Cloud, its surface brightness is a full two magnitudes fainter. It's hard to understand how such a galaxy holds together, but perhaps it doesn't — Torrealba's group suggested that the Milky Way's gravity might be tearing it apart.
As soon as the galaxy came to Chakrabarti's attention, she began doing calculations. It wasn't easy. The Milky Way's mass isn't known that well (to a factor of two, roughly) and neither is Antlia 2's. It's also unclear how close Antlia 2 would have come to our galaxy's center. So Chakrabarti and colleagues explore a variety of options in their study.
Both mass and closest approach are critical factors in determining if a dwarf galaxy could have had the gravitational strength to draw up ripples from the galaxy's disk. The Sagittarius dwarf galaxy's mass, Chakrabarti and colleagues write, is insufficient, and the Large and Small Magellanic Clouds are too far away. Other dwarf galaxies that have been discovered are even less massive and/or farther away.
"I think at the point, when we were sure that the Sagittarius dwarf galaxy definitely could not produce the perturbations in the outer HI disk and we saw that Antlia 2 could do it — that's when we were really sure," Chakrabarti says.
Not a Smoking Gun
But not everybody agrees with this conclusion. Vasily Belokurov (University of Cambridge, UK) cites a series of less than probable assumptions required for the Antlia 2 scenario. "Their simulations are rather simple and are produced for one realization of Antlia 2 only," Belokurov explains. "There are already constraints on the mass of Antlia 2 and at the moment the mass appears lower than what they need."
Moreover, he adds, the simulations where Antlia 2 can create ripples focus on the less likely scenario that Antlia 2 crashed relatively close to our galactic center, coming within roughly 30,000 light-years. The simulations also require a Milky Way on the more massive end of the spectrum.
"It may well be that Antlia 2 is very massive, the Milky Way is very massive, all other satellites are ruled out, and Chakrabarti is right," Belokurov says. "But I am not at all convinced."
Chakrabarti acknowledges the difficulties of dealing with the uncertainties in the data provided by Gaia so far. Those difficulties extend to the question of whether the candidate Cepheid variable stars that she had discovered actually belong to Antlia 2. "It's quite possible that the Cepheid candidates belong to the Antlia 2 tidal debris," Chakrabarti says, "but without better data, we can't be sure."
Fortunately, better data are forthcoming. The next two data releases from the Gaia mission, expected in 2020 and 2021, will improve on the accuracy of earlier releases. And since Chakrabarti and colleagues have predicted that Antlia 2 passed close by the galactic center, the improved measurements of its stars' orbits will provide the best test yet of whether this diminutive galaxy really restructured our galaxy's outer disk.