New findings show that Earth and the Moon have identical isotopic ratios of tungsten — and that's a problem for the widely accepted "big splat" hypothesis.
For much of history, we had little clue about the Moon's origin. Inuit legend claims that the Moon was a stranger chased into the sky by a poker-wielding maiden. In African folklore, the great god Bumba, having a stomach ache, vomited up the Sun, Moon, the stars, and some animals.
But what about scientific speculation? Before the Space Age, various astronomers championed one of three possibilities: that the Moon might formed alongside Earth, was captured into orbit when it passed close by, or was literally torn away from a hyper-spinning Earth.
These days, thanks to analysis of lunar samples, most planetary scientists are comfortable with the notion that the Moon came about after an object the size of Mars (sometimes called Theia) struck the infant Earth with a titanic glancing blow, and that some of the ejected debris coalesced a single large satellite.
It was a radical concept when proposed in 1975 by William Hartmann and Donald Davis. But it's steadily gained standing over the years, particularly after detailed computer modeling by Robin Canup (Southwest Research Institute).
One important outcome of Canup's models is that the Moon would have formed largely from ejected portions of the impactor's mantle, rather than Earth's mantle. And what of Theia's iron-rich core? It fell onto Earth and was gobbled up.
However, the ratios of oxygen's three isotopes are identical in lunar and terrestrial rocks — that is, the two worlds appear to made of exactly the same stuff. Geochemists have finessed this problem by assuming that Theia was in an orbit much like Earth's before it struck, or that oxygen isotopes mingled and mixed freely between Earth and the ejected matter in the collision's chaotic white-hot aftermath.
Now an even bigger "gotcha" has emerged for the collision scenario. In this week's Nature Geoscience, cosmochemist Junjun Zhang (University of Chicago) and four colleagues show that the ratio of two titanium isotopes, 47Ti and 50Ti, are likewise a dead match — identical to four parts in a million — in samples from the Moon and Earth. Unlike the wiggle room afforded by oxygen's volatility, it's hard to imagine how molten titanium-bearing compounds could have ended up equally represented in both worlds — unless all the lunar material came from Earth in the first place.
Moreover, Zhang points out, the Moon and Earth have the same isotopic ratios of tungsten, an important elemental tracer for silicate rocks. But there's a critical complication: tungsten-182 is also created by the decay of radioactive hafnium-182. To get the tungsten ratios to match, in addition to those of titanium and oxygen, the interiors of Theia and primordial Earth would have had to evolve the same way. "It is very unlikely," she says, "although we can't definitely rule out the possibility."
Canup's simulations work best when the Moon-forming impactor strikes at a relatively low velocity, which implies that it must have been in an orbit very similar to Earth. But it doesn't necessarily follow that they're made of exactly the same stuff. In fact, some modeling suggests they'd be chemically quite distinct. "You can't rule out an impactor with a composition just like that of the Earth," Canup says, "but that is not the currently favored view."
On the other hand, new simulations by Julien Salmon and Canup argue that the Moon might have taken a few hundred years to pull itself together — plenty of time for isotopes to slosh back and forth between the just-hit Earth and the disk of matter than formed the Moon.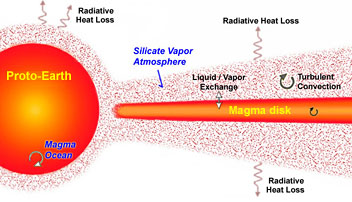 So I put the question to Caltech's David Stevenson, who with Kaveh Pahlevan conceived the superhot mixing model. Stevenson points out that we still lack a clear understanding of how Earth formed, let alone the Moon. He suggests that lots of sharing took place among proto-Earth and the objects that formed in its vicinity, and he doubts Theia came from very far afield, because it takes only "a bit of Mars-like stuff to mess up the remarkable Earth-Moon similarity." Moreover, geochemists' understanding of the inner solar system is far from complete — just look at the compositional curve balls being thrown their way by Mercury. For all we know, everything from Earth inward has the same isotopic pedigree. In fact, Zhang and her team find that the Earth-Moon titanium ratios are also matched by aubrite meteorites, now considered the best geochemical match to Mercury's surface. As Stevenson sums it up, "We may be unable to solve this problem until we get a piece of Venus."