Set the alarm and bring plenty of coffee. We've got a total lunar eclipse coming that you don't want to miss.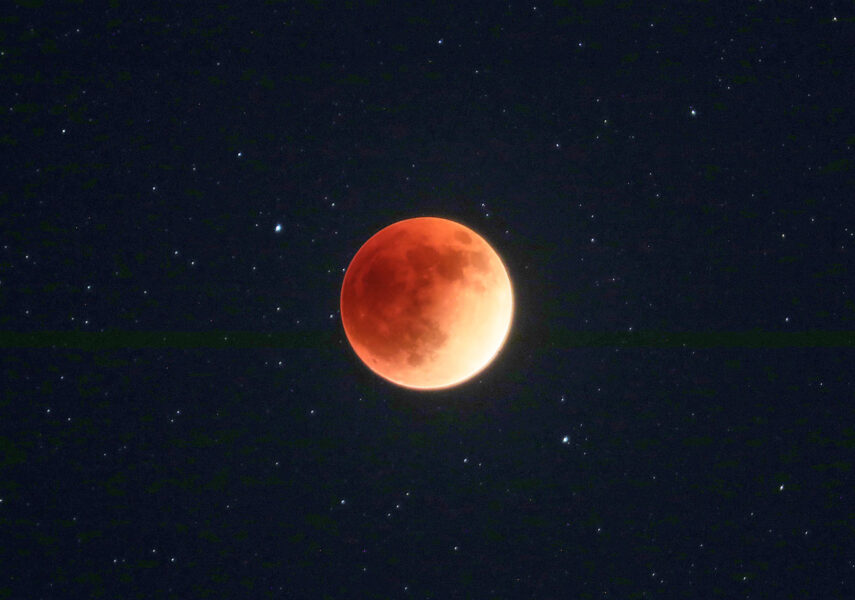 On November 8th, U.S. observers will witness an exceedingly rare alignment of the fully eclipsed Moon and a U.S. midterm election. Just as the Earth's shadow will ink the lunar circle, millions of citizens will pick up a pen and blacken the ovals next to their favorite candidates. While predicting election results is a tricky business I can promise you this: The eclipse will be glorious, weather permitting!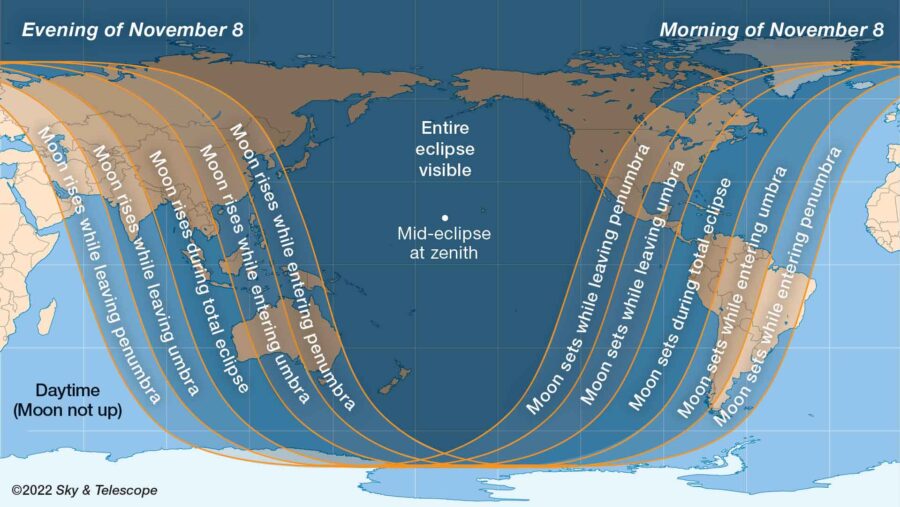 North America is well placed for the show — the last total lunar eclipse visible anywhere until March 14, 2025. Observers in Asia, Australia, and the Pacific also will see the Moon's slow sweep through Earth's shadow. The entire eclipse lasts just under six hours and begins the moment the Moon's preceding limb encounters Earth's outer shadow, the penumbra. When an opaque object such as the Earth blocks the Sun, it casts a two-part shadow — a dark, inner umbra within which the Sun is completely blocked from view, and an outer, pale-gray penumbra.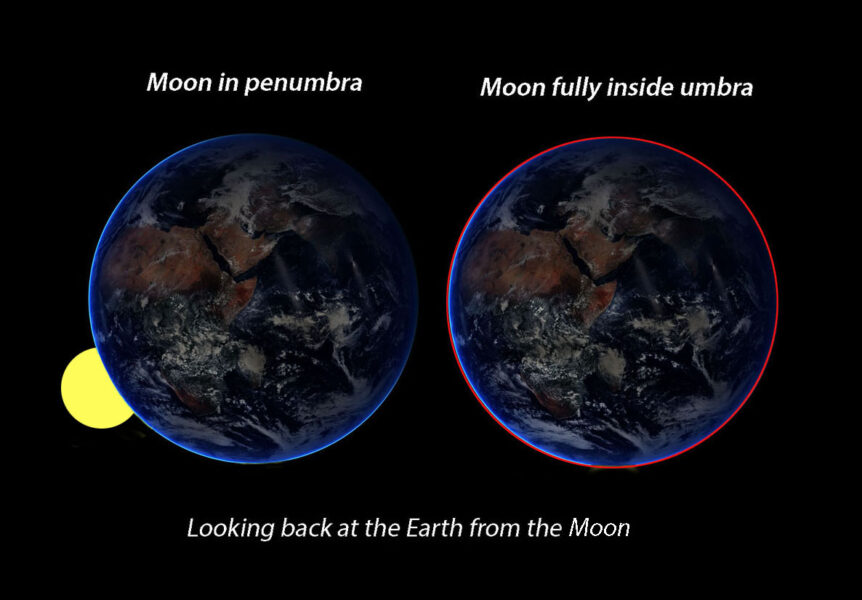 Looking back at the Earth from within the penumbra, we'd see that the planet only partially covers the Sun, allowing the remaining sunlight to cast light into the shadow and leaven the darkness. This is why the penumbra appears pale gray compared to the umbra's dark chocolate. Earth's shadow also has fuzzy edges because the Sun is an extended light source. Light from different parts of the disk penetrates and softens the shadow's fringes. Look at your own shadow on a sunny day, and you'll see it's likewise bordered by a penumbra. If the Sun were a point source, edges would be sharp and well-defined.
Typically, penumbral shading only becomes visible about 20 minutes to a half-hour before the start of partial eclipse, when the Moon first contacts the umbra. As it progresses more deeply into the inner shadow, the sky darkens and stars reassert themselves. When about a quarter of the Moon has entered the umbra, the shadowed portion glows a smoky orange. Each eclipse is different. At what point will you first see color with the naked eye or binoculars? When the Moon is 20 percent inside the umbra? Or 30 percent? Hint: use averted vision.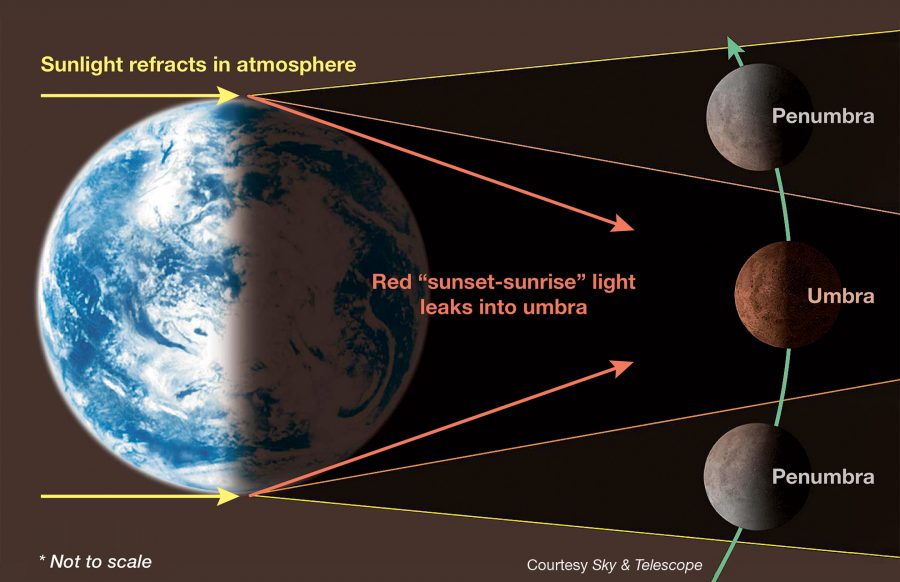 The umbra would be pitch black if Earth were air-free, and the Moon would essentially disappear during totality. But the atmosphere bends sunlight grazing the planet's circumference, scattering away the cooler colors and focusing the remaining red light into the umbra and onto the itinerant Moon, giving away its hiding place.
Totality lasts 86 minutes (from 10:16 to 11:42 UT), which is the time it takes the Moon to traverse the umbra traveling at around 3,600 kilometers per hour (2,240 mph). This eclipse will be longer than some because the Moon reaches apogee just a few days later on November 14th, when it will be most distant from Earth during its present orbit and revolving more slowly. Last May's total lunar eclipse, which was of similar depth, ended 35 minutes sooner in part because the Moon was only about a day from perigee and in more of a hurry.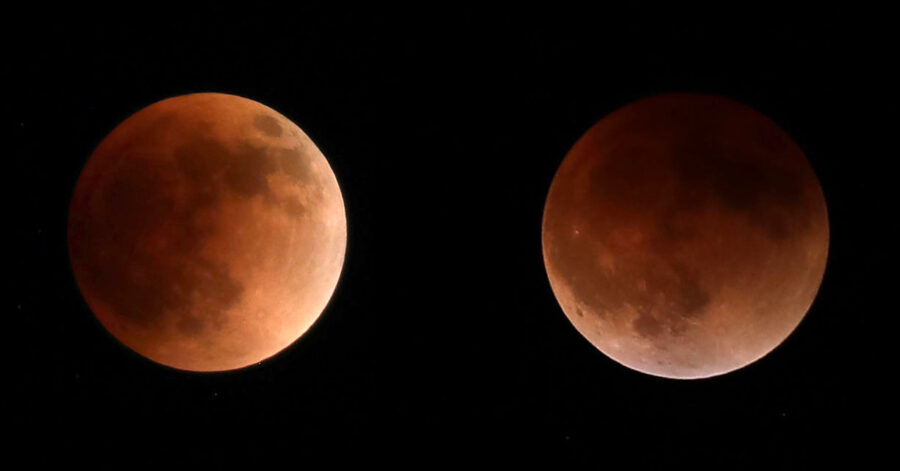 The May and November eclipses make a complementary pair. In May, the Moon's northern limb crossed the center of the umbra at mid-eclipse. If you witnessed that eclipse you'll recall how much darker the Moon's northern half appeared compared to the southern half, which passed closer to the umbra's outer edge. Circumstances will be reversed at the upcoming eclipse, with the southern limb passing through the umbra's center. Will it appear as dark? I suspect not for two reasons. The eclipse depth will be slightly less, and the bright lunar highlands that dominate the southern hemisphere will help to counter the umbra's darkness. In May's eclipse, the dark, maria-rich northern hemisphere complemented the umbra.
Sights and insights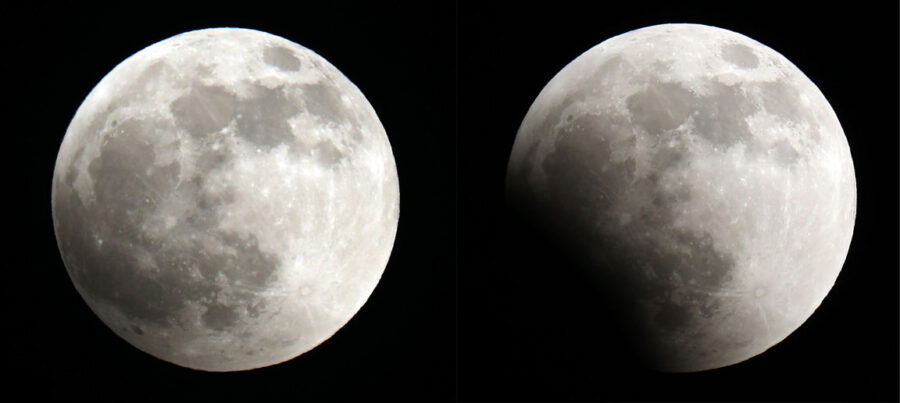 Here are a few things to watch for during the eclipse:
1. The curve of Earth's shadow across the Moon is round. Greek astronomers of the 5th century BC argued that this was proof of the planet's spherical nature. Only a spherical body will cast the same circular shadow on the Moon from different locations and at different eclipses. Share with your Flat Earth friends.
Eclipse phases by time zone
| | | | | | | | | |
| --- | --- | --- | --- | --- | --- | --- | --- | --- |
| Eclipse Event | UT | AST | EST | CST | MST | PST | AKST | HST |
| Penumbra first visible? | ~8:45 | ~4:45 a.m. | ~3:45 a.m. | ~2:45 a.m. | ~1:45 a.m. | ~12:45 a.m. | ~11:45 p.m. | ~10:45 p.m. |
| Partial eclipse begins | 9:09 | 5:09 a.m. | 4:09 a.m. | 3:09 a.m. | 2:09 a.m. | 1:09 a.m. | 12:09 a.m. | 11:09 p.m. |
| Total eclipse begins | 10:16 | 6:16 a.m. | 5:16 a.m. | 4:16 a.m. | 3:16 a.m. | 2:16 a.m. | 1:16 a.m. | 12:16 a.m. |
| Mid-eclipse | 10:59 | 6:59 a.m. | 5:59 a.m. | 4:59 a.m. | 3:59 a.m. | 2:59 a.m. | 1:59 a.m. | 12:59 a.m. |
| Total eclipse ends | 11:42 | — | 6:42 a.m. | 5:42 a.m. | 4:42 a.m. | 3:42 a.m. | 2:42 a.m. | 1:42 a.m. |
| Partial eclipse ends | 12:49 | — | — | 6:49 a.m. | 5:49 a.m. | 4:49 a.m. | 3:49 a.m. | 2:49 a.m. |
| Penumbra last visible? | ~13:15 | — | — | — | ~6:15 a.m. | ~5:15 a.m. | ~4:15 a.m. | ~3:15 a.m. |
Total eclipse of the Moon on November 7–8, 2022. Source: USNO
2. As the Moon approaches and enters totality and then again as it exits, watch for a pale blue "rind" or band of color along along the globe's outer edge caused by the ozone layer, which absorbs red light. Noctilucent clouds glow blue for the same reason.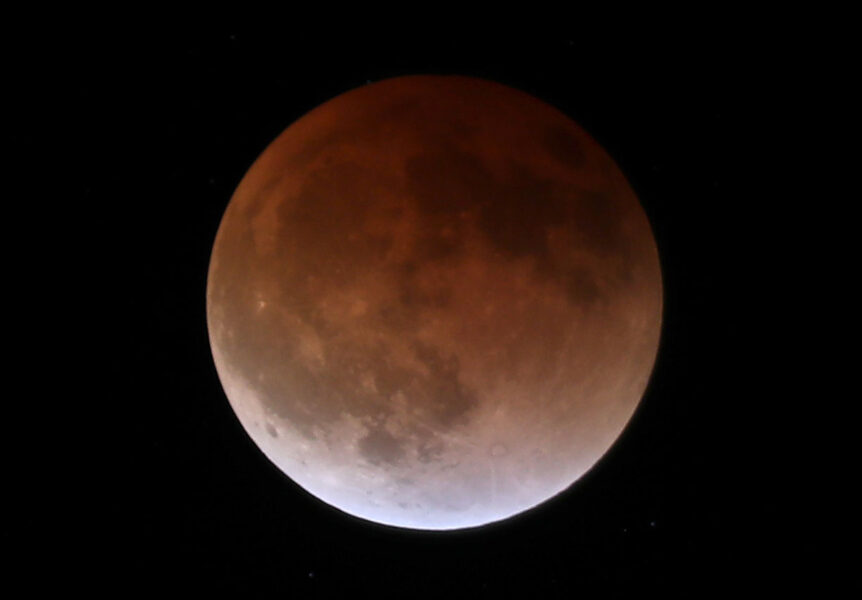 3. How dark will the Moon become during totality? What colors does it show? Both are affected by the amount of atmospheric dust and aerosols (particularly volcanic particulates) as well as cloud cover along Earth's limb at the time of eclipse. Use the Danjon Scale to estimate its brightness, and share your report with Sky & Telescope in the comments section below. You can also estimate the Moon's overall magnitude at mid-totality using the "backwards" binoculars method (instructions here) and send your results and Danjon numbers to Brazilian amateur astronomer Helio Carvalho at [email protected]. Carvalho will analyze them, and I'll share his results in a later post.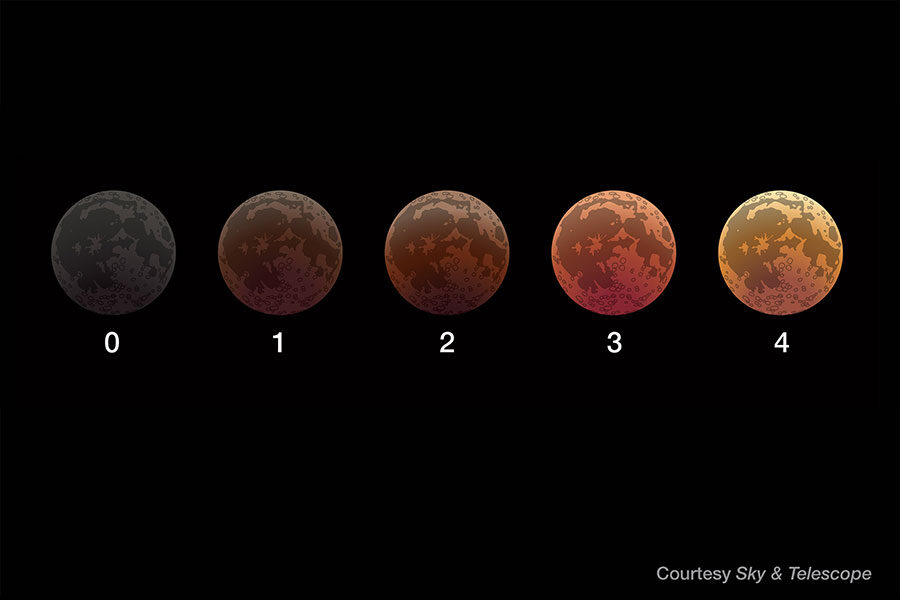 4. You can observe a lunar eclipse from almost anywhere, but totality is best experienced from the countryside. There you can fully experience the profound change from light to dark as the stars and Milky Way return in full splendor for well over an hour. The transition from light to dark to light again, although slow by total solar eclipse standards, is nothing less than majestic.
5. The Northern and Southern Taurid meteor showers, along with the Taurid Swarm, will all be active through mid-November. Not only will that mean flashes overhead for earthlings but also the possibility of seeing a meteorite impact visually or by video camera on the totally eclipsed Moon. Keep an eye peeled or set up a second telescope with a camera.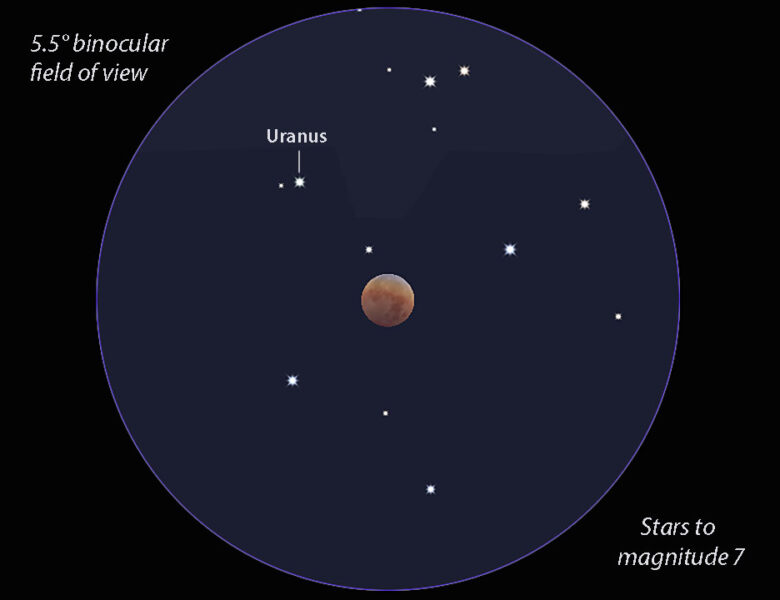 6. Bonus! During totality, the Moon will pair up with Uranus. From Boston, the 6th-magnitude planet glimmers about 1.8° due east of the Moon just before the end of totality. Viewers in Seattle will see them 1° apart, while observers in the Anchorage, Alaska, region can watch the Moon occult Uranus during the latter half of the partial eclipse. Check here for details.
Photography and live-streaming
For those wanting to capture images of the big event I recommend Xavier Jubier's Shutter Speed Calculator for Lunar Eclipses (which allows for lots of customization) and Fred Espenak's guide How to Photograph a Lunar Eclipse. Observers from the East Coast to the mountain states, where portions of the eclipse occur in morning twilight, will be able to include foregrounds and blue sky in their images.

If clouds threaten, Italian astronomer Gianluca Masi will live-stream the eclipse on his Virtual Telescope site starting at 09:30 UT (4:30 a.m. EST) on November 8th. You'll find additional streaming options from Griffith Observatory (3–9 a.m. EST), High Point Scientific (starting 4 a.m. EST), and Kopernik Observatory (starting 2:30 a.m. EST). Don't forget to set your alarm!
Wishing you and your family a wonderful morning under a transformed Moon. Oh, one last thing. Don't forget to vote.
---
If you're interested in helping scientists measure the size of Earth's shadow during the eclipse, here are some fun projects you can engage in!
---
---