Teaming up with LIGO, Europe's Virgo detector has bagged its first gravitational waves. The three-observatory detection enabled scientists to better pinpoint the merging black holes' location.
For the first time ever, gravitational waves have been observed simultaneously by three detectors, enabling a relatively accurate localization on the sky. GW170814, as the signal is officially known, was also the very first gravitational wave "felt" by the Advanced Virgo detector of the European Gravitational Observatory near Pisa, Italy.
According to a Physical Review Letters paper by the LIGO-Virgo Collaboration, the gravitational waves that reached Earth on Monday, August 14th, at 10:30:43 UT were unleashed by the collision of two black holes, weighing in at 31 and 25 solar masses. During the merger event, which took place at a distance of some 1.8 billion light-years, the energy equivalent of 3 solar masses was radiated away in the form of gravitational waves, leaving a 53-solar-mass black hole behind.
Gravitational waves — tiny ripples in the very fabric of spacetime — were predicted by Albert Einstein back in 1916, but not directly detected until September 14, 2015, by the two identical LIGO detectors (Laser Interferometer Gravitational-Wave Observatory) in Livingston, Louisiana, and Hanford, Washington.
On August 1st of this year, after a series of upgrades to increase its sensitivity, the European Virgo detector joined LIGO during its second observing run, which lasted until August 25th. Virgo is still less sensitive than LIGO, but the relatively strong, 0.27-second "Einstein wave" signal of August 14th was clearly detected by LIGO and was also above Virgo's threshold, says Virgo spokesperson Jo van den Brand (National Institute for Subatomic Physics, The Netherlands).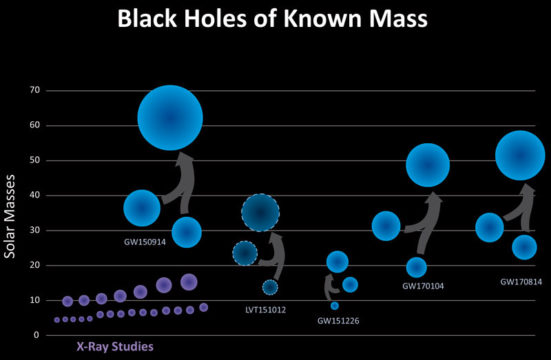 Interestingly, in terms of black hole masses, this new event is very comparable to the earlier detections, in particular to GW150914 and GW170104. Astronomers aren't sure how such heavy-weight black holes might form, let alone in binary systems. Theories range from supernova explosions of so-called Population III stars (which, with their low abundance of heavy elements, would be able to grow to large masses and yield more massive black holes when they died) to mergers of multiple objects in dense stellar clusters. Some scientists even think that the "heavy" black holes might be primordial – born in the immediate aftermath of the Big Bang.
Astrophysicist Gijs Nelemans (Radboud University, The Netherlands) is excited about the new discovery. "With yet another heavy-weight black hole merger, it becomes evident that the first detections weren't incidental outliers," he says. What will be really interesting, he adds, is if future detections reveal a variety of masses, or if they cluster around a couple of values. The latter could point to different formation scenarios, he explains.
According to LIGO spokesperson David Shoemaker (Massachusetts Institute of Technology), the weak spacetime ripples of GW170814 first reached LIGO Livingston, before hitting LIGO Hanford 8 milliseconds later and then Virgo (yet another 6 milliseconds later). These timing differences allowed the team to deduce the direction from which the waves arrived.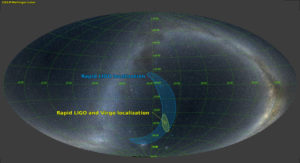 "With just the two LIGO detections, the uncertainty area measured some 1,160 square degrees on the sky," says Shoemaker. "By adding the Virgo data, this could be brought down to just 60 square degrees." The resulting "error box" is centered on right ascension 03h 11m and declination –44° 57', on the border of the Southern Hemisphere constellations Horologium (the Clock) and Eridanus (the River) and just southeast of Theta Eridani.
However, 60 square degrees is still a lot of celestial territory when trying to find the source: The full Moon covers less than one-quarter of a square degree. Although 25 different facilities carried out immediate follow-up searches for electromagnetic counterparts, both on the ground and in space, nothing was found. That is unsurprising, as astronomers do not expect to see flashes or glows from colliding black holes. However, rapid localization may be important in the future, when (and if) gravitational waves are detected from colliding neutron stars.
Rumors have it that LIGO and Virgo have already detected Einstein waves from a neutron star merger, sometime in August, but details of that event and its follow-up observations have not yet been officially released. The same is true for other candidate events seen earlier this year during LIGO's second observing run — the team had more than a half dozen "triggers," but not all of those may prove to be real events. Says van den Brand: "There are other interesting events and they are being analyzed."
Another notable aspect of the new discovery is the spin of the final black hole: 70% of the maximum allowed. The previous three objects discovered by LIGO all have similar spins. Astronomers have suggested that whenever black holes with similar masses merge, the final object produced will spin at this "rate." GW170814 supports that theory.