Here's a taste of what New Horizons hopes to resolve when it passes by Pluto next Tuesday, July 14th.
Scientists compiled this map of Pluto's equator from images taken between June 27th and July 3rd by the New Horizons spacecraft's Long Range Reconnaissance Imager and the Ralph instrument. That was just before a computer glitch sent the spacecraft into safe mode for three days, but New Horizons is now back up and running — and safe from any further such glitches as it continues its historic flyby.
Even though the composite image (below) is fuzzy, scientists have identified a few major features, such as "The Whale," the dark region to the left that's about 1,860 miles (3,000 kilometers) across, and four mysterious dark spots to the right. The bright region in the middle might come from reflective frost made of methane, nitrogen, or carbon monoxide. But perhaps most puzzling is that the features all hug the dwarf planet's equator.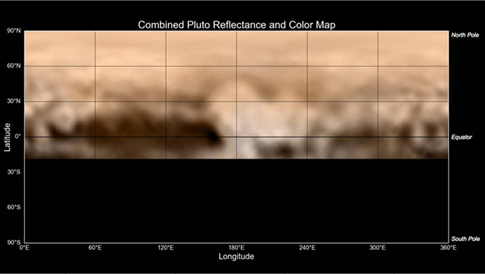 This map gives a taste of what's to come. Though scientists may already be considering ideas to explain these features, any fully formed theories will wait for July 14th's flyby, which will show features at a resolution of 100 meters per pixel.
---
Pluto's discovery is a fascinating story in its own right, an inspiring story captured in David Levy's book Clyde Tombaugh: Discoverer of Pluto.