A lab experiment has all but nixed one of the theories of dark energy, a mysterious force pushing the universe apart.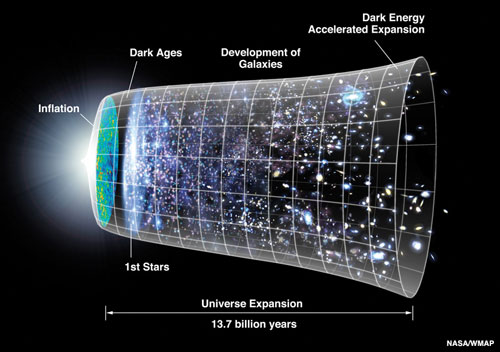 One of the most bizarre discoveries of the 21st century was that the universe is expanding at an accelerating speed. The culprit behind this ramp-up, called dark energy for lack of a better term, is an unknown force that's pushing the universe's expansion so that as cosmic time goes on, galaxies fly faster and faster apart. Yet despite its implications for the fate of our universe, astronomers have no idea what dark energy is.
Now a new (and really awesome) experiment, reported in the August 21st Science, has narrowed down the field of possibilities.
Scientists have come up with a couple of ideas for the nature of dark energy. One camp supposes it's the energy pent up in empty space itself, known as the cosmological constant. True to its name, it should stay constant from the Big Bang onward. But the theory has some problems — most notably it overpredicts the energy density of the cosmic vacuum by 120 orders of magnitude (yikes!).
Another camp instead suggests quintessence, a fifth fundamental force that doesn't have to be constant — it could have arisen at some point in the early universe and might one day gradually fade away again. But so far scientists have failed to detect this fifth force in the lab. So in 2004 Justin Khoury and Amanda Weltman (both then at Columbia University) suggested a modified scenario: chameleons.
In the world of physics, particles and forces are two sides of the same coin, with particles acting as "force carriers." Chameleon particles carry the chameleon force, and just like their namesakes, these particles adjust to their surroundings to hide from detection. But rather than change color, they change mass.
Amidst the high-density environs of Earth, the theory goes, chameleons take on high mass, and high-mass subatomic particles are difficult to detect. In consequence, the fifth force that they carry would become weak and all but impossible to measure. But in emptier space, chameleons shed mass. The fundamental force they represent would thus be felt over longer ranges, and could act over cosmic scales to affect the universe's evolution.
To Catch a Chameleon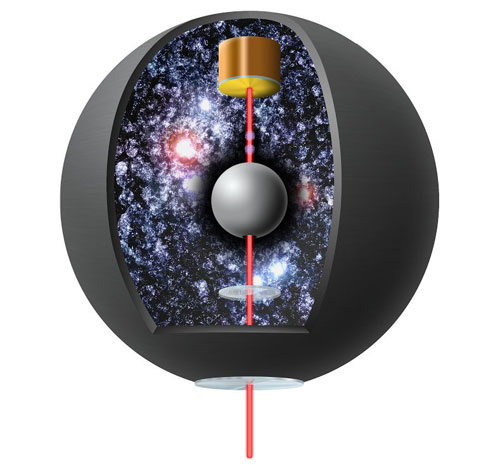 Khoury and Weltman's ingenious theory remained out of practical reach for about a decade — it was simply too difficult to test. Then in early 2014, Clare Burrage (University of Nottingham, UK) and colleagues developed an idea for an experiment that could do the trick.
The key, they said, is to use a vacuum. In a vacuum, scientists could test the chameleon force without the obscuring effects of matter. (To read the details, take a look at the excellent article, "The Chameleon in the Vacuum Chamber.")
When Paul Hamilton (University of California, Berkeley) read Burrage and colleagues' article, he realized that he could do the test with an experiment he had already helped develop.
Hamilton and Holger Müller (also at Berkeley) had built a small spherical vacuum chamber just 10 centimeters across with a solid aluminum sphere at the center. Into this sphere, the physicists dropped in a few (read: 10 million) cesium atoms and flashed a laser beam at them, three flashes separated by 10 milliseconds.
The first laser beam splits the cesium atoms into two packets of information. (Remember, this is quantum mechanics world, where particles can behave like waves: "splitting an atom" in this case has a probabilistic meaning that has nothing to do with actual nuclear fission.)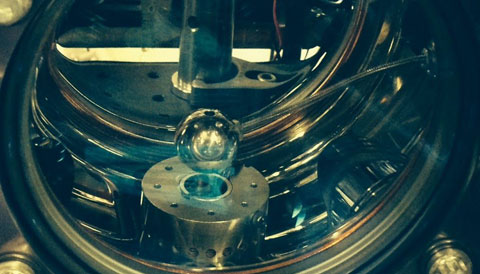 Since the first beam sent the two packets recoiling away from each other, a second flash reverses their direction and sends them back together. Then a third laser beam acts as a beam splitter, causing the two cesium waves to overlap and interfere with each other, like two sets of ripples in a pond. The whole laser light show takes just 1.7 seconds.
The cesium atoms' interference pattern will show the effect of gravity combined with the chameleon field — but the experiment found only gravity at work. With this null result, Hamilton and Müller's team was able to rule out the existence of chameleon particles over a wide range of masses.
And in fact, the results might end up being even better than what's reported in Science. Burrage's theoretical work came out in early 2014, but this past July Sandrine Schlögel (University of Lamur and Louvain University, Belgium) and colleagues released a new-and-improved version of those difficult calculations. This development, says Hartmut Abele (Technical University of Vienna, Austria), may already have increased the experiment's range, narrowing the possible masses for chameleon particles even further — by up to a factor of 10.
"The experiment by Paul Hamilton and colleagues is a huge step forward in chasing the chameleon field," Abele concludes. "Future experiments with atoms or neutrons will either find a chameleon signal or exclude chameleon fields completely."
Khoury agrees, stating in a press release, "[Müller] is now pushing his experiment into areas where chameleons interact on the same scale as gravity, where they are more likely to exist."
What the Future Holds for Dark Energy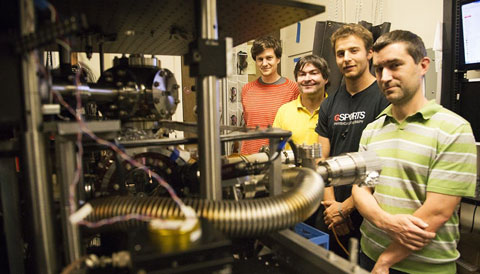 What's significant to physicists involved in this research is that the experiment was small, done in a university lab, yet probed complex physics that had previously been out of reach. "I think it's very reassuring," adds Jörg Schmiedmayer (also at the Technical University of Vienna), "that the most fundamental science can sometimes be probed in clever, small-scale experiments and doesn't always need mega collaborations and mega facilities."
What's even more reassuring about this result is that it promises that a definitive, yes/no answer is on the horizon. There are no free parameters to tweak, no theoretical modifications that could evade a null result — future experiments will reveal for certain whether chameleon particles exist.
But what's less reassuring is that if they're ruled out, then we're back to square one: the cosmological constant or quintessence scenarios, along with all their attendant problems.